HOME
Bold and Beautiful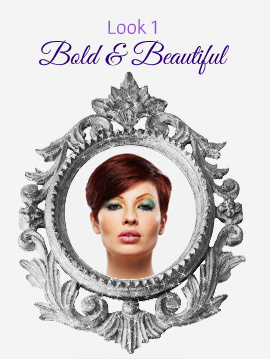 The "Bold and Beautiful" eye makeup look is a statement style that embodies fearlessness and sophistication. This eye-catching look often begins with a well-blended, full coverage base to create a seamless canvas. Then, the eyes are framed with strong, defined eyebrows. Eyeshadows in bold shades like royal blues, rich purples, or even vivid oranges are expertly layered and blended to create depth and dimension.
Often, a metallic or glittery shade is applied to the center of the eyelid for that extra pop. The eye shape is further defined with a dramatic winged eyeliner, which is typically done with a jet-black gel or liquid liner. Lashes are an essential element of this look, so either multiple coats of a volumizing mascara or a set of voluminous false lashes are applied to add intensity and drama.
Lastly, the look is completed by highlighting the inner corner of the eyes and brow bone with a shimmery or pearl-finish highlighter. The "Bold and Beautiful" look is not for the faint of heart, but for the individual looking to command attention and exude confidence.
Indelible Smokey Eye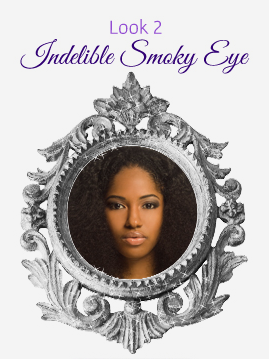 The "Indelible Smokey Eye" is a classic and sultry eye makeup look that exudes an air of mystery and allure. This timeless style is characterized by its smoldering, gradated effect that seamlessly blends dark to light shades. The look generally begins with an eye primer to ensure the longevity and intensity of the eyeshadows. The lid is then covered with a dark shade, often in blacks, browns, or deep jewel tones, which is softly blended into a medium shade that extends just above the crease.
The edges are further blended with a lighter, neutral shade, ensuring that there are no harsh lines. Kohl eyeliner, smudged along the lash line, adds to the smoky effect. The lower lash line is usually accentuated with the same dark eyeshadow, which is smoked out gently. To add depth, a volumizing mascara or a set of wispy false lashes are applied. The key to the "Indelible Smokey Eye" is the blend – the colors should fuse fluidly for that enigmatic effect. This look is versatile and can be tailored for a dramatic evening or toned down for a more subtle, yet captivating daytime version.