Unlocking the Secrets of 1920s Vintage Makeup Looks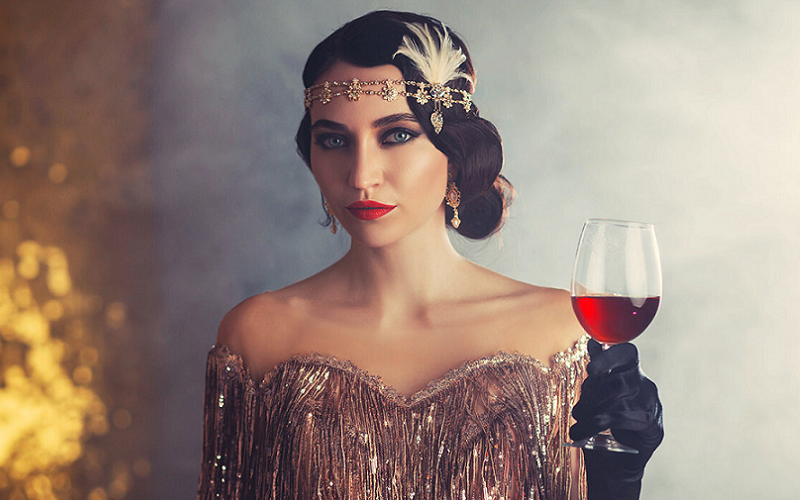 As the clock ticks back in time, we find ourselves enamored by the roaring twenties — an era where vivacity and flair were not just characteristics, but a way of life. Jazz music flowed through the streets, flapper dresses twirled at every corner, and makeup became an emblem of audacious beauty. The 1920s was, indeed, the Golden Age of Makeup. With Hollywood's luminaries leading the charge, women from all walks of life embraced a new era of self-expression through cosmetics. Here we take a delightful journey through the glamorous 1920s, unlocking the secrets of vintage makeup that epitomized the decade.
Historical Context of the 1920s and Makeup Looks
As we don our figurative time-travel caps, let's first establish the historical canvas upon which the 1920s makeup artistry was painted. The 1920s was an epoch of tremendous change in society, politics, and culture. From the ashes of World War I emerged a generation eager to embrace life with newfound freedom and optimism. This zest for life was evident in everything, including the revolutionary makeup trends of the era.
Post-World War I Society and Changing Attitudes Towards Makeup
The First World War had a significant impact on the way society viewed women and their roles. With men fighting on the battlefront, women took up jobs and responsibilities that were previously reserved for men. This exposure to independence and empowerment influenced women's attitudes towards fashion and makeup as well.
Before the 1920s, wearing makeup was often associated with promiscuity or theatricality, but as the decade progressed, it became a symbol of liberation and rebellion against the conservative norms. Women began to see makeup as a tool for self-expression and confidence [1].
The Rise of the Flapper
Amidst this shifting societal landscape, the iconic figure of the "flapper" emerged as the epitome of 1920s femininity. Flappers were young, independent women who challenged conventional norms by wearing short dresses, cutting their hair into bobs, and, notably, indulging in bold makeup. The flapper look included dark eyes, thin brows, red lips shaped into a Cupid's bow, and rosy cheeks – a stark departure from the minimalism of previous decades.
The flapper culture was not just about fashion; it was a movement that signified women's craving for autonomy, both socially and politically. Makeup became an essential aspect of this movement, giving women the freedom to craft their personas.
The Impact of Hollywood's Golden Age on Makeup Trends
Parallel to the rise of the flapper was the dawn of Hollywood's Golden Age. Silent film stars like Clara Bow, Louise Brooks, and Greta Garbo captured imaginations with their mesmerizing on-screen presence. Their larger-than-life personas were enhanced by their striking makeup, which played a significant role on black-and-white film.
Women across America and beyond idolized these Hollywood icons, and their makeup styles became highly sought after. The heavy kohl eyes, perfectly shaped lips, and dramatic expressions seen on the silver screen were emulated in salons and homes [2].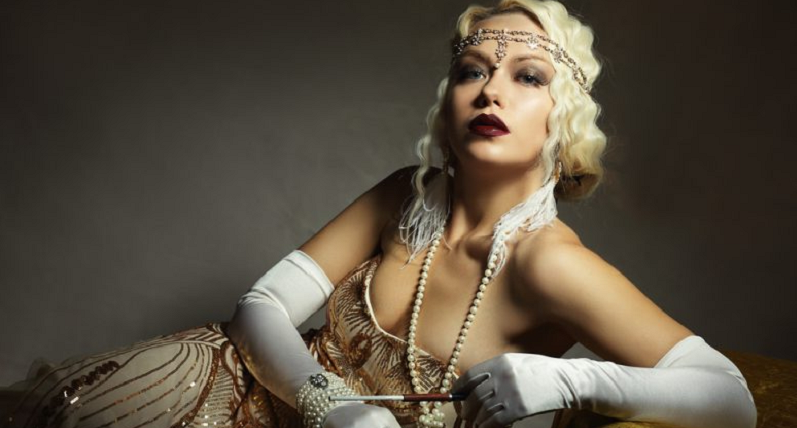 Iconic 1920s Figures and Their Signature Looks
As we delve further into the glamorous tapestry of the 1920s, it's impossible to ignore the luminous stars who not only wore the decade's signature looks but also defined them. These women were more than just trendsetters; they were icons whose style and grace still resonate in the world of fashion and beauty. Let's explore the signature looks of three of the era's most illustrious figures: Clara Bow, Josephine Baker, and Louise Brooks.
Clara Bow: The "It" Girl and the Cupid's Bow Lips
Clara Bow, often referred to as the "It" Girl of the 1920s, was a silent film actress known for her vivacious on-screen persona and magnetic charm. Her captivating beauty, particularly her expressive eyes and perfectly shaped lips, made her an enduring symbol of 1920s makeup.
Clara Bow's lips were the highlight of her makeup. Painted in deep red shades, her lips were carefully outlined to accentuate the natural curves, creating what is now known as the Cupid's bow shape. This lip shape was characterized by a highly defined and pointed arch on the upper lip, resembling the bow of Cupid.
Additionally, Clara Bow's rosy cheeks and kohl-lined eyes, which were exaggerated to make an impact in black-and-white films, became a staple look for many women who wanted to emulate her striking appearance.
Josephine Baker: Radiance and Exotic Glamour
Josephine Baker was a true trailblazer. An African American entertainer, she gained fame not only in the United States but internationally, especially in France. Her performances were infused with electrifying energy and exoticism, making her one of the most celebrated figures of the Jazz Age.
Baker's makeup was often bold and theatrical to match her vivacious personality. She embraced a radiant and somewhat exotic look, which was accentuated by her dark skin tone. Her eye makeup was dramatic, with heavy eyeliner and shimmering eyeshadows, and her lips were usually painted in a dark, rich color.
Josephine Baker also popularized the slicked-down and gelled finger wave hairstyle, which went on to become an iconic look of the decade. She was a symbol of unapologetic glamour and an inspiration for women of color in an era where representation was scarce [3].
Louise Brooks: The Bob Haircut and Dark, Dramatic Eyes
Louise Brooks, another silent film star, was known for her sleek bob haircut and intense, smoky eyes. Brooks was not just an actress but also a style icon. Her classic bob hairstyle is still replicated and adored today.
In terms of makeup, Louise Brooks was known for her kohl-rimmed eyes, which were often accentuated with dark eyeshadow to give them a sultry and mysterious look. Her lips, like Clara Bow's, were often shaped into a Cupid's bow but were slightly fuller and less exaggerated.
Louise Brooks' style exuded sophistication and modernity. Her influential look played a significant role in shaping 1920s makeup and continues to inspire beauty trends today.
These iconic figures, with their signature looks, were more than just the faces of the 1920s; they were the heart and soul of a decade that transformed the way women expressed themselves through makeup. They paved the way for modern makeup artistry and continue to be celebrated as timeless beauty icons.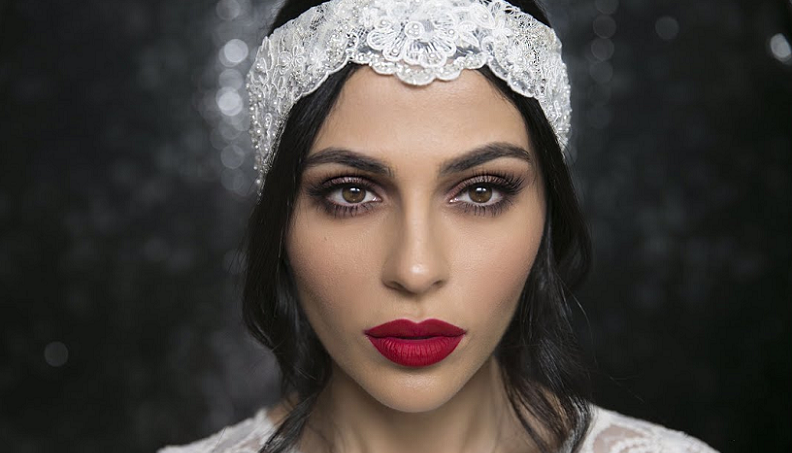 Essential 1920s Makeup Products and Tools
Now that we've explored the historical context and the iconic figures of the 1920s, let's delve into the makeup box of the era. The 1920s was a period when many makeup products that we're familiar with today were either invented or popularized. From cake mascara to compact powders, the beauty arsenal of the 1920s was both innovative and transformative.
Cake Mascara: The Forerunner of Modern Mascara
Before the invention of the mascara tubes we're familiar with today, there was cake mascara. Cake mascara was a compact block of pigment that women would apply with a brush, much like a wet paintbrush. Women would wet the brush and then work it into the mascara cake to create a paste, which they would then apply to their lashes for volume and length. This product was an essential part of achieving the dramatic eye looks that were popular during the 1920s [4].
Kohl Eyeliner: For Dramatic Eyes
The dark, dramatic eyes of the 1920s would not have been possible without kohl eyeliner. Kohl, a black pigment, was used to line both the upper and lower eyelids to create a smoldering and sultry look. Though kohl had been used for centuries in different cultures, it gained particular popularity in the 1920s as women sought to emulate the on-screen mystique of silent film stars.
Rouge: The Must-Have Blush
Rosy cheeks were another signature element of 1920s makeup, and rouge was the product that made this possible. Rouge was typically a cream or powder blush that women applied liberally to the apples of their cheeks. It was often used not just for a subtle flush, but for a dramatic and noticeable pop of color.
Compact Powders: Achieving a Flawless Base
The matte complexion was a coveted look in the 1920s, and compact powders were essential for achieving this. Women used powders to set their foundation and to create a matte, flawless finish. Compacts often came with a mirror and a puff for application, making them convenient for touch-ups throughout the day or night.
Lipsticks in Dark Shades
Lipsticks were arguably the crowning jewels of 1920s makeup. Deep reds, plums, and dark browns were the shades du jour, and the Cupid's bow was the most popular shape. Lipsticks of this era often came in metal tubes or small pots, and women applied them meticulously to create well-defined and dramatic lips.
Vintage Tools: Eyelash Curlers and Brow Pencils
In addition to the makeup products, tools like eyelash curlers and brow pencils were also vital. Eyelash curlers were used to give lashes a dramatic curl before applying mascara. Brow pencils, on the other hand, were used to create the thin, elongated eyebrows that were in vogue. Brows were often dramatically darkened and extended towards the temples.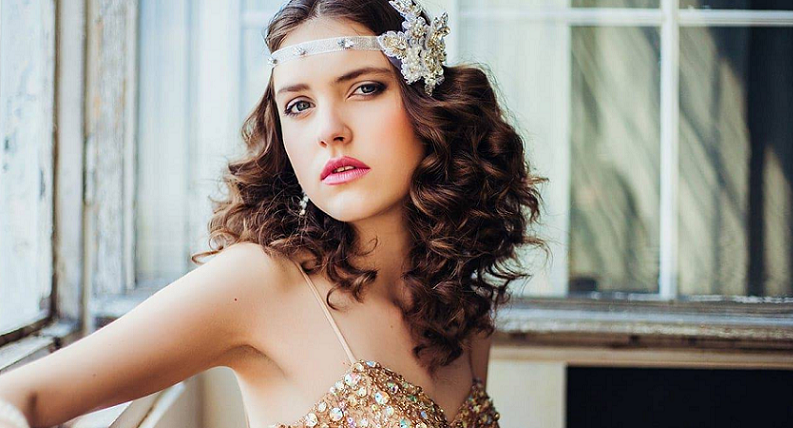 Step-By-Step Guide to a Classic 1920s Makeup Look
Having delved into the historical context, iconic figures, and essential makeup products of the 1920s, it's time to bring the enchanting era back to life by creating a classic 1920s makeup look. Whether you're getting ready for a themed event or simply experimenting with vintage glamour, this step-by-step guide will walk you through the process of transforming yourself into a 1920s vision [5].
Preparing the Face: Importance of a Matte Complexion
Start by creating a flawless base for your makeup. In the 1920s, a matte complexion was desirable, so choose a matte foundation that matches your skin tone. Apply the foundation evenly over your face and neck. Follow this with a matte setting powder to absorb any excess oil and to give your skin a velvety finish.
Eye Makeup: Thin Brows, Dark Eyeshadow, and Lush Lashes
Eyebrows: The 1920s were all about thin, elongated eyebrows. If you have fuller brows, use a concealer to hide the outer edges and create a thin shape. Darken your brows with a brow pencil and extend the ends towards your temples.
Eyeshadow: Apply a dark eyeshadow, preferably in gray or brown, over your eyelids. The eyeshadow should be darkest at the lash line and gradually fade as it moves up toward the brow bone.
Eyeliner: Line your eyes with black kohl eyeliner. Make sure to line both the upper and lower lash lines for a dramatic effect.
Mascara: Curl your lashes with an eyelash curler. Then, use a black mascara to coat your lashes. If you have cake mascara, use it to keep the look authentic.
Cheeks: How to Apply Rouge for a Rosy Flush
Rouge is essential for achieving the classic 1920s look. Use a cream or powder blush in a rose or raspberry shade. Apply it liberally to the apples of your cheeks. Make sure the color is concentrated on the apples and doesn't blend out too far.
Lips: Creating the Perfect Cupid's Bow Shape
The lips are perhaps the most iconic aspect of 1920s makeup. Start by lining your lips with a lip pencil in a deep red shade. Focus on emphasizing the curves of your upper lip to create the Cupid's bow shape. Fill in your lips with a dark lipstick, using a lip brush for precision. Avoid extending the lipstick to the outer corners of your mouth to keep the emphasis on the bow shape.
Finishing Touches: Powdering and Perfecting
As a final step, go back in with your setting powder and lightly dust it over your face to set the makeup. Be careful not to disturb the blush or the eye makeup.
Voilà! You have successfully recreated a classic 1920s makeup look. This style is a perfect blend of drama and elegance, capturing the essence of an era where makeup was a bold statement of individuality and grace. Whether you're wearing this look to a party or just for fun, you're sure to turn heads with your vintage glamour.
References

[1] Women's 1920s Makeup: An Overview
[2] The Flapper Makeup Look
[3] How to Apply 1920s Makeup
[4] Cosmetics in the 1920s
[5] 1920s Makeup: An Epitome of the Cosmetics Industry