Emergency Beauty Kit: Lesser-Known Items for Quick Fixes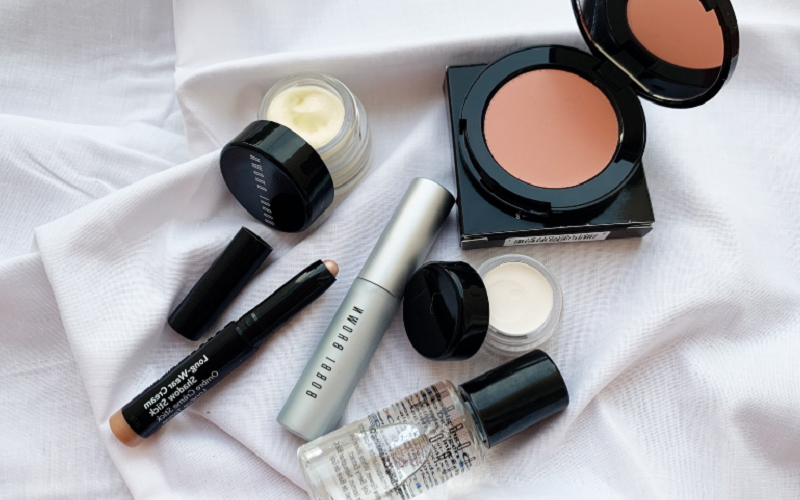 In a world where beauty blunders can strike at any moment, it's essential to arm yourself with an arsenal of tools to combat the unexpected. Enter the Emergency Beauty Kit – your secret weapon for looking polished, even in the most frantic moments. While most of us carry around the basic staples like lip balm and blotting papers, there are a plethora of lesser-known items that could be real game-changers. From tackling sudden breakouts to fixing wardrobe malfunctions, these unsung heroes of the beauty world are about to become your new best friends.
Introduction to the Emergency Beauty Kit
We've all been there – a sudden wardrobe malfunction, an unexpected blemish, or an out-of-control hair day, and we're caught unprepared. It's in these moments that an Emergency Beauty Kit becomes our saving grace. But what exactly is an Emergency Beauty Kit, and why is it so important to have one at the ready?
Definition of Emergency Beauty Kit
An Emergency Beauty Kit is a small, portable collection of items designed to address a range of beauty and fashion emergencies. These kits typically include a selection of tools and products that can help you freshen up, fix makeup, manage hair mishaps, and even address minor clothing issues.
Importance of Being Prepared for Beauty Emergencies
Being prepared for beauty emergencies is not just about looking good; it's also about feeling confident and poised in any situation. A well-equipped Emergency Beauty Kit can save you time, stress, and embarrassment, allowing you to handle unforeseen issues with grace. Whether you're at work, on a date, or attending a special event, your Emergency Beauty Kit is your secret weapon for maintaining your poise [1].
Introduction to Lesser-Known Items
While the basics of an Emergency Beauty Kit are well-known, there is a treasure trove of lesser-known items that can be life-savers in specific situations. These are the items that might not be in every kit but can make a huge difference when you need them most. In this post, we will not only review the basics but also uncover these hidden gems, and show you how they can be used for quick and effective fixes.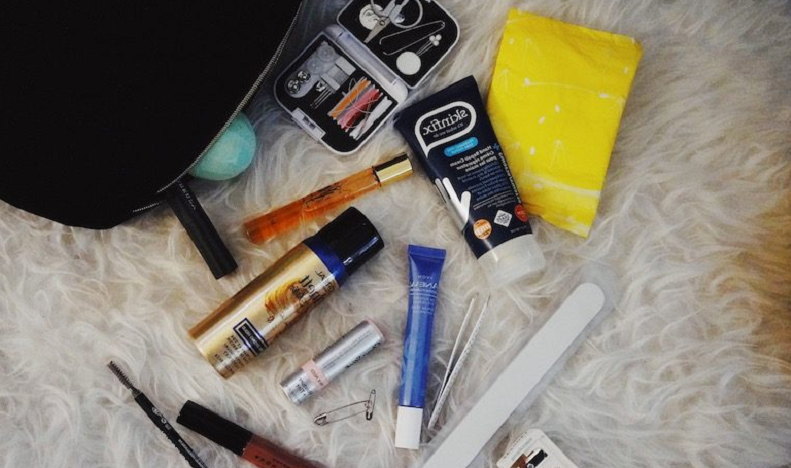 The Basics: Common Items in an Emergency Beauty Kit
Before we dive into the less common but incredibly useful items you should consider adding to your kit, let's discuss the basics. These are the items that are typically found in most Emergency Beauty Kits and for a good reason. They address the most common beauty and fashion issues that can pop up throughout your day [2].
Blotting Papers
One of the most fundamental items in any Emergency Beauty Kit is blotting papers.
Blotting papers are small, absorbent sheets that are perfect for reducing shine and absorbing excess oil on the face without ruining your makeup. They are especially handy if you have an oily skin type or if you're in a humid environment. Simply press the paper gently against the oily area of your face, and voila! A fresher and less shiny complexion in seconds.
Lip Balm
Next up, we have the trusty lip balm.
Chapped lips can be a nuisance, and sometimes applying lipstick on them just makes the situation worse. Lip balm is essential for keeping your lips hydrated and smooth. Opt for a colorless lip balm if you're wearing a lip color, or choose a tinted one for a subtle splash of color while moisturizing.
Compact Mirror
A compact mirror is another must-have.
It's not always convenient to find a restroom or a large mirror when you need to check your face. A compact mirror can easily fit into your purse or pocket and is indispensable for quick check-ups on your makeup or for applying lipstick on the go.
Hair Ties and Bobby Pins
Lastly, let's talk about hair ties and bobby pins.
Hair can sometimes have a mind of its own. Having hair ties and bobby pins in your kit can be a lifesaver for those days when your hair refuses to cooperate. Whether it's a quick ponytail to keep your hair out of your face or using a bobby pin to secure a stubborn strand, these items are essential for hair management.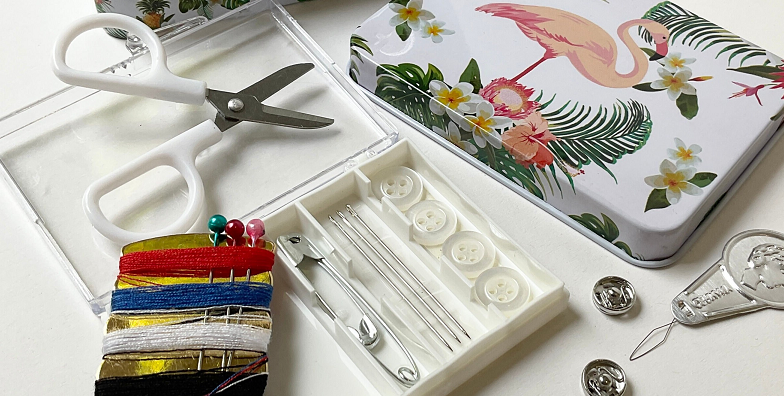 Lesser-Known Items for Your Emergency Beauty Kit
Now that we've covered the basics, let's venture into the realm of the lesser-known. These items might not be the first things that come to mind when you think of a beauty kit, but they can be incredibly handy in specific situations. From oral hygiene to wardrobe fixes, these additions are about to elevate your Emergency Beauty Kit to the next level [3].
Dental Floss
The first underrated item on our list is dental floss.
Explanation of Usage
Dental floss isn't just for keeping your teeth clean – it can be used for several emergency fixes. Of course, it's great for removing unwanted particles from between your teeth, but did you know that it can also be used as a makeshift thread for fixing loose buttons or even as a cutting tool in a pinch?
Benefits for Oral Hygiene and Appearance
Keeping dental floss in your beauty kit can ensure that you are always ready to flash a perfect smile. Plus, taking care of your oral hygiene can make you feel fresher and more confident throughout the day.
Green Concealer
Next, let's talk about green concealer.
Covering Redness and Blemishes
Green is opposite red on the color wheel, which means that it can effectively neutralize red tones on the skin. A dab of green concealer can work wonders on red blemishes, pimples, or any redness on the face.
Applying Tips
Use a clean finger or a small brush to apply a tiny amount of the product on the red area, and gently blend the edges. Follow it up with your regular concealer or foundation, and you're good to go!
Clear Mascara
Clear mascara is an unassuming product that deserves a spot in your kit.
Taming Eyebrows
Use clear mascara to tame unruly brows by brushing them into place. It sets the hairs without adding color, giving you a neat and natural look [4].
Separating Lashes
Clear mascara is also great for separating eyelashes and giving them a defined look without making them appear too dramatic.
Lip Exfoliator
Let's move on to lip exfoliator.
Achieving Smooth Lips
Lip exfoliator is essential for maintaining smooth, flake-free lips, especially in dry weather. It removes dead skin and preps your lips for a smoother application of lipstick or gloss.
Application Tips
Gently rub the exfoliator on your lips in a circular motion and then wipe it off with a tissue. Follow it up with some lip balm for extra hydration.
Safety Pins
Safety pins are up next.
Fixing Wardrobe Malfunctions
Safety pins can be real lifesavers for temporary fixes to wardrobe malfunctions. From a broken zipper to a loose button, a safety pin can hold your outfit together until you can make proper repairs.
Creating Makeshift Hair Accessories
You can also use them creatively as hair accessories in a pinch.
Disposable Mascara Wands
Disposable mascara wands are not just for makeup counters.
Grooming Brows
Use them to groom your brows or to apply castor oil for brow growth.
Cleaning Up Mascara Clumps
They are also great for separating lashes and removing mascara clumps.
Paperclips
Don't underestimate the humble paperclip.
Zipper Fixes
A paperclip can act as a temporary zipper pull if yours breaks.
Makeshift Hair Pins
In a pinch, you can even unbend them and use them as hairpins.
Tea Bags
Tea bags can be your secret weapon.
Reducing Eye Puffiness
Used, damp tea bags can be placed over closed eyes to reduce puffiness.
Freshening Breath
In a pinch, you can also use tea leaves as a breath freshener by gently chewing on them.
Eye Drops
Eye drops are next on our list.
Brightening Eyes
Use eye drops to reduce redness and brighten your eyes, making you look more awake and refreshed.
Reducing Redness
They can also be used to reduce redness in a pimple. A drop on the offending spot can take down some of the redness and inflammation.
Mini Vaseline Container
Lastly, we have a mini Vaseline container.
Removing Makeup
Vaseline can be used to remove stubborn makeup. It's especially good at taking off waterproof mascara without pulling at your lashes.
Hydrating Dry Spots
It can also be used to hydrate dry patches on the skin or even to give a subtle sheen to your cheekbones.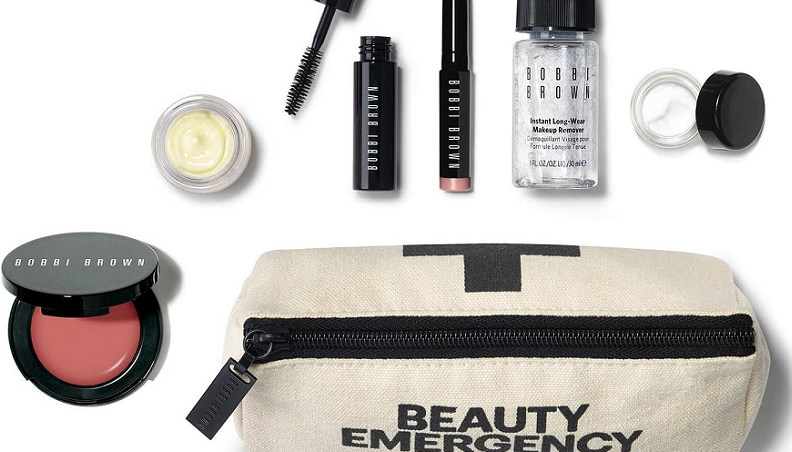 How to Use the Emergency Beauty Kit Efficiently
Now that your Emergency Beauty Kit is packed with both essential and lesser-known items, it's important to know how to use it efficiently. The purpose of having this kit is to be able to tackle beauty and fashion emergencies quickly and effectively.
Situational Usage
Knowing when to use which items in your Emergency Beauty Kit is crucial. The contents of your kit are versatile and can come in handy in a variety of situations [5].
Professional Settings
In professional settings like meetings or interviews, it's essential to present yourself well. Use blotting papers to reduce shine, and keep your hair neat with bobby pins. Fresh breath is a must, so dental floss and tea bags can be handy.
Social Events
At social events or parties, you might want to look more glamorous. Carry your green concealer for any sudden blemishes, and have a lip exfoliator to prep your lips for a bold lipstick. Safety pins are great for wardrobe malfunctions.
Daily Errands
When running daily errands, keep it simple. Lip balm, a compact mirror, and clear mascara can keep you looking fresh without much effort.
Quick and Easy Fixes
Speed is often of the essence when dealing with beauty emergencies. Knowing how to use your items for quick fixes can save you both time and stress.
Redness or Blemishes
Use green concealer followed by your regular concealer to quickly cover redness or blemishes.
Hair Issues
Use hair ties for a quick ponytail or braid if your hair is unruly. Bobby pins can pin back bangs or flyaways in seconds.
Wardrobe Malfunctions
Safety pins and paper clips are your best friends here. Pin together a broken zipper or use a paperclip as a temporary fix for missing buttons.
Keeping Calm in Emergencies
Lastly, it's important to remain calm during beauty emergencies. Panicking can make the situation worse and make it harder for you to think clearly. Take a deep breath, assess the issue, and then reach for your Emergency Beauty Kit. With the right tools at your fingertips, you can handle any situation with grace and poise.
References

[1] 12 Products to Carry in Case of a Beauty Emergency
[2] Create Your Own Mini Emergency Beauty Ki
[3] A Girl's Beauty Emergency Kit for Surviving Winter
[4] The Emergency Beauty Kit
[5] How to Make an Emergency Makeup Bag