Beauty and Pollen Allergies: How to Protect Your Skin During Allergy Season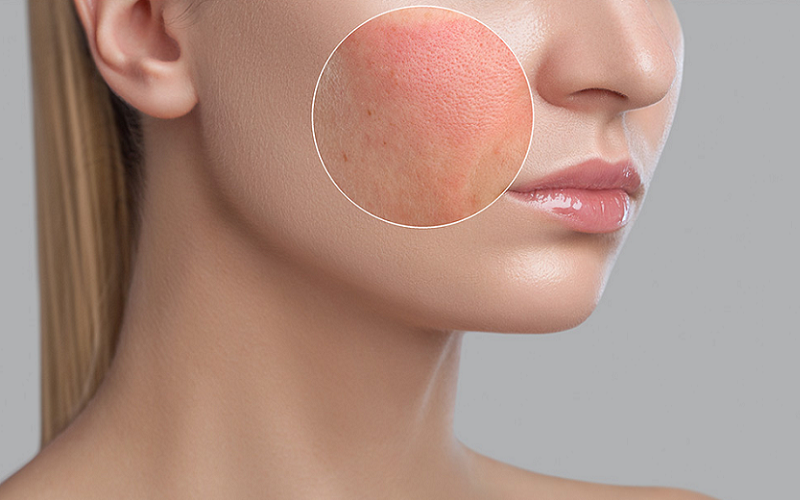 As springtime arrives with its vibrant blooms and lush greens, it also brings along the much-dreaded pollen. For many of us, pollen allergies turn this season of renewal into a time of sniffles, sneezes, and itchy eyes. But did you know that pollen can also wreak havoc on your skin? Here we dig into the nitty-gritty of pollen allergies and their effects on your skin.
Introduction to Allergies and Skin Care
Welcome to the blooming season! The birds are chirping, the flowers are blossoming, and the air is fresh. However, for some of us, this otherwise delightful season can be a double-edged sword due to pollen allergies. The same blossoms that add color to our gardens also release pollen, which can cause discomfort, especially for those with allergies. Not only does this affect the respiratory system, but it also takes a toll on the skin. Our skin is one of the most prominent features of our appearance, and taking care of it is paramount, especially during allergy season.
Definition of Pollen Allergies
Pollen allergies, commonly known as hay fever or allergic rhinitis, occur when your immune system overreacts to pollen from trees, grasses, and weeds. This overreaction leads to the release of chemicals, such as histamine, that cause allergy symptoms. Pollen is tiny, lightweight, and easily carried by the wind, making it a widespread allergen during specific seasons. Understanding pollen allergies is essential because it is the first step in learning how to protect our skin from the adverse effects they bring.
Brief Overview on the Importance of Skin Care During Allergy Season
Skin care is always essential, but it becomes even more critical during allergy season. The symptoms of pollen allergies, such as itching, can cause us to scratch our skin, which may lead to damage. Moreover, the skin can become more sensitive during this period, and allergic reactions might cause dryness, redness, and irritation. By paying extra attention to our skincare routines, we can minimize these effects and maintain healthy, glowing skin.
Introduction to the Link Between Beauty and Pollen Allergies
You might wonder, what does beauty have to do with pollen allergies? The answer lies in the condition of our skin. Our skin is not just a protective barrier; it is also a reflection of our internal health and a significant contributor to our appearance. When pollen allergies affect our skin, it can become dry, irritated, and inflamed. This not only causes discomfort but can also affect our confidence and how we present ourselves. Therefore, managing pollen allergies and taking care of our skin is essential for maintaining both our health and beauty [1].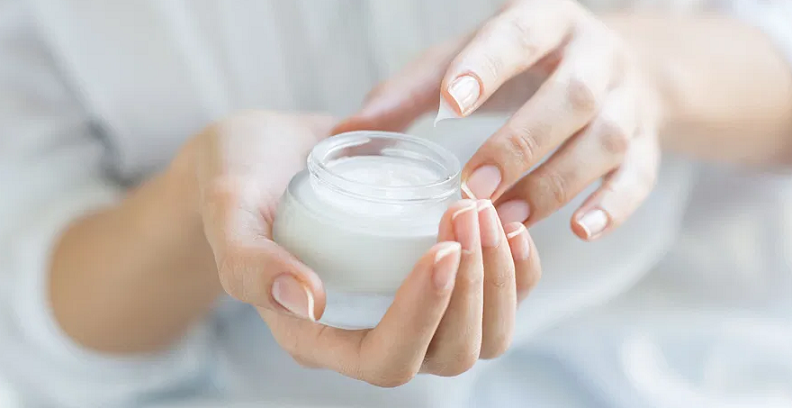 Understanding Pollen Allergies and Their Effect on Skin
Before we dive into the skin care practices that can shield our skin from pollen allergies, it is vital to have a clear understanding of what pollen is, the different types of pollen allergies, and how they affect our skin. By comprehending these factors, we can be better prepared to tackle the challenges allergy season throws at us.
What is Pollen?
Pollen is a fine powder produced by trees, flowers, grasses, and weeds during their reproductive cycle. It is crucial for the fertilization of plants. While pollen is a natural and essential part of the ecosystem, it is also one of the most common triggers of seasonal allergies. Pollen grains are lightweight and can be carried over long distances by the wind. For individuals sensitive to pollen, this can lead to allergic reactions.
Common Types of Pollen Allergies
There are several types of pollen that cause allergies. Knowing which type affects you can help in developing a more effective plan to protect your skin [2].
Tree Pollen
Commonly released in the spring, tree pollen is one of the main culprits for springtime allergies. Some trees known to produce highly allergenic pollen include oak, cedar, birch, and pine.
Grass Pollen
Grass pollen allergies typically peak during late spring and early summer. Some of the most common grasses that cause allergies include Bermuda, Kentucky bluegrass, and Timothy grass.
Weed Pollen
Weed pollen allergies are more common in late summer and fall. Ragweed is a major offender, but other weeds such as sagebrush, pigweed, and lamb's quarters can also cause allergies.
Symptoms of Pollen Allergies
When an individual who is sensitive to pollen comes into contact with it, their immune system identifies pollen as a threat and releases histamines. This can lead to various symptoms.
Respiratory Symptoms
These include sneezing, nasal congestion, coughing, and itchy or watery eyes. In some cases, asthma symptoms may be triggered or worsened by pollen exposure.
Skin-Related Symptoms
Pollen allergies can also affect the skin. Common skin-related symptoms include redness, itching, and hives. The skin may become more sensitive during allergy season.
How Pollen Allergies Affect Skin Health
The skin is our largest organ and serves as the first line of defense against environmental irritants, including pollen. When the allergens breach this defense, the skin can react in several ways [3].
Irritation and Redness
The histamines released during an allergic reaction can cause blood vessels to dilate, leading to redness and a flushed appearance.
Dryness and Flaking
Allergic reactions can disrupt the skin's natural barrier function, causing it to lose moisture. This can lead to dry, flaky skin.
Sensitivity
During allergy season, the skin may become more sensitive to products and substances that did not cause a reaction before.
Aggravation of Skin Conditions
Pollen allergies can exacerbate pre-existing skin conditions like eczema and rosacea.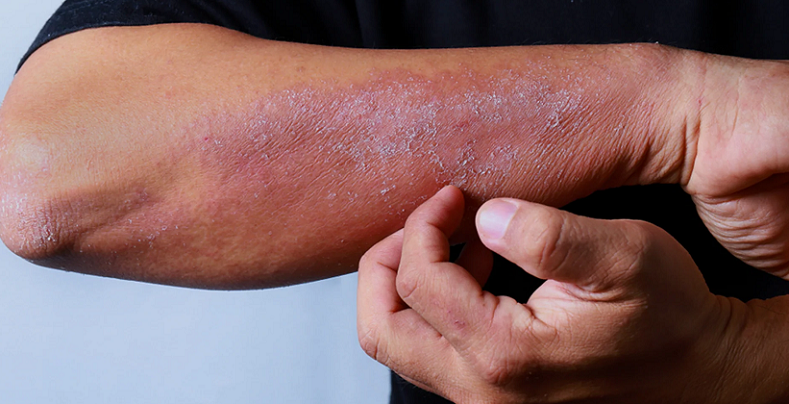 The Importance of Skincare During Allergy Season
Having grasped how pollen allergies can affect the skin, it's crucial to recognize the importance of taking extra care of our skin during allergy season. With allergens floating in the air, our skin needs reinforcement to combat the effects of pollen.
Skin as the Body's First Line of Defense
Our skin is a protective shield that guards us against external aggressors, including environmental allergens like pollen. This barrier not only protects us from physical harm but also prevents the entry of allergens and pathogens. During allergy season, the skin's barrier function is put to the test as it comes into contact with pollen. Maintaining a robust skin barrier is vital in minimizing allergic reactions and ensuring that the skin remains healthy and resilient.
The Role of Skin in Allergic Reactions
Skin is not just a passive barrier; it's an active participant in the body's immune response. When allergens like pollen land on the skin, immune cells in the skin can react to these allergens, leading to the release of inflammatory substances, including histamine. This can cause itchiness, redness, and swelling. By taking proper care of our skin, we can help modulate the skin's immune response and reduce the severity of allergic reactions [4].
Enhancing Your Beauty Through Proper Skin Care
There's no denying that healthy skin is beautiful skin. During allergy season, the skin can become irritated, red, and dry, which can make it look less radiant and vibrant. By following a proper skincare routine, you can help soothe irritation, reduce redness, and keep your skin hydrated. This not only helps in reducing the symptoms of pollen allergies but also contributes to a more healthy and radiant complexion. Looking good can also make you feel good, boosting your confidence and mood during a season that can be challenging for many.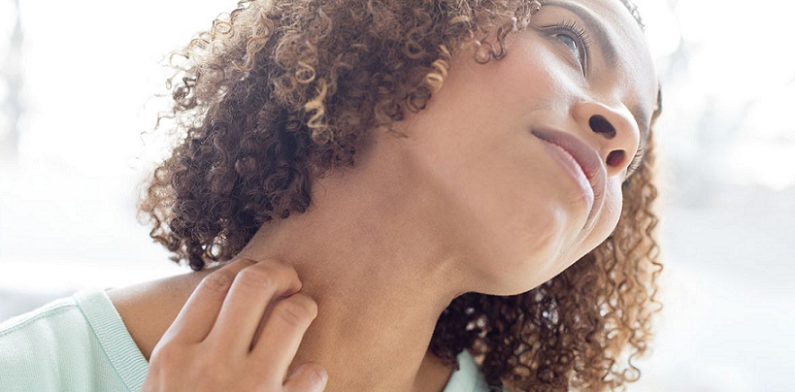 Practical Tips for Protecting Your Skin from Allergies
Now that we understand the importance of skincare during allergy season, it's time to arm ourselves with practical tips and strategies. Implementing a well-thought-out skincare routine can make a world of difference in not only alleviating allergy symptoms but also in maintaining the beauty and health of your skin.
Staying Informed on Pollen Counts
Being aware of the pollen levels in your area can help you plan your day and take necessary precautions to protect your skin. There are various apps and websites that provide daily pollen forecasts. On days when the pollen count is high, it is advisable to stay indoors as much as possible and keep windows closed to reduce exposure.
Creating a Barrier
One of the most effective ways to protect your skin from pollen is to create a barrier that prevents pollen from coming into direct contact with your skin [5].
Using a Physical Barrier
Using accessories such as sunglasses and hats can help to keep pollen away from sensitive areas like your eyes and face. Opt for lightweight fabrics that cover your skin but are breathable.
Strengthening the Skin's Barrier Function
Using products that contain ingredients like ceramides and hyaluronic acid can help to reinforce the skin's natural barrier, keeping allergens out and moisture in.
Adjusting Your Skincare Routine
Modifying your skincare routine during allergy season is essential. Focus on gentle, hydrating, and soothing products.
Gentle Cleansing
Opt for a mild cleanser to remove pollen and other impurities from your skin without stripping it of natural oils. Cleanse your face twice daily, and consider taking a shower after spending time outdoors to wash off pollen.
Moisturizing
Apply a moisturizer to lock in hydration and create a protective seal over your skin. Look for products with calming ingredients like aloe vera or chamomile.
Targeted Treatments
For areas that are particularly irritated or inflamed, consider using targeted treatments such as a soothing face mask or an over-the-counter hydrocortisone cream.
Utilizing Makeup Wisely
If you wear makeup, choosing the right products and applying them correctly is essential during allergy season.
Choosing Hypoallergenic Products
Opt for makeup that is labeled hypoallergenic, fragrance-free, or suitable for sensitive skin to reduce the risk of irritation.
Tips for Application and Removal
Apply makeup gently, and avoid the eye area if your eyes are irritated. Always remove makeup before bed with a gentle makeup remover to avoid clogging pores and further irritating the skin.
Consideration of Diet and Hydration
What you put inside your body can also affect your skin. Eating a balanced diet rich in antioxidants and anti-inflammatory foods like berries, nuts, and leafy greens can help calm the skin. Stay hydrated by drinking plenty of water.
Choosing the Right Clothing and Accessories
Opt for clothes made of natural fibers like cotton, as synthetic fabrics can sometimes irritate the skin. When outdoors, wear sunglasses to protect your eyes, and consider a wide-brimmed hat to shield your face from pollen.
References

[1] 7 Allergy-Tested Skincare Products Perfect for Sensitive Skin
[2] 'I Developed Allergies To Beauty Products I Loved. Here's How I Overhauled My Routine'
[3] Skin Care Tips for Individuals with Atopic Dermatitis (Eczema)
[4] Allergens in Cosmetics
[5] How Allergies Affect Skin—and What You Can Do to Deal