Dive into the World of Korean Hanbang Skincare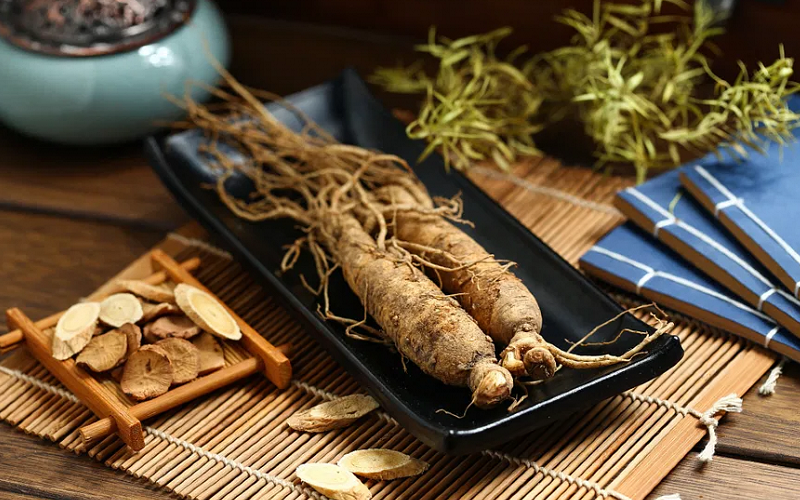 Hanbang, the term for traditional Korean medicine, boasts a rich history and a holistic approach to wellness. At the intersection of this venerable tradition and modern-day beauty, we find the enchanting world of Korean Hanbang skincare. In a culture where skincare is akin to a sacred ritual, Korean skincare has evolved to embrace both time-honored remedies and cutting-edge innovation.
Introduction to Hanbang
Hanbang refers to traditional Korean medicine that has its roots in ancient East Asian medical practices. It incorporates a holistic approach to health and wellness, using natural herbs and ingredients to treat not just the symptoms but the underlying causes of ailments. When it comes to skincare, Hanbang utilizes these natural ingredients to address various skin concerns, promote balance, and foster overall skin health.
Brief History of Hanbang in Korea
The history of Hanbang in Korea dates back thousands of years, with ancient records suggesting that these traditional medicinal practices have been in use since the Three Kingdoms period (57 BC – 668 AD). Over the centuries, Hanbang has evolved, blending with influences from Chinese traditional medicine and adapting to Korea's unique culture and environment. Today, Hanbang remains an essential part of Korean culture and healthcare, with a resurgence in popularity as people seek more natural and holistic ways to take care of their well-being.
Introduction to Korean Skincare
Korean skincare, renowned globally, is more than just a beauty routine; it is a lifestyle choice and a reflection of the cultural value placed on appearance and self-care. A typical Korean skincare routine involves multiple steps, including cleansing, toning, moisturizing, and applying various serums and masks. This meticulous approach aims to address every aspect of skin health, leading to a more youthful and radiant complexion.
Intersection of Hanbang and Korean Skincare
Hanbang and Korean skincare are two realms that have seamlessly blended together. Hanbang's emphasis on natural ingredients and holistic health complements the in-depth and purposeful approach of the Korean skincare routine. Many Korean skincare products now incorporate traditional Hanbang ingredients, such as ginseng and green tea, which are believed to have potent healing and anti-aging properties.
Importance of Skincare in Korean Culture
In Korean culture, the skin is considered a reflection of one's health and lifestyle. As such, skincare is not viewed merely as a means to enhance physical appearance but as an essential practice for maintaining overall health and well-being. From a young age, individuals are encouraged to take an active role in caring for their skin, and this is often seen as a form of self-respect and pride. The integration of Hanbang principles into skincare reflects the deeply rooted belief in the interconnectedness of beauty, health, and wellness.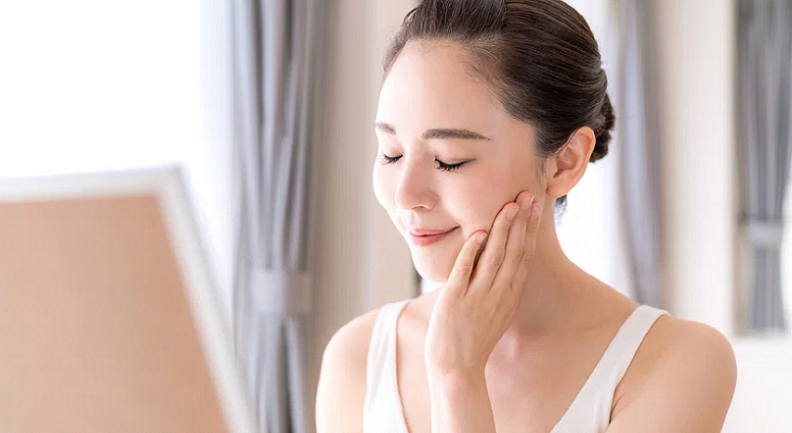 The Philosophy Behind Hanbang Skincare
Rooted in ancient wisdom, the philosophy behind Hanbang skincare encompasses a holistic approach, emphasizing balance and harmony, with a foundation in traditional medicine. This philosophy goes beyond the skin to consider the wellness of the mind and body as interlinked components.
The Holistic Approach
In Hanbang skincare, the focus is not only on treating specific skin issues but also on nurturing the skin as a whole. This holistic approach acknowledges that the skin is influenced by various factors, including physical health, emotional well-being, and environmental conditions. Hanbang skincare products often contain ingredients that work synergistically to not only address the surface-level concerns but also to promote overall skin health. The idea is to cultivate a harmonious balance that allows the skin to thrive naturally [1].
Balance and Harmony in Ingredients
A cornerstone of Hanbang philosophy is the belief in balance and harmony, often represented by the yin and yang principle. In the context of skincare, this involves using ingredients that can help balance the different aspects of the skin, such as oil and moisture levels. For instance, certain herbs may be used to soothe inflammation (cooling or yin), while others may be utilized to stimulate circulation (warming or yang). By combining these ingredients, Hanbang skincare seeks to bring the skin into a state of equilibrium, where it is neither too dry nor too oily, and free from irritation.
The Role of Traditional Medicine
Traditional Korean medicine plays a vital role in Hanbang skincare. Ancient medicinal texts and practices form the basis for the selection and combination of ingredients used in Hanbang skincare products. These ingredients, primarily herbs and natural extracts, are chosen for their medicinal properties, which have been documented and passed down through generations. This traditional knowledge is coupled with modern scientific research to create skincare products that are both effective and rooted in centuries of wisdom [2].
Connection to Mind and Body Wellness
Lastly, the Hanbang skincare philosophy understands that there's an intrinsic connection between the mind, body, and skin. Emotional stress, for instance, can manifest as breakouts or dull skin. Hanbang doesn't just stop at treating the skin's surface but looks at the person as a whole. Through the application of aromatic oils, the incorporation of massage techniques, and even the ritualistic process of applying skincare, Hanbang seeks to also calm the mind and ensure the inner wellness reflects outwardly on the skin.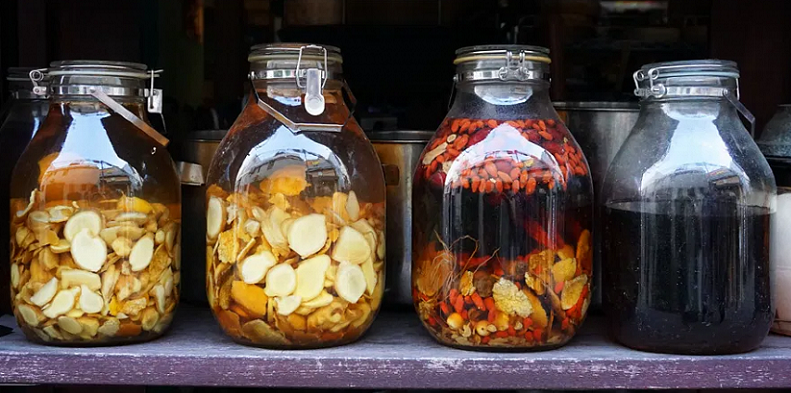 Popular Hanbang Ingredients
Hanbang skincare is revered for its use of natural ingredients, primarily herbs and botanicals, that have been used for centuries in traditional Korean medicine. These ingredients are believed to have a range of benefits for the skin, from anti-aging to anti-inflammatory properties.
Ginseng
Ginseng, often referred to as the root of life, is one of the most iconic ingredients in Hanbang skincare [3].
Types of Ginseng Used in Skincare
There are various types of ginseng, but Korean red ginseng is the most prized variety in skincare. It is known for its high concentration of active compounds called ginsenosides. Another popular type is white ginseng, which undergoes a different processing method, giving it unique properties.
Benefits for Skin
Ginseng is renowned for its anti-aging properties. It is believed to boost collagen production, which helps in reducing wrinkles and fine lines. Additionally, it's known for its ability to brighten the skin and reduce hyperpigmentation. Ginseng also has anti-inflammatory properties, making it suitable for soothing sensitive or irritated skin.
Green Tea
Another celebrated ingredient in Hanbang skincare is green tea, known for its antioxidant-rich composition.
Types of Green Tea Used in Skincare
The most common type of green tea used in skincare is Camellia sinensis. Within this category, there are different processing methods and grades, with matcha (a high-grade powdered green tea) being a popular choice for its potent antioxidant levels.
Benefits for Skin
Green tea is packed with catechins, which are antioxidants that protect the skin from environmental stressors like pollution and UV rays. It's also known for its anti-inflammatory properties, making it effective in calming redness and irritation. Moreover, green tea can help regulate sebum production, which is beneficial for those with oily or acne-prone skin.
Licorice Root
Licorice root is a sweet herb that has been used in traditional medicine for centuries and has found its way into modern Hanbang skincare.
How It's Used in Skincare
Licorice root extract is the form usually found in skincare products. It is derived from the roots of the Glycyrrhiza glabra plant and is valued for its diverse range of compounds that benefit the skin.
Benefits for Skin
Licorice root is known for its ability to diminish the appearance of dark spots and hyperpigmentation. It's also revered for its anti-inflammatory properties, making it effective in soothing conditions like acne and eczema. Additionally, it helps to hydrate and balance oil production in the skin.
Other Key Ingredients
Apart from ginseng, green tea, and licorice root, there are several other ingredients integral to Hanbang skincare [4]:
Fermented Herbs
Fermentation is a process that has been used in Korean culture for centuries. In skincare, it helps to break down ingredients, making them more potent and easier for the skin to absorb.
Mugwort
Mugwort is known for its soothing and healing properties. It is especially effective for sensitive or inflamed skin and is often used in masks and creams.
Orchid Extract
Orchid extract is valued for its ability to reduce the appearance of fine lines and wrinkles. It's also known to help retain moisture in the skin.
Pearl Powder
Used for centuries by royalty, pearl powder is known for its brightening properties and its ability to improve the overall texture of the skin.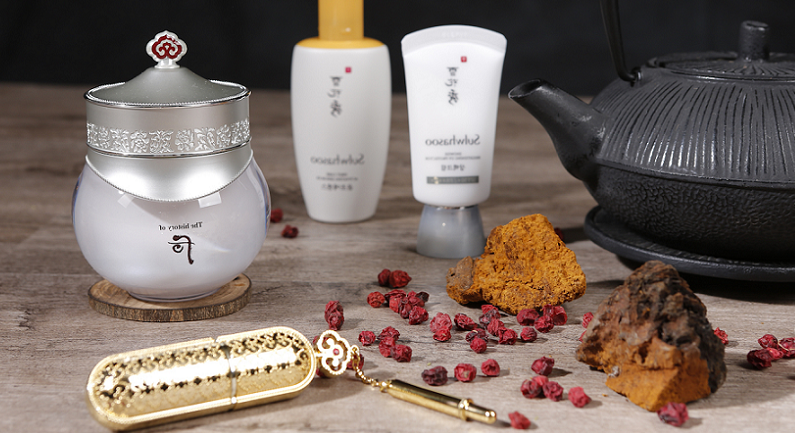 Understanding the Korean Skincare Routine
Having explored the popular ingredients in Hanbang skincare, it's essential to understand how these ingredients are integrated into the celebrated Korean skincare routine. This routine is known for its comprehensive and methodical approach, often involving multiple steps to address various aspects of skin health [5].
The 10-Step Skincare Routine
The Korean skincare routine is famous for its 10 steps, each serving a specific purpose in achieving radiant and healthy skin.
Oil Cleanser: The first step involves using an oil-based cleanser to remove makeup and impurities without stripping the skin of its natural oils.
Water-Based Cleanser: This step ensures that any remaining impurities are eliminated, providing a deeper clean.
Exfoliator: Exfoliating helps in removing dead skin cells, promoting a brighter complexion and better absorption of subsequent products.
Toner: Toners help to balance the skin's pH levels and prepare the skin for the next steps.
Essence: Essences are lightweight and hydrating, aiding in cell turnover and hydration.
Treatments: This step includes serums and ampoules that target specific skin concerns such as acne, dark spots, or wrinkles.
Sheet Masks: Masks provide an extra boost of hydration and nourishment.
Eye Cream: An essential step for addressing concerns around the delicate eye area.
Moisturizer: Lock in moisture and all the goodness from previous steps with a moisturizer.
Sunscreen: The final and arguably most important step is protecting the skin from harmful UV rays.
Adapting the Routine for Different Skin Types
Understanding that not all skin is the same, it's crucial to adapt the 10-step routine according to your skin type. For instance, if you have oily skin, you might want to opt for lighter, water-based products. Those with dry skin should look for richer, more nourishing ingredients. It's also important to note that you don't have to strictly stick to all 10 steps; you can customize the routine to suit your skin's needs and your lifestyle.
Incorporating Hanbang Ingredients
Integrating Hanbang ingredients into the Korean skincare routine can enhance the benefits manifold. Look for products that contain Hanbang ingredients like ginseng, green tea, or licorice root. For example, a Hanbang-infused essence can add an extra layer of nourishment, while a ginseng face mask can provide anti-aging benefits. The incorporation of Hanbang takes the routine from not just being skin-deep but a truly holistic practice.
The Importance of Consistency and Patience
When embarking on the Korean skincare routine, especially with Hanbang products, it's crucial to remember the importance of consistency and patience. Skincare is a journey, and results might not be immediate. It's essential to give your skin time to adapt and respond to the new products and ingredients. Consistency in following the routine and patience in waiting for results are key.
References

[1] Hanbang and Traditional Korean Skincare
[2] Hanbang: Korea's Traditional Skincare in a Modern World
[3] Hanbang Skincare: The Ultimate Guide (All You Need to Know)
[4] 11 Best Korean Skincare Brands for All Ages and Skin Types
[5] Is Korean Skin Care Really Superior? An Investigation