MacGyver Your Makeup: Innovative Solutions for Common Beauty Dilemmas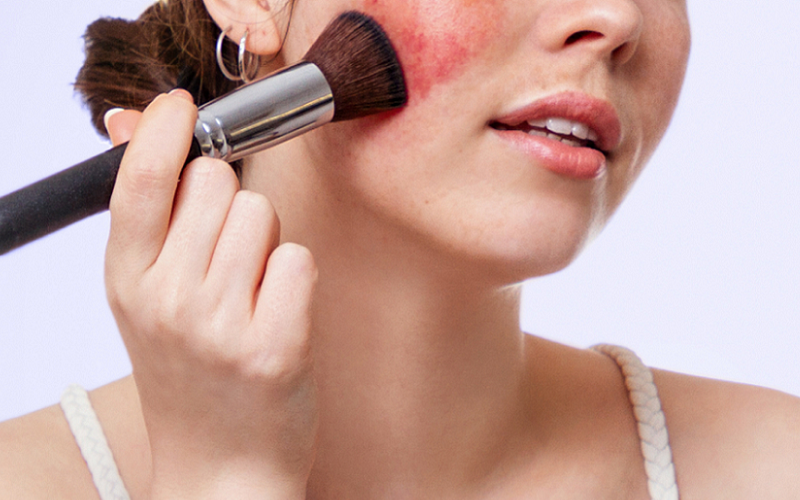 Who doesn't remember the ingenious, quick-thinking MacGyver, who could turn everyday objects into problem-solving masterpieces? Here we channel that same MacGyver spirit into our beauty routines! Makeup is an art, and sometimes, even artists need some hacks up their sleeves. Whether you're running low on your go-to product, or you're in a mad dash and need a quick fix, a little creativity can save the day.
MacGyver Your Way to Innovative Makeup Solutions
If you're not familiar, MacGyver is a pop culture icon from the 80s and 90s who was renowned for his ability to get out of sticky situations using only basic tools and everyday items. Whether it was making a lie detector out of a blood pressure cuff or fixing a car engine with a paperclip, MacGyver was the king of improvisation.
So how does MacGyver fit into the world of makeup? Well, makeup is not just about products, it's about innovation and creativity. Just as MacGyver used to solve problems with things he had at hand, in this post, we'll explore how common household items or unconventional uses of makeup products can solve our beauty dilemmas.
In the ever-evolving world of beauty, keeping up with trends and products can be exhausting and expensive. But guess what? Sometimes the most dazzling solutions are simple and don't require a trip to the store. Utilizing innovative solutions not only saves time and money but also unleashes the creative spirit within you. Plus, it's eco-friendly to maximize the use of what you already have! With some MacGyver-inspired tips and tricks, you can overcome common hurdles and become your very own makeup wizard.
Laying the Foundation: Face Makeup Hacks
A great makeup look starts with a perfect base. It's like a canvas for a painter; you want it smooth, even, and flawless. But, what if your foundation is not the right shade, or you are trying to cover up some imperfections?
The Perfect Shade Match
Mixing Foundations
Foundations are a staple in our makeup routine, but finding the perfect match can be a challenge. If you have foundations that are either too dark or too light, don't let them gather dust. Mix them together! By combining different shades, you can create a custom color that matches your skin tone perfectly. Start with a small amount of each and adjust until you find the right blend [1].
Using Concealer as Foundation
In a pinch and out of foundation? Your concealer can double as a foundation. Concealers usually have a thicker consistency and higher coverage, so you'll want to work in small sections and blend well. Mix a little moisturizer with your concealer to thin it out for a more natural look.
Flawless Finish
Before moving on to adding colors, let's make sure our canvas is as smooth and long-lasting as possible.
Using a Primer
Primer is like the glue that holds your makeup in place. If you don't have a primer at hand, a dab of aloe vera gel or your daily moisturizer can work wonders. Just apply a thin layer before your foundation for smoother application and improved makeup longevity.
DIY Setting Spray
Setting spray is essential for a lasting look, but if you're out or looking for a more natural alternative, you can create your own. Mix three parts distilled water with one part glycerin, and add a couple of drops of your favorite essential oil for fragrance. Pour it into a spray bottle and voila! You have a DIY setting spray.
Coverage and Concealment
Sometimes the base needs a little extra help to look flawless.
Concealing Blemishes
Concealing blemishes or dark spots? Instead of piling on the foundation, use a color corrector or a full-coverage concealer. Apply a small amount on the blemish and gently blend the edges. Set it with a powder to make sure it stays in place [2].
Color Correction with Lipstick
Red lipstick is not just for your lips! If you have dark circles, applying a small amount of red lipstick underneath your eyes before applying concealer can counteract the bluish or grayish tones. Just make sure to blend well, so the red doesn't peek through.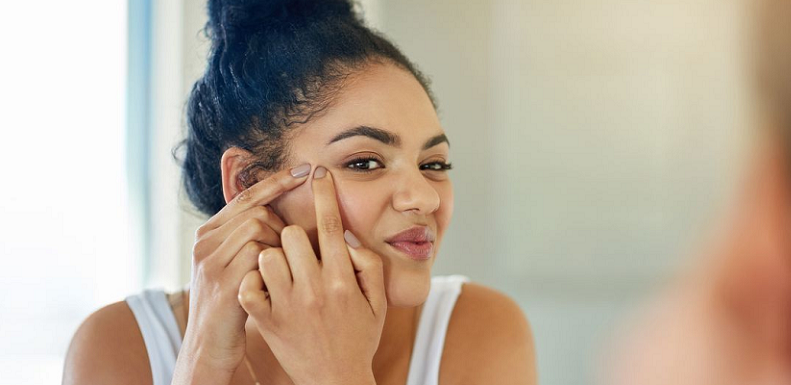 Eye-Catching Ingenuity: Eye Makeup Tricks
With the foundation set, let's move on to the windows to your soul — your eyes. Eye makeup can be as subtle or as dramatic as you want it to be. However, mastering the perfect cat eye or creating a unique eyeshadow color can sometimes feel like rocket science.
Custom Eyeshadow Colors
Creating a standout eye look often means experimenting with colors. But you don't need an extensive eyeshadow palette to achieve this.
Mixing Eyeshadows
If you're craving a specific eyeshadow color that's not in your collection, try mixing shades you already have. Blend them on the back of your hand or a mixing palette before applying. It's like being a makeup chemist, creating your own unique colors!
Using Blush or Lipstick
Another trick for custom eyeshadow is using your blush or lipstick. With a clean brush, lightly dip into your blush and apply it as eyeshadow. If using lipstick, make sure to blend quickly as it may set faster. This trick can also help you create a cohesive look by tying in the colors of your eyes, cheeks, and lips [3].
Mastering the Eyeliner
Eyeliner can make your eyes look bigger, add drama, or give you a chic look. However, applying eyeliner can be tricky.
Using a Credit Card for Precision
To achieve a clean and precise eyeliner, especially for a winged look, use the edge of a credit card or a sticky note as a guide. Place it at an angle from the outer corner of your eye towards the end of your eyebrow, and draw the line.
DIY Gel Liner with Pencil
If you're more into gel liners but only have a pencil, here's a hack for you. Hold the tip of your pencil liner over a lighter for a second or two, let it cool for a few more seconds, and you have yourself a gel liner!
Maximizing Mascara
Long, voluminous lashes can be a game-changer. Here's how to get the most out of your mascara.
Reviving Dried Mascara
Don't throw away your dried-out mascara! Add a few drops of saline solution or eye drops to the tube, and it will be as good as new.
DIY Lash Curling with a Spoon
If you don't have an eyelash curler, use a spoon instead. Warm the spoon slightly (make sure it's not too hot), press it against your lashes with the curved side towards your eye, and hold for a few seconds. Follow with mascara [4].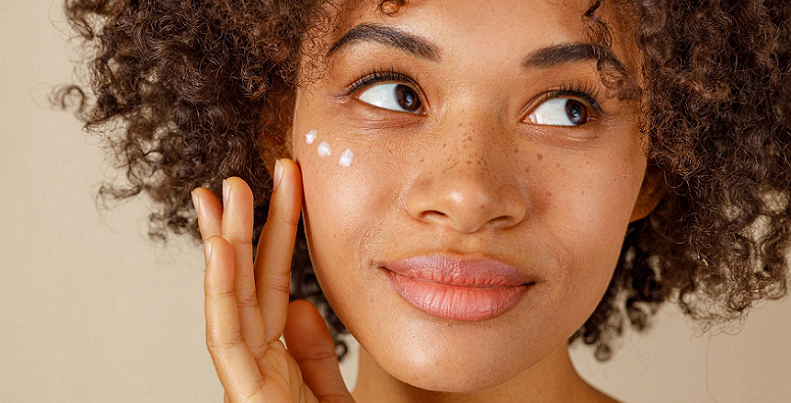 Lip Service: Perfecting Your Pout
Lips can be the focal point of your makeup look, making them look their best is essential. Whether you're going for a bold, dramatic lip or a soft, natural pout, these hacks will ensure your lips are always on point.
DIY Lip Colors
Are you tired of your current lipstick shades or can't find the perfect color for your look? Get ready to play makeup mixologist!
Mixing Lipsticks
Create a custom lip color by mixing two or more lipsticks. You can either blend them directly on your lips or use a lip brush to mix them on a palette (or the back of your hand) before applying. Experiment with different combinations to find your signature shade.
Creating Matte Lipstick with Powder
Turn any creamy lipstick into a matte one with this simple trick. After applying your lipstick, place a tissue over your lips and lightly dust translucent powder over the tissue. This will give you a matte finish without drying out your lips.
Defining the Lips
A defined lip not only makes your lips look fuller but also adds polish to your overall makeup look.
Lipliner Substitutes
If you don't have a lipliner in a matching shade, use a flat, angled brush and a bit of your lipstick to outline your lips. This will keep your lipstick from bleeding and give your lips a more defined shape.
Perfecting the Cupid's Bow with Concealer
For a sharp and defined cupid's bow, use a small concealer brush and a little bit of concealer to clean up and highlight the edge of your top lip. This not only defines your cupid's bow but also makes your lips look fuller.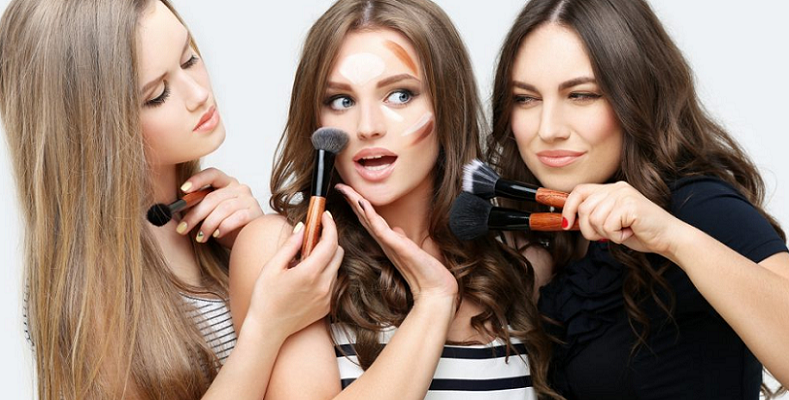 Brow Know-How: Shaping and Filling Eyebrows
Eyebrows are often referred to as the frames of the face. A well-shaped and filled eyebrow can enhance your features and give you a polished appearance. But we've all had those days when the brows just won't cooperate. With a little flair, you can tame those brows into submission.
DIY Eyebrow Shaping
A well-shaped brow can make a world of difference. Here are a couple of hacks for those who want to shape their brows at home without the fuss [5].
The Pencil Trick
To find where your eyebrows should start and end, and where the arch should be, use a pencil or a straight edge. Place it vertically against the side of your nose – this is where your brow should start. Angle it from your nose through your pupil for the arch, and finally, angle it from your nose to the outer corner of your eye to find where your brow should end.
Stencil Magic
Create a stencil by drawing your desired brow shape on a piece of cardstock and cutting it out. Place the stencil over your eyebrow and fill it in with powder or a pencil for perfectly shaped brows.
Filling in the Gaps
If you have sparse eyebrows, filling them in is a game-changer. Here are some innovative solutions to get those brows looking full and fabulous.
Eyeshadow as Brow Powder
If you don't have a brow powder, don't worry. Use a matte eyeshadow that matches your brow color. With an angled brush, apply the eyeshadow in short, feathery strokes to mimic natural brow hairs.
Setting with Hairspray
To set your brows and keep them in place all day, spray a little hairspray onto a clean mascara wand or toothbrush and comb through your brows. This will ensure they stay put without making them feel too stiff.
Highlighting Your Brows
Adding highlighter under the brow bone can lift the brows and make your eyes look bigger and brighter.
Highlighter or Concealer Hack
If you don't have a brow highlighter, use a light concealer or eyeshadow. Apply a small amount under your brow following its natural arch and blend it out. This will give your brows a lifted and defined look.
References

[1] 7 Common Beauty Problems Solved With Easy Solutions
[2] 7 Natural Remedies to Common Beauty Problems
[3] 11 Quick And Easy Fixes For Your Most Annoying Beauty Problems
[4] 25 Cosmetic Products To Help Solve Your Most Annoying Beauty Problems
[5] Skin Problems Solved