Pearl Powder: An Ancient Beauty Secret for Radiant Skin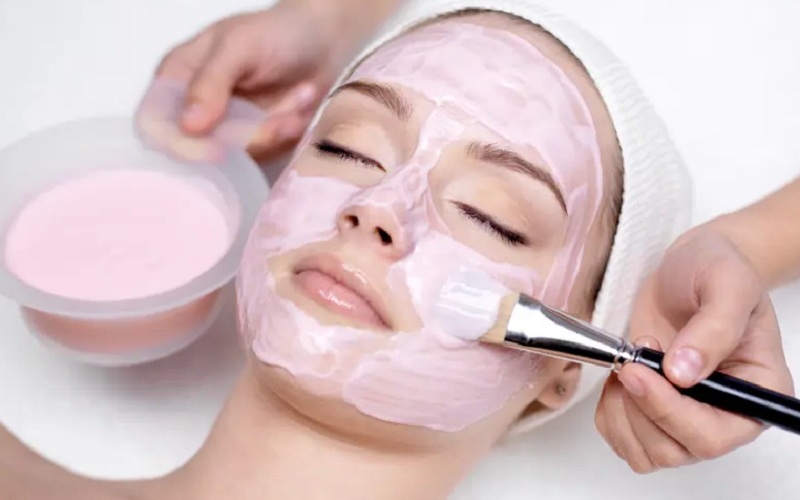 From the timeless allure of shimmering pearls to the ethereal glow they impart to the skin, pearl powder has charmed and captivated beauty enthusiasts for centuries. Imagine walking through the annals of history, catching glimpses of ancient Chinese empresses and Egyptian queens who held pearls close to their hearts — and even closer to their skin. Pearl powder, derived from these iridescent gems of the sea, was a cherished beauty secret, believed to bestow youthfulness and grace upon those who used it.
The Origins of Pearl Powder as a Beauty Ingredient
Before we dive into the depths of pearl powder's applications and benefits, it's essential to understand its roots. Where did this luxurious substance originate, and how did it gain its reputation as a beauty elixir?
Ancient China: The Empress's Beauty Secret
Empress Wu Zetian
In ancient China, one name is synonymous with the epitome of beauty and grace: Empress Wu Zetian. The only female emperor in Chinese history, Wu Zetian ruled during the Tang dynasty (618-907 AD). Not only was she known for her political acumen, but her age-defying beauty was also the stuff of legends. She is said to have had an impeccable complexion even in her later years, and pearl powder was a staple in her beauty regimen.
Traditional Chinese Medicine
Beyond the imperial court, pearl powder was also valued in Traditional Chinese Medicine (TCM). For centuries, it has been believed to have healing properties, and was used for various ailments. In the context of skin health, ancient Chinese practitioners prescribed pearl powder for its purported ability to clear blemishes, reduce inflammation, and improve the skin's texture.
Ancient Egypt: Cleopatra's Love for Pearls
Pearl's Representation of Royalty and Beauty
Now, let's travel to the land of the pyramids. In ancient Egypt, pearls were a symbol of wealth and status. They were highly prized for their beauty and were often worn as jewelry by royalty and the elite. Cleopatra, one of the most iconic figures of ancient Egypt, was known for her captivating beauty and her affinity for pearls [1].
Cleopatra's Luxurious Skincare Routine
Cleopatra was said to have used pearl powder in her skincare regimen. Legend has it that she would dissolve pearls in vinegar and use the mixture to maintain her radiant complexion. Though the precise details of her beauty routine may be lost in the sands of time, her association with pearls endures as a testament to their timeless appeal.
Spreading Through Asia
Japan
As we continue our journey through history, we find that ancient Japan was also enchanted by the beauty of pearls. Japanese geishas, known for their porcelain-like skin, are said to have used pearl powder to achieve a flawless and luminous complexion. Pearl powder was believed to protect the skin from the elements and maintain its youthful vitality.
India
In India, pearls and pearl powder have been used in Ayurveda, an ancient system of medicine. Similar to TCM, Ayurveda recognized the potential benefits of pearl powder for skin health. It was believed to cool and soothe the skin, and was often included in beauty preparations for its brightening properties.
Korea
In Korea, traditional beauty practices also embraced pearl powder. Korean women sought to achieve a pale and clear complexion, and pearl powder was believed to help in lightening the skin and giving it a luminous sheen.
Transition into Modern Times
As the centuries progressed, the use of pearl powder transcended cultural boundaries and made its way into contemporary skincare. Today, with scientific advancements, we have a better understanding of the properties of pearl powder. Modern-day skincare brands have rekindled the ancient allure of pearls, incorporating pearl powder into various skincare products ranging from facial masks to creams and serums. This ancient beauty secret, passed down through generations, continues to thrive as a symbol of luxury and elegance in skincare.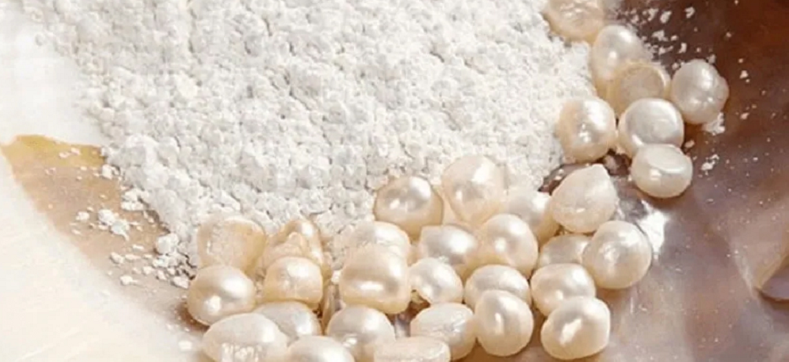 Understanding the Composition of Pearl Powder
Having explored the historical significance of pearl powder, it's time to dive into the scientific aspects. What exactly is pearl powder made of? Why does this seemingly simple substance have such a profound effect on the skin?
Extracting Powder from Pearls
The Process
The process of turning pearls into a fine powder is an intricate one. Pearls are initially cleaned and sterilized to remove any impurities. They are then subjected to a grinding process. The grinding can be done using traditional mortar and pestle methods or through more modern mechanical methods. The goal is to achieve a very fine powder to maximize the surface area for better absorption into the skin [2].
Varieties of Pearls Used
Not all pearls are created equal. The quality and composition of pearl powder can vary based on the type of pearls used. Freshwater pearls are often preferred for their higher organic content compared to saltwater pearls. However, both varieties contain the essential nutrients and minerals that benefit the skin.
Key Components
Amino Acids
Amino acids are the building blocks of proteins and play a critical role in skin health. Pearl powder is rich in amino acids such as glycine, alanine, and aspartic acid. These amino acids contribute to the skin's hydration, texture, and resilience.
Minerals: Calcium, Magnesium, and Trace Elements
Pearl powder is an excellent source of minerals, particularly calcium. The high calcium content is believed to aid in skin regeneration and may help in achieving a firmer skin texture. Additionally, it contains magnesium, zinc, and other trace elements that are essential for various biological processes in the skin [3].
Antioxidants and Proteins
The presence of antioxidants in pearl powder helps combat oxidative stress, which is a contributing factor to premature aging. The proteins in pearl powder, including conchiolin, are believed to promote a smoother and more radiant complexion.
Quality Factors
Source of Pearls
The source of the pearls used in the powder plays a crucial role in determining its quality. Pearls harvested from pristine, pollution-free waters are typically of higher quality. Moreover, the species of mollusk from which the pearls are obtained can also influence the composition of the pearl powder.
Processing Methods
The way pearl powder is processed can affect its potency. Traditional grinding methods may retain more nutrients, but modern processing techniques can achieve a finer texture. It's important to choose pearl powder that has been processed without the use of harsh chemicals to ensure it retains its beneficial properties.
Purity and Potency
High-quality pearl powder should be pure and free from additives or fillers. The potency of the powder is also important; it should have a high concentration of amino acids, minerals, and antioxidants to be effective in skincare.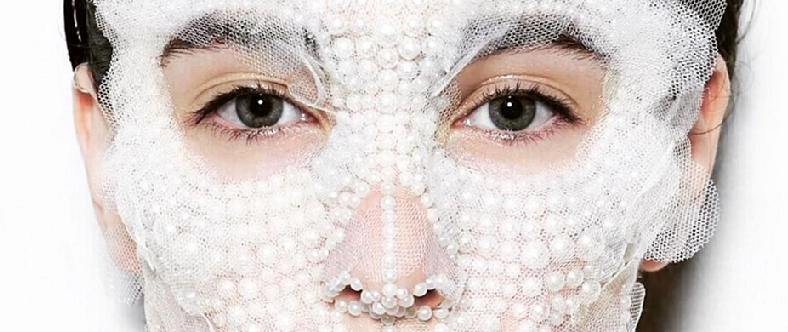 Benefits of Pearl Powder for Skin
From promoting a radiant glow to fighting the signs of aging, pearl powder's array of benefits has solidified its status as a cherished beauty enhancer through the ages.
Radiance and Glow
Nourishing the Skin
One of the most notable benefits of pearl powder is the nourishment it provides to the skin. Its rich content of amino acids and minerals helps to replenish essential nutrients, which in turn keeps the skin looking healthy and vibrant.
Encouraging Cell Renewal
Pearl powder is believed to promote skin cell renewal. By encouraging the shedding of dead skin cells and the generation of new ones, it helps to maintain a fresh and radiant complexion.
Anti-Aging Properties
Collagen Production
Collagen is a protein that plays a vital role in maintaining the skin's elasticity and firmness. As we age, collagen production decreases, leading to wrinkles and sagging skin. Pearl powder is believed to stimulate collagen production, helping to maintain the skin's youthful appearance [4].
Reducing Wrinkles and Fine Lines
The antioxidants in pearl powder also contribute to its anti-aging benefits. By neutralizing free radicals, which are one of the main culprits behind skin aging, pearl powder helps in reducing the appearance of wrinkles and fine lines.
Soothing and Healing
Acne and Blemishes
For those struggling with acne and blemishes, pearl powder may offer a natural solution. Its anti-inflammatory properties can help to reduce redness and calm irritated skin. Moreover, the minerals in pearl powder, particularly zinc, are known to be beneficial in managing acne.
Redness and Inflammation
In addition to combating acne, the anti-inflammatory properties of pearl powder can also be helpful in soothing other forms of skin irritation. Whether it's due to environmental factors or underlying skin conditions like rosacea, pearl powder can help in reducing redness and calming the skin.
Skin Brightening
Reducing Hyperpigmentation
Hyperpigmentation, characterized by dark spots or uneven skin tone, can be addressed with the use of pearl powder. It is believed to inhibit the production of melanin, the pigment responsible for the coloration of the skin, thereby reducing the appearance of dark spots and promoting an even skin tone [5].
Enhancing Skin's Luminosity
Beyond addressing hyperpigmentation, pearl powder also helps to enhance the skin's natural luminosity. By reflecting light, it gives the skin a subtle glow, often referred to as the "pearlescent effect."
Supporting Skin's Natural Barrier
Lastly, pearl powder is known to support the skin's natural barrier function. By reinforcing the skin's ability to retain moisture and protect itself from environmental stressors, it contributes to overall skin health and resilience.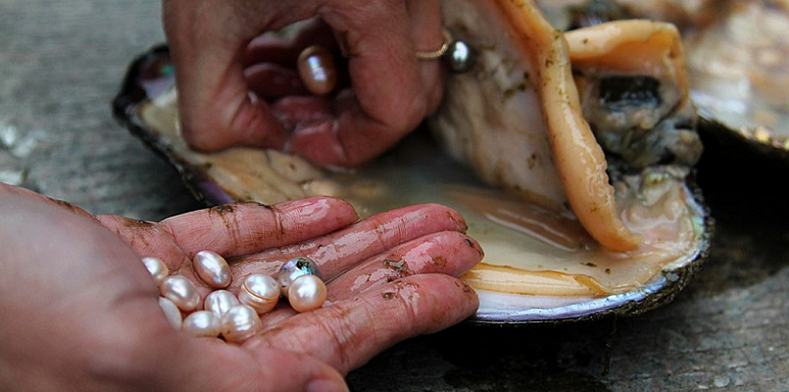 Incorporating Pearl Powder into Your Skincare Routine
With a newfound understanding of the rich history, composition, and benefits of pearl powder, you may be eager to integrate this gem into your skincare regime. However, for the best results, it's important to know how to use pearl powder effectively.
Choosing the Right Pearl Powder Product
Pearl Powder Quality
As discussed earlier, the quality of pearl powder is paramount. Opt for a product that specifies its source and ensures that it is free from additives and fillers. Also, consider the grinding method used, as finer powders are generally more effective.
Product Type
Pearl powder is versatile and can be found in various forms, including pure powder, creams, serums, and masks. Depending on your preferences and skincare needs, choose a product type that aligns with your routine.
DIY Pearl Powder Recipes
Pearl Powder Face Mask
One of the most popular ways to use pearl powder is in the form of a face mask. Mix a small amount of pearl powder with water or rose water to form a paste. Apply it evenly over your face, let it dry for 10-15 minutes, and then rinse with lukewarm water.
Pearl Powder and Yogurt Mix
For added nourishment, mix pearl powder with yogurt. The lactic acid in yogurt helps to exfoliate the skin while the pearl powder provides nutrients. Apply the mixture as a mask and rinse off after 10-15 minutes.
Incorporating into Existing Products
Adding to Moisturizers and Serums
If you prefer not to create a separate product, you can also add pearl powder to your existing moisturizers or serums. Simply mix a small amount into your regular product before applying it to your skin.
Mixing with Foundation
For an immediate luminous effect, consider mixing a pinch of pearl powder with your liquid foundation. This will give your skin a subtle, natural glow and help to improve its texture over time.
Usage Tips and Precautions
Start Slowly
As with any new skincare product, it's best to start slowly. Begin by using pearl powder once a week and monitor how your skin reacts before increasing the frequency.
Patch Test
Before applying pearl powder to your face, perform a patch test on a small area of skin to ensure that you do not have an allergy or sensitivity to the product.
Seek Professional Advice
If you have underlying skin conditions or are unsure about incorporating pearl powder into your routine, it's advisable to consult a dermatologist or skincare professional.
Complementing Pearl Powder with a Balanced Skincare Routine
Remember that while pearl powder can be a valuable addition, it's not a magic cure-all. For the best results, it should be used as part of a balanced skincare routine that includes cleansing, moisturizing, and protecting your skin from the sun.
References

[1] Could Pearl Powder Save Your Skin?
[2] Pearl Powder Skin Benefits: What Is It and How To Use It?
[3] Pearls As a Traditional Chinese Medicine Ingredient
[4] Investigation of the Safety and Efficacy of Nacre for Use in Skin and Wound Repair
[5] Pearl Powder—An Emerging Material for Biomedical Applications