Tamanu Oil: The Underrated Skincare Ingredient for Healing Scars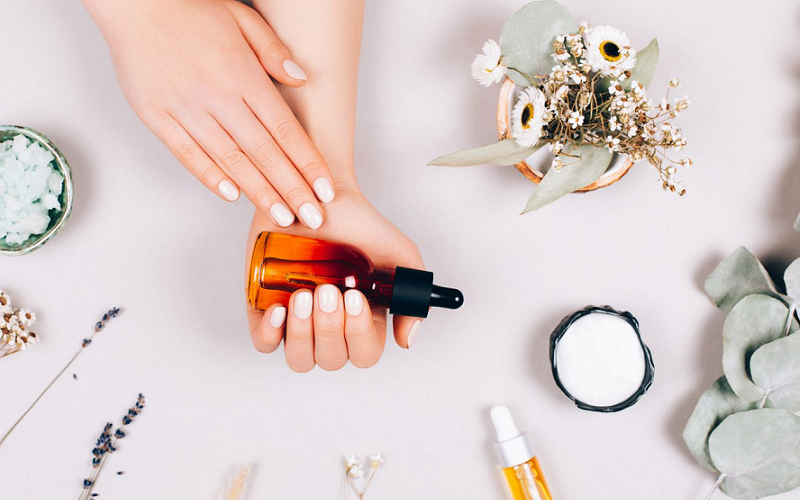 In the vast world of skincare, countless products vie for our attention, promising radiant and flawless skin. However, tucked away in the tropical paradise of Polynesia, there lies an under-the-radar elixir that has been cherished for centuries — Tamanu Oil. Derived from the nuts of the Calophyllum inophyllum tree, this lush, green oil holds an enchanting secret. Renowned for its remarkable restorative powers, Tamanu Oil has been a go-to remedy in traditional medicine, particularly for its astounding ability to heal scars.
The Origins of Tamanu Oil
Tamanu oil might seem like a recent discovery in the world of skincare, but its history is rich and spans across centuries.
Historical Use in Polynesian Cultures
For generations, Tamanu Oil, or "Green Gold" as it's affectionately known, has been a revered ingredient in Polynesian cultures. The indigenous people of Tahiti, Hawaii, and other islands have long recognized the oil's powerful healing properties. Tamanu Oil has been traditionally used to treat a wide range of skin ailments, including cuts, burns, insect bites, and, most notably, scars.
Legend has it that the Tamanu tree is a sacred gift from the gods. The Polynesians believed that the tree held the spirits of their ancestors. The oil extracted from the Tamanu nuts was often used in sacred rituals and medicinal treatments, making it an integral part of their culture and everyday life.
Botanical Information about the Tamanu Tree
The Tamanu tree, known scientifically as Calophyllum inophyllum, belongs to the family Calophyllaceae. It is an evergreen tree that grows up to 25-30 meters tall. The tree's branches spread wide, bearing shiny, dark green leaves and small, fragrant white flowers. The flowers give way to clusters of round fruits, each containing a nut from which Tamanu oil is extracted.
While Tamanu trees are indigenous to Polynesia, they can also be found across different parts of the world. The tree thrives in tropical and subtropical climates, especially in Southeast Asia, East Africa, the Indian subcontinent, and the northern regions of Australia. Over time, the Tamanu tree has also been cultivated in other tropical areas, spreading the use of its oil to new cultures and regions [1].
Traditional Extraction Methods of Tamanu Oil
The traditional extraction process of Tamanu Oil is a laborious but revered practice. After the fruits of the Tamanu tree are harvested, they are left to dry in the sun for a month or two. During this period, the nuts inside the fruit shells become sticky and dark green as the oil content increases. The dried nuts are then cold-pressed or manually extracted to yield the precious Tamanu Oil. This traditional method is believed to retain the maximum potency of the oil's healing properties.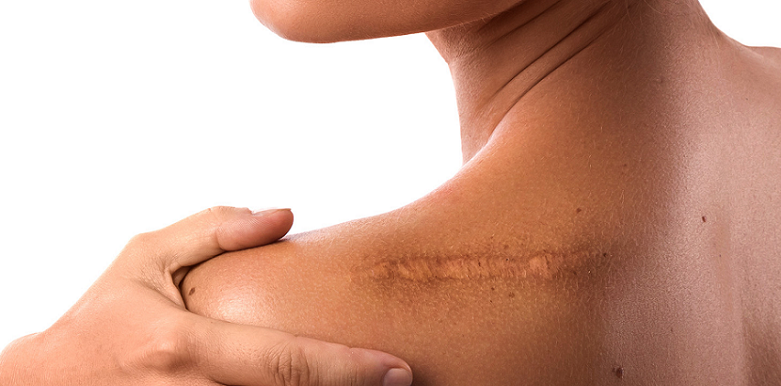 The Composition of Tamanu Oil
Tamanu Oil's efficacy in promoting skin health and healing scars is deeply rooted in its unique chemical composition.
Main Chemical Constituents
Tamanu Oil boasts an array of bioactive compounds that contribute to its therapeutic properties. Here, we will discuss some of the principal constituents that play a pivotal role in Tamanu Oil's skincare benefits [2].
Calophyllolide
One of the major constituents of Tamanu Oil is calophyllolide, a natural lipid that possesses potent anti-inflammatory properties. This compound is particularly beneficial in reducing the redness and swelling that often accompany scars, making it an essential component in Tamanu Oil's scar healing capability.
Oleic Acid
Oleic acid, a monounsaturated fatty acid, is another prominent component of Tamanu Oil. It is known for its moisturizing properties and ability to penetrate deeply into the skin. By doing so, oleic acid helps in delivering nutrients and other beneficial compounds into the skin, aiding in the healing process of scars.
Linoleic Acid
Linoleic acid, a polyunsaturated fatty acid, plays a significant role in maintaining the skin's barrier function. This fatty acid helps in keeping the skin hydrated and protected from environmental aggressors, which is crucial for the healing of scars and maintaining overall skin health.
Beneficial Nutrients in Tamanu Oil
In addition to the primary constituents, Tamanu Oil is packed with an abundance of nutrients that are beneficial for the skin. These include antioxidants like vitamin E, which protect the skin from oxidative stress, and antimicrobial compounds that keep infections at bay. The presence of these nutrients enhances Tamanu Oil's efficacy in promoting the healing of scars and improving skin texture.
Comparison with Other Oils
While many oils are lauded for their skincare benefits, Tamanu Oil holds a unique place due to its rare combination of components. For instance, compared to coconut oil, which is primarily composed of saturated fatty acids, Tamanu Oil contains a more diverse range of fatty acids and bioactive compounds. This diversity contributes to its versatile skincare benefits, particularly in scar healing.
In contrast, oils like argan or jojoba are excellent moisturizers but might not have the same level of anti-inflammatory and regenerative properties that Tamanu Oil possesses. Therefore, Tamanu Oil can be considered as a more targeted and potent option for individuals looking to heal scars and improve the appearance of their skin.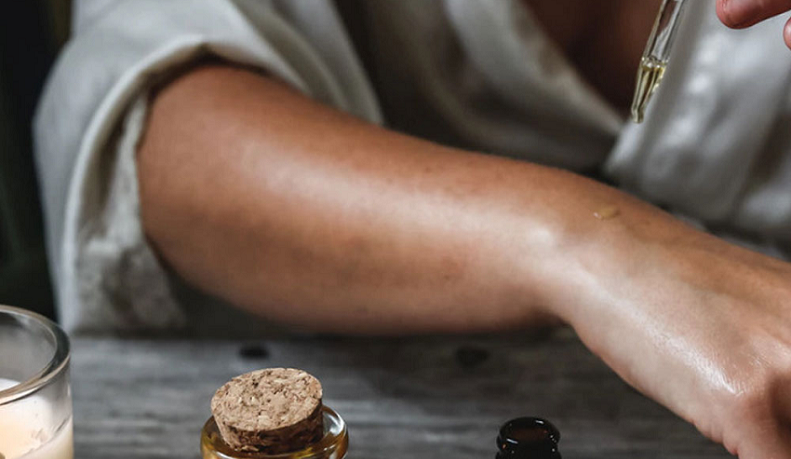 Tamanu Oil and Skin Health
Having explored the rich composition of Tamanu Oil, we can now understand how these ingredients synergize to provide unparalleled benefits for skin health, especially in the context of healing scars. The marriage of Tamanu Oil's nutrients and bioactive compounds creates a formidable force in skin regeneration and repair.
General Benefits for Skin
Tamanu Oil's multifaceted nature makes it a strong ally for a variety of skin issues, not just scars. Below are some of the general benefits Tamanu Oil offers to skin health [3].
Moisturizing Properties
Tamanu Oil's rich fatty acid content, particularly oleic acid, makes it an excellent moisturizer. It penetrates the skin deeply and helps to lock in moisture, preventing dryness and promoting a soft, supple texture.
Anti-Inflammatory Effects
Thanks to the calophyllolide component, Tamanu Oil boasts significant anti-inflammatory properties. This helps to calm irritated skin, reduce redness, and soothe conditions like eczema and psoriasis.
Antioxidant Qualities
Tamanu Oil is rich in antioxidants such as vitamin E. These antioxidants combat free radicals, protecting the skin from oxidative stress and environmental pollutants, which is crucial in maintaining a youthful and healthy complexion.
How Tamanu Oil Promotes Scar Healing
One of Tamanu Oil's most celebrated benefits is its ability to facilitate the healing of scars. Let's take a look at the mechanisms through which it achieves this remarkable feat [4].
Stimulating Collagen Production
Collagen is a critical protein in the skin that provides structure and elasticity. Tamanu Oil has been shown to stimulate collagen production, which is essential for the repair of damaged skin and the minimization of scar tissue.
Encouraging Cell Turnover
Tamanu Oil promotes the process of cell turnover, where old and damaged skin cells are replaced with new, healthy ones. This is key in the natural healing process of scars, as it helps to gradually reduce the appearance of scar tissue.
Improving Skin Elasticity
As Tamanu Oil stimulates collagen production, it also improves the elasticity of the skin. This not only helps in the healing process but ensures that the new skin forming is healthier, stronger, and more resilient.
Related Research and Studies
Numerous studies have been conducted to investigate the efficacy of Tamanu Oil in skincare. One study published in the Journal of Chemical and Pharmaceutical Research in 2015, highlighted Tamanu Oil's wound-healing and anti-inflammatory properties. Another study, published in the International Journal of Cosmetic Science in 2002, demonstrated the oil's ability to improve the appearance of scars over a period of six weeks. These and many other studies support the traditional claims of Tamanu Oil's effectiveness in skin health and scar healing [5].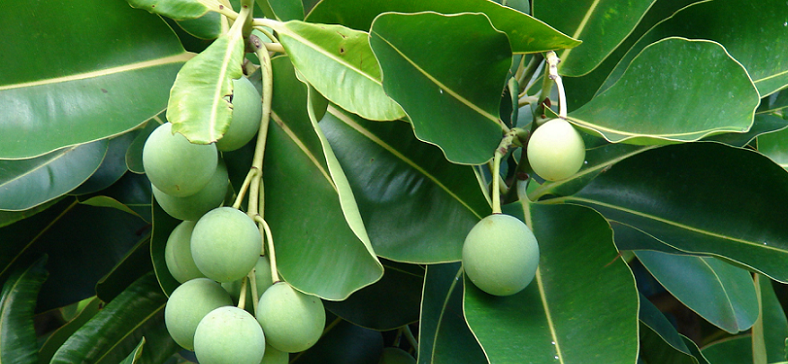 How to Incorporate Tamanu Oil into Your Skincare Routine
Now that we have unraveled the secrets behind Tamanu Oil's skin-rejuvenating properties, you might be eager to introduce this potent elixir into your skincare routine. However, before you do so, it's essential to know how to select the right product, the best ways to apply it, and what precautions to take for optimal results.
Selecting High-Quality Tamanu Oil
The first step in harnessing the benefits of Tamanu Oil is selecting a high-quality product. Since the market is flooded with various brands and options, it's important to discern which one is the most authentic and potent.
Reading Labels for Purity
When selecting Tamanu Oil, ensure to read the labels carefully. Look for products labeled as pure Tamanu Oil or Calophyllum inophyllum seed oil. Be wary of products mixed with other oils or ingredients, as this might dilute the effectiveness of the Tamanu Oil.
Looking for Organic or Cold-Pressed Options
Opt for Tamanu Oil that is organic and cold-pressed. Organic options are free from pesticides and other harmful chemicals, while cold-pressed oils are extracted without heat, ensuring that the oil retains its beneficial properties.
Ideal Application Methods for Scar Treatment
Once you have selected a high-quality Tamanu Oil, the next step is understanding how to apply it for scar treatment.
Direct Application
For treating scars, Tamanu Oil can be applied directly to the skin. Take a few drops of the oil on your fingertips and gently massage it into the scarred area. This can be done once or twice daily, depending on your skin's tolerance and the severity of the scars.
Mixing with Other Beneficial Oils
Tamanu Oil can also be combined with other oils for enhanced benefits. For example, mixing Tamanu Oil with rosehip seed oil, which is also known for its scar-healing properties, can create a powerful blend for skin regeneration.
Recommended Frequency and Dosage
It's advisable to start slowly when introducing Tamanu Oil into your routine. Begin by applying a small amount once daily, and gradually increase to twice daily if your skin responds well. Consistency is key, so it's important to maintain a regular application schedule for the best results.
Precautions and Potential Allergic Reactions
As with any new skincare product, it's important to proceed with caution. Before applying Tamanu Oil to a large area, perform a patch test by applying a small amount to your forearm and observing for any reactions over 24 hours. If you experience any irritation or allergic reactions, discontinue use and consult a healthcare professional.
References

[1] Oil of Tamanu (Calophyllum inophyllum)
[2] Here's What Dermatologists Think About Using Tamanu Oil for Your Skin
[3] Tahitian Beauty Oil
[4] Tamanu oil and skin active properties: from traditional to modern cosmetic uses
[5] Evaluation of the cutaneous wound healing potential of tamanu oil