Nanoparticles in Sunscreen: What They Are and How They Work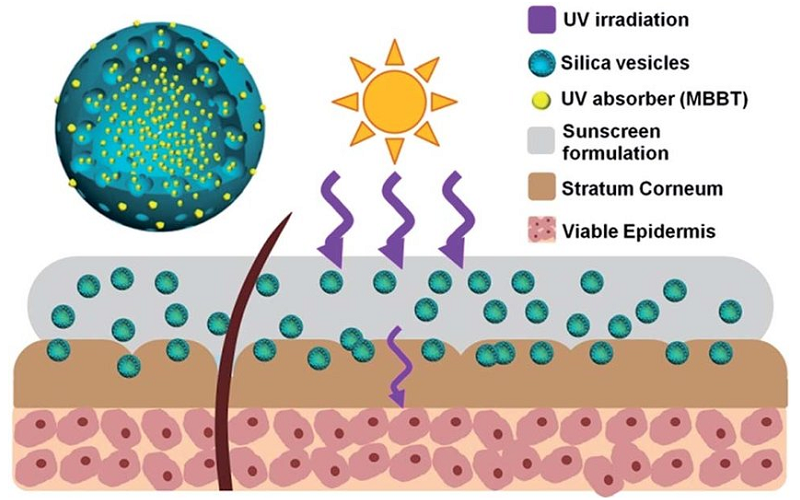 Summer is here, and the sun is shining in all its glory. While you might be eager to soak in the sunshine, it's essential to keep your skin protected. Sunscreen is our trusty companion in this regard. But have you ever wondered what's in that creamy lotion that shields your skin from harmful ultraviolet rays? A key component of many modern sunscreens is something much tinier than you might expect: nanoparticles. These minute particles have revolutionized the way sunscreens work, making them more effective and aesthetically pleasing.
Introduction to Nanoparticles and Sunscreen
Summer days and outdoor adventures often call for sunscreen to keep our skin safe from the sun's harmful ultraviolet rays. But what exactly goes into the making of this protective shield? One of the groundbreaking ingredients that have transformed the sunscreen industry are nanoparticles.
Definition of Nanoparticles
Nanoparticles are extremely small particles, typically ranging from 1 to 100 nanometers in size. To put this into perspective, a single nanometer is one billionth of a meter, making nanoparticles invisibly small. These particles can be made from various materials such as metals, carbon, and even organic compounds. Their tiny size endows them with unique properties that are not seen in larger particles made of the same materials.
Brief Overview of Sunscreen
Sunscreen is a product that is applied to the skin to protect it from the harmful effects of the sun's ultraviolet (UV) rays. There are two main types of sunscreens: chemical sunscreens and physical sunscreens. Chemical sunscreens work by absorbing UV rays and converting them into heat, while physical sunscreens reflect or scatter the UV rays away from the skin. Sunscreen products often contain a combination of ingredients to provide broad-spectrum protection against both UVA and UVB rays.
Importance of Sunscreen in Skin Protection
Using sunscreen is crucial for several reasons. First and foremost, it protects the skin from harmful UV rays that can cause skin cancer. UV rays can also lead to premature aging of the skin, causing wrinkles and age spots. Moreover, for individuals with sensitive skin, exposure to the sun can result in sunburns and rashes. By using sunscreen, you can not only protect yourself from these adverse effects but also help maintain youthful and healthy skin.
Introduction to the Use of Nanoparticles in Sunscreens
The use of nanoparticles in sunscreens is a relatively recent development. They are primarily used in physical sunscreens. Their minuscule size allows them to effectively reflect and scatter UV rays without leaving a noticeable white residue on the skin, which was a common issue with traditional physical sunscreens. Additionally, their large surface area relative to their volume makes them exceptionally effective at providing UV protection [1].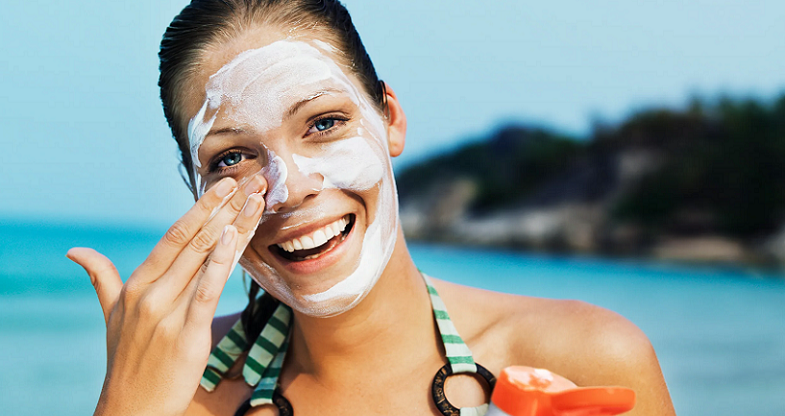 The History of Sunscreen
Understanding the history of sunscreen can give us invaluable insights into the progression of skincare and the increasing importance of sun protection.
Ancient Sun-Protecting Practices
Long before the advent of commercially available sunscreens, ancient civilizations were well aware of the sun's damaging effects on the skin. They used various natural ingredients and remedies to protect their skin from sun exposure.
For instance, the ancient Egyptians used a mixture of rice bran, jasmine, and lupine as primitive sunscreens. They believed that these mixtures would shield them from the sun's wrath and keep their complexion fair.
In ancient Greece, athletes often applied olive oil to their skin, believing it could offer protection against the sun. Additionally, the ancient Chinese and Indians used a plethora of herbs and oils as natural sunblocks.
The Development of Modern Sunscreen
The roots of modern sunscreen can be traced back to the early 20th century. The harmful effects of sun exposure started gaining more recognition, and the need for sun protection became evident.
In the 1920s and 1930s, chemists began experimenting with different compounds to create effective sunscreens. One of the first commercially available sunscreens was developed by an Austrian chemist, Franz Greiter, in 1946, under the name Gletscher Crème (Glacier Cream). This product was the precursor to the Piz Buin brand, which is still popular today.
In 1944, an American pharmacist, Benjamin Green, developed a sunscreen formula to protect soldiers during World War II. He later refined this formula and released it commercially as Coppertone suntan cream, which became one of the most iconic sunscreen brands in the United States.
The Introduction of Nanotechnology in Sunscreen Formulations
The late 20th century saw incredible advancements in technology and materials science. Among these advancements was the advent of nanotechnology, which involved the manipulation of materials on an atomic or molecular scale.
It was in the 1980s and 1990s that scientists began exploring the potential of using nanoparticles in sunscreen formulations. The goal was to address some of the limitations of traditional sunscreens, such as the thick, white layer they left on the skin.
Zinc oxide and titanium dioxide, which had long been used in physical sunscreens, were engineered into nanoparticle form. These nanoparticles of zinc oxide and titanium dioxide proved to be more effective in protecting the skin from UV rays while leaving little to no residue on the skin.
This breakthrough revolutionized the sunscreen industry. Today, many sunscreens on the market employ nanotechnology to provide highly effective sun protection without compromising cosmetic appeal [2].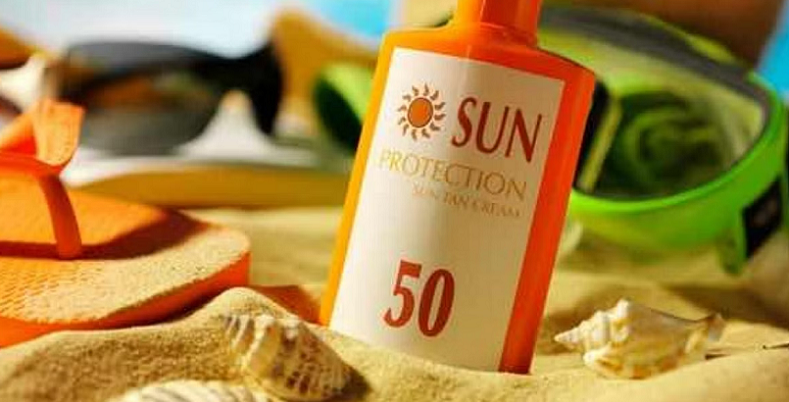 What Are Nanoparticles?
After a stroll through history, it's time to zoom in on the star players: nanoparticles. These tiny particles are at the heart of the revolution in sunscreen technology.
Definition and Scale
Nanoparticles are particles that have at least one dimension measuring between 1 and 100 nanometers. To grasp just how small this is, imagine that a single sheet of paper is about 100,000 nanometers thick. A human hair, which is considered thin, measures approximately 80,000 to 100,000 nanometers in diameter. A nanoparticle, then, is at least a thousand times thinner than a human hair. This minute size is what grants nanoparticles their distinctive properties, which are often vastly different from those of the same material in bulk form.
Types of Nanoparticles
Nanoparticles can be crafted from a wide range of materials, and accordingly, are categorized into different types. Here, we will focus on two broad categories – organic and inorganic nanoparticles.
Organic Nanoparticles
Organic nanoparticles are composed of carbon-based molecules such as lipids, proteins, or polymers. These nanoparticles are often used in drug delivery systems and medical imaging. In the context of sunscreens, they are not as commonly used as their inorganic counterparts.
Inorganic Nanoparticles
Inorganic nanoparticles are composed of materials other than carbon, such as metals and metal oxides. Two of the most common inorganic nanoparticles found in sunscreens are zinc oxide and titanium dioxide. These particles are highly effective in shielding the skin from harmful UV rays, which we will delve into further in the next section.
Properties of Nanoparticles
The fascinating aspect of nanoparticles is the unique properties they exhibit, which can be attributed to their tiny size and high surface area. Let's unravel two of these properties [3].
High Surface Area to Volume Ratio
Nanoparticles have a very high surface area relative to their volume. This means that a large portion of their material is exposed to the surrounding environment. This property makes them highly reactive and allows them to interact efficiently with other materials, including the UV rays from the sun.
Enhanced Reactivity and Interaction with Other Materials
Because nanoparticles have a high surface area and are small enough to interact with biological systems at the molecular level, they exhibit enhanced reactivity compared to their larger counterparts. In sunscreens, this enhanced reactivity helps in effectively scattering and absorbing UV rays, providing superior protection.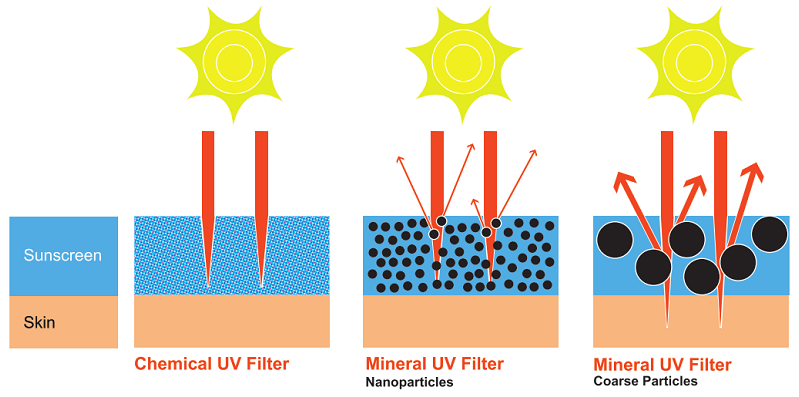 How Nanoparticles Work in Sunscreen
Now that we are acquainted with the world of nanoparticles and their unique properties, let's dive into the core of our discussion: how do nanoparticles work in sunscreen to protect our skin from harmful UV rays?
The Science of Sunlight and UV Rays
Sunlight, which is essential for life on Earth, is composed of various components, including visible light, infrared light, and ultraviolet (UV) light. Among these, UV light is of primary concern when it comes to skin protection, as it can cause skin damage and increase the risk of skin cancer [4].
UVA Rays
UVA rays constitute the majority of UV radiation that reaches the Earth's surface. While they are less intense than UVB rays, they are much more prevalent and can penetrate the skin more deeply. UVA rays are known for causing premature aging of the skin and contributing to the development of skin cancer.
UVB Rays
UVB rays are more intense than UVA rays but make up a smaller portion of the UV radiation that reaches the Earth. These rays are primarily responsible for causing sunburn and play a significant role in the development of skin cancer.
The Role of Nanoparticles in Blocking UV Rays
Nanoparticles in sunscreen are mainly tasked with blocking UV rays to protect the skin. They achieve this through two primary mechanisms: absorption of UV rays and reflection and scattering of UV rays.
Absorption of UV Rays
When nanoparticles absorb UV rays, they take in the energy of these rays and convert it into a less harmful form, usually heat. This prevents the UV rays from penetrating the skin and causing damage. Inorganic nanoparticles, such as zinc oxide and titanium dioxide, are particularly effective at absorbing UV rays.
Reflection and Scattering of UV Rays
In addition to absorbing UV rays, nanoparticles in sunscreen also reflect and scatter these rays away from the skin. This is especially beneficial because it reduces the total amount of UV radiation that can interact with the skin. The high surface area of nanoparticles enhances their ability to scatter UV rays effectively.
Common Nanoparticles Used in Sunscreens
There are two primary types of inorganic nanoparticles that are widely used in sunscreens: zinc oxide and titanium dioxide. These nanoparticles have been proven to be highly effective in providing broad-spectrum UV protection.
Zinc Oxide Nanoparticles
Zinc oxide nanoparticles are known for providing excellent broad-spectrum protection against both UVA and UVB rays. They are often used in physical sunscreens and are popular for their ability to sit on the skin's surface and scatter, reflect, and absorb UV rays.
Titanium Dioxide Nanoparticles
Titanium dioxide nanoparticles are also used in physical sunscreens and are effective in protecting against UVB rays and some UVA rays. Like zinc oxide, titanium dioxide nanoparticles sit on the skin's surface and protect by scattering, reflecting, and absorbing UV rays.
Benefits of Using Nanoparticles in Sunscreens
The integration of nanoparticles in sunscreen formulations has brought about a new era in sun protection. The unique properties of these tiny particles translate into a plethora of benefits for consumers seeking effective and aesthetically pleasing sun protection.
Enhanced UV Protection
One of the most significant benefits of using nanoparticles in sunscreens is the enhanced protection they offer against harmful UV rays [5].
Broad Spectrum Protection
Nanoparticles like zinc oxide and titanium dioxide are capable of protecting the skin from a broad spectrum of UV rays, including both UVA and UVB. This is vital for preventing not only sunburn but also long-term skin damage and the risk of skin cancer.
Increased Efficiency
Due to their high surface area to volume ratio, nanoparticles are incredibly efficient at absorbing and reflecting UV rays. This means that a smaller amount of material can provide the same level of protection as a larger amount of traditional sunscreen ingredients.
Improved Cosmetic Appeal
Beyond the enhanced protection, one of the most noticeable benefits of using sunscreens with nanoparticles is the improvement in cosmetic appeal [6].
Transparent Application
Traditional physical sunscreens often leave a thick, white layer on the skin, which many find unappealing. However, because nanoparticles are so small, they can create a transparent layer on the skin, making sunscreens with nanoparticles much more aesthetically pleasing.
Lighter and Non-Greasy Formulations
Nanoparticle-based sunscreens tend to have lighter and less greasy formulations compared to traditional sunscreens. This makes them more comfortable to wear, particularly on the face or during physical activities.
Additional Protective Properties
Besides UV protection, nanoparticles in sunscreens can also provide other protective properties.
Antioxidant Properties
Some nanoparticles have been shown to exhibit antioxidant properties, helping to protect the skin from oxidative damage caused by exposure to the sun. This can be beneficial in preventing premature aging of the skin.
Enhanced Skin Adhesion
The small size of nanoparticles allows for better adhesion to the skin's surface, which can result in longer-lasting protection, especially in conditions where the skin is exposed to water or sweat.
References

[1] Nanoparticles in sunscreens
[2] Nanoparticles and sunscreen
[3] Titanium dioxide and zinc oxide nanoparticles in sunscreens: focus on their safety and effectiveness
[4] The safety of nanoparticles in sunscreens
[5] The nanotechnology in your sunscreen
[6] Nanoparticles in Sunscreen Damage Microbes