Unveiling the Secrets Behind Cosmetic Expiry Dates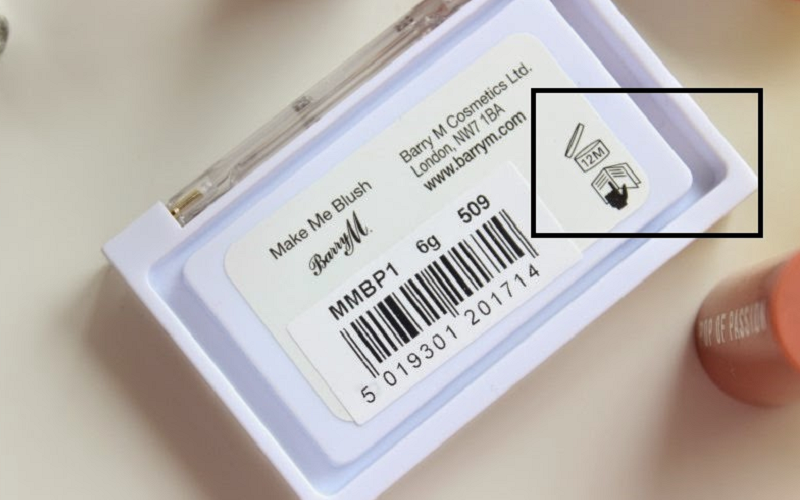 From luscious lipsticks to soothing skincare products, our beauty routines are often an integral part of our daily lives. However, there's an often-overlooked aspect that warrants our attention: cosmetic expiry dates. Have you ever found yourself puzzled by the various symbols and terms on your beauty products' packaging? Or questioned whether it's safe to use that long-lost eyeshadow discovered at the bottom of your drawer? You're not alone!
Understanding expiry dates is essential not only for the effectiveness of your cosmetics but more importantly, for your skin's health. Here we unravel the mystery of what ingredients in your cosmetics decay over time, the symbols you need to know, and how external factors like storage conditions can impact the shelf life of your beloved beauty products.
Introduction to Cosmetic Expiry Dates
In the vibrant world of cosmetics, where enchanting colors and luxurious textures reign supreme, there's a lesser-known side that deserves the spotlight: cosmetic expiry dates. With an array of beauty products gracing our vanity tables, understanding the shelf life of these cosmetics is paramount. Not only does this knowledge ensure the efficacy of the products, but it is also indispensable for maintaining the health and integrity of our skin.
Definition of Cosmetic Expiry Dates
Before delving into the details, let's first clarify what cosmetic expiry dates are. Expiry dates in cosmetics refer to the timeframe during which the product maintains its intended quality and remains safe to use. This encompasses aspects such as the stability of active ingredients, the effectiveness of preservatives, and the maintenance of the product's texture and fragrance.
Importance of Understanding Expiry Dates
Now that we know what cosmetic expiry dates represent, let's discuss their significance. Understanding and adhering to these dates is essential for several reasons. First, as cosmetics age, the active ingredients may deteriorate, leading to a decline in product performance.
Second, preservatives can lose their effectiveness, making the product susceptible to microbial growth, which can be harmful to your skin. Furthermore, changes in texture and smell can transform a once-luxurious product into an unpleasant one. Knowing when to replace your cosmetics ensures that your beauty routine remains a treat rather than a tribulation [1].
Brief History of Cosmetic Shelf Life Regulations
A glance at history reveals that the concern regarding the shelf life of cosmetics is not new. However, it gained substantial attention in the latter half of the 20th century with the advent of complex formulations and a growing awareness of consumer safety. In the 1970s, regulations began to emerge in various parts of the world to ensure the safety and efficacy of cosmetics.
The European Union was among the pioneers in establishing comprehensive legislation. The United States followed suit, though at a more gradual pace. Today, countries around the globe have different regulations and guidelines regarding cosmetic expiry dates, reflecting the evolving understanding and importance of product shelf life in consumer safety.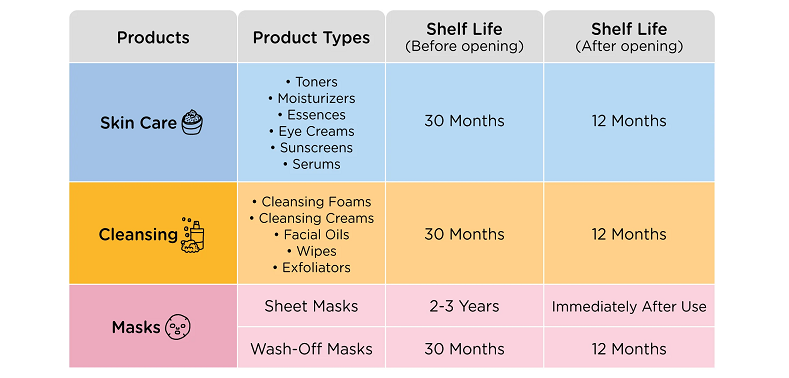 The Science Behind Cosmetic Expiry Dates
From the nature of ingredients to the role of packaging, and the processes that lead to degradation, understanding the science behind expiry dates can turn you into a savvy consumer and help you make informed decisions about your beauty products.
The Nature of Cosmetic Ingredients
Cosmetic products are concoctions of various ingredients, each having distinct properties and functions. Generally, cosmetics contain active ingredients, preservatives, and fragrances, which all contribute to the product's shelf life [2].
Active Ingredients
Active ingredients are the key components in a product that serve a specific purpose, such as anti-aging, moisturizing, or sun protection. Over time, these ingredients can degrade or become less potent, which affects not only the product's effectiveness but also its safety. For example, in sunscreen, the active ingredients responsible for protecting the skin from UV rays may deteriorate, rendering the product less effective in shielding your skin.
Preservatives
Preservatives are added to cosmetics to prevent the growth of microorganisms such as bacteria and fungi. These tiny guardians are crucial for prolonging the shelf life of products, especially those that contain water, as water is a breeding ground for microbes. However, preservatives can lose their effectiveness over time, leading to a product that's no longer safe to apply on the skin.
Fragrances
Fragrances are often added to cosmetics to give them a pleasant scent. These can be essential oils, synthetic fragrances, or a mixture of various aromatic compounds. Like other ingredients, fragrances can change or fade over time, and in some cases, they can even develop an unpleasant odor. This can affect the overall experience of using the product.
The Role of Packaging
In the realm of cosmetics, packaging is not merely a marketing tool; it plays a vital role in preserving the integrity of the product. The choice of materials, design, and functionality of the packaging can significantly impact the shelf life of the contents within [3].
Airless Containers
Air exposure can cause certain ingredients to oxidize and degrade. Airless containers are designed to minimize the product's contact with air, preserving the efficacy of sensitive ingredients. This type of packaging is especially common in products containing antioxidants, such as vitamin C serums.
Light-Blocking Materials
Just as air can be detrimental to certain ingredients, so can light. UV rays can cause degradation of various compounds in cosmetics. Light-blocking containers, often made of dark glass or opaque materials, protect the contents from the harmful effects of light exposure.
Single-Use Packaging
Single-use or unit-dose packaging is designed to contain the exact amount of product meant for one application. This type of packaging minimizes contamination risks and ensures that the product remains in optimal condition until the moment of use.
The Degradation Process
Over time, the ingredients in cosmetics undergo changes which can be classified as microbial growth, chemical changes, and physical changes. Understanding these processes is essential for grasping the scientific foundation of cosmetic expiry dates [4].
Microbial Growth
As mentioned earlier, cosmetics, especially those containing water, are susceptible to microbial growth. The growth of bacteria and fungi not only alters the product but can also pose risks to skin health.
Chemical Changes
Chemical changes refer to the alteration of the product's chemical composition. This can include the breakdown of active ingredients, oxidation of compounds, or changes in pH. These alterations can affect the product's performance and safety.
Physical Changes
Physical changes involve alterations in the product's appearance or texture. This could be the separation of phases in a lotion, changes in color, or the development of an off-putting smell. While these changes may not always indicate a health risk, they can make the product less pleasant or effective to use.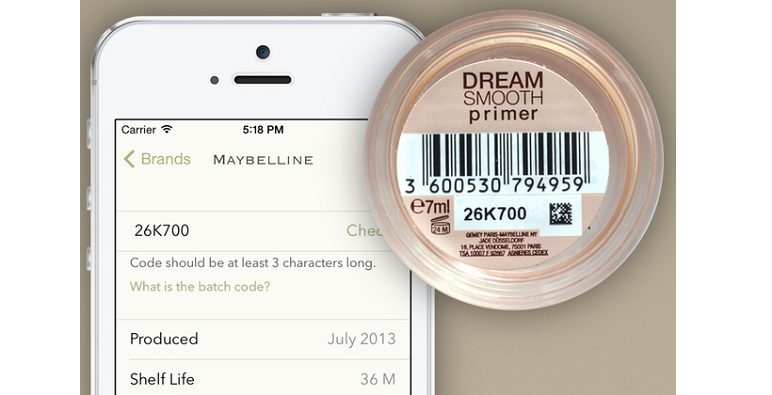 The Cosmetic Expiry Date Symbols and Terms You Need to Know
After exploring the science behind cosmetic expiry dates, it's time to turn our focus to the symbols and terms commonly found on cosmetic packaging. These pieces of information are crucial for understanding how long your products will last and ensuring their safe usage.
The Period After Opening (PAO) Symbol
One of the most common symbols you'll find on cosmetic packaging is the Period After Opening, or PAO, symbol. This symbol consists of an open jar icon, often accompanied by a number and the letter 'M', for example, "12M". The number represents the number of months the product is expected to remain safe and effective after it has been opened. It's essential to keep track of when you open your cosmetics so you can use this information effectively.
Batch Code
Another piece of information often found on cosmetics is the batch code. This is usually a series of letters and numbers that indicate when the product was manufactured. Unlike the PAO symbol, the batch code is not directly useful to consumers for determining product shelf life, but it can be important in case of a product recall to identify specific batches.
Manufacturing Date vs. Expiration Date
Some cosmetics display a manufacturing date, which indicates when the product was made, while others may display an expiration date, which indicates the date after which the product should not be used. It's important to recognize the difference between these two dates. A manufacturing date alone does not tell you how long the product is good for, whereas an expiration date is a clear indication of the product's shelf life [5].
"Best Before" Date
The "Best Before" date is another term you might encounter, especially on natural or organic cosmetics. This date indicates the time until which the product will maintain its optimal quality. After this date, the product might not be harmful, but it may not perform as intended.
"Use By" Date
Similar to the "Best Before" date, the "Use By" date is an indicator of the product's safety and effectiveness. However, unlike the "Best Before" date, it is highly recommended not to use the product after the "Use By" date as it may no longer be safe.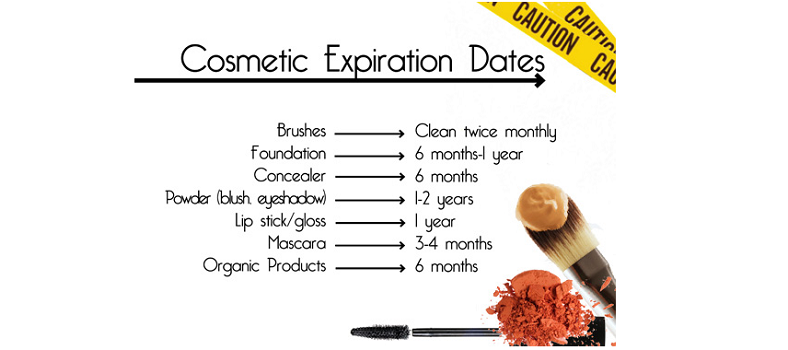 Factors That Can Affect the Shelf Life of Cosmetics
Armed with the knowledge of expiry date symbols and terms, it's important to recognize that the shelf life of your cosmetics is not set in stone. Various factors, including how you store your products and the way you use them, can significantly affect their longevity.
Storage Conditions
The conditions in which you store your cosmetics play a pivotal role in determining their shelf life. Environmental factors such as temperature, humidity, and light exposure can either help preserve your products or speed up their degradation.
Temperature
Cosmetics should be stored in a cool and dry place. High temperatures can cause the active ingredients in cosmetics to break down faster. For some products, such as lipsticks or creamy eyeshadows, heat can even cause them to melt and change texture.
Humidity
Humidity is another culprit that can reduce the shelf life of cosmetics. When products are stored in a moist environment, such as a bathroom, they are more susceptible to microbial growth. It's best to store your cosmetics in a low-humidity environment to maintain their quality and safety.
Light Exposure
As discussed earlier, exposure to light, especially UV rays, can cause certain ingredients in cosmetics to degrade. To combat this, store your products in a dark place or use products that come in light-blocking packaging.
Product Contamination
Another factor that can drastically impact the shelf life of cosmetics is contamination. This occurs when the product comes in contact with dirt, oils, or bacteria, which can proliferate and alter the product.
Unwashed Hands
Using unwashed hands to apply cosmetics, especially creams and lotions, can introduce bacteria into the product. Always make sure your hands are clean before dipping them into a jar or tube.
Multi-Use Tools
Using the same tools, like brushes or sponges, for multiple products can also contribute to contamination. Regularly cleaning your makeup tools can help prevent this.
Product Formulation
The formulation of the cosmetic product itself also influences its shelf life. Different ingredients and formulations have different lifespans.
Natural vs. Synthetic Ingredients
Products made with natural ingredients may have a shorter shelf life compared to those made with synthetic ingredients. This is because natural ingredients can be more biologically active and susceptible to degradation.
Water-Based vs. Oil-Based Products
Water-based products are more prone to microbial growth compared to oil-based products. If you're using a water-based product, be extra cautious about contamination and be sure to adhere to the PAO symbol.
The Potential Risks of Using Expired Cosmetics
In our quest to unravel the secrets behind cosmetic expiry dates, it's important to shed light on why it's crucial to pay heed to them. Using expired cosmetics is not just a matter of compromised product performance; it can also pose real risks to your skin health.
Skin Irritation and Allergies
The first risk that comes with using expired cosmetics is skin irritation and allergies. As products age, the stability of their ingredients can change, potentially causing skin reactions. Ingredients that your skin normally tolerates might suddenly become irritants after they've expired, leading to redness, itchiness, or rashes.
Infections
As mentioned earlier, the preservatives in cosmetics help to keep harmful microbes at bay. When these preservatives break down, it can leave your products susceptible to bacterial and fungal growth. Applying contaminated products to your skin can lead to infections, especially if applied to areas with open wounds or around the eyes and mouth.
Ineffectiveness
Apart from the potential health risks, using expired cosmetics also means that you may not be getting the benefits you expect. The active ingredients in products like sunscreens, anti-aging creams, or acne treatments can lose their effectiveness over time. Using these products past their expiry dates might not harm your skin, but they probably won't help it much either.
References

[1] There's a secret expiration date on your makeup that you probably didn't know existed
[2] Risks of using expired makeup
[3] Shelf Life and Expiration Dating of Cosmetics
[4] Cosmetic Calculator: Cosmetic and perfume batch code analyzer
[5] Cosmetics Shelf Life