Moroccan Hammam Rituals: A Journey into Traditional Beauty Practices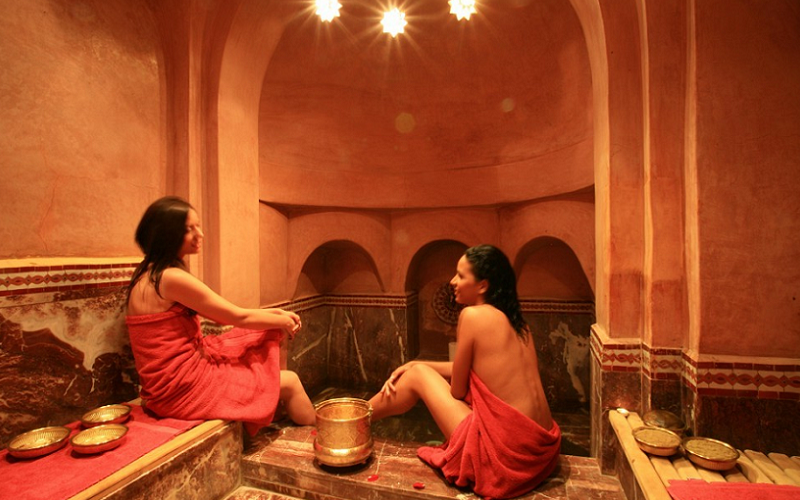 Stepping into the aromatic embrace of a traditional Moroccan Hammam is akin to entering a world where time slows down, and the senses are awakened. For centuries, the Hammam, often referred to as the Moroccan bathhouse, has been a cornerstone of wellness and beauty practices in Moroccan culture. From the labyrinthine alleys of Marrakech to the quaint villages nestled in the Atlas Mountains, these bathhouses offer a sacred space where the body and mind rejuvenate through ancient rituals.
Introduction to Moroccan Hammam
A Hammam is essentially a public bathhouse, originating from the Roman era. The word "Hammam" itself means "spreader of warmth" in Arabic. The Moroccan Hammam is a variant of this traditional bathhouse and is an integral part of Moroccan life. It is a place not just for physical cleansing but also for social interaction and spiritual well-being. A Moroccan Hammam typically comprises a series of rooms with varying temperatures, ranging from a warm room for relaxing and adjusting to the heat, a hot steam room for sweating and cleansing, and sometimes a cold room for a final refreshing plunge.
Brief History of Hammams in Morocco
The history of Hammams in Morocco dates back to the 7th century, following the rise of Islam. The concept of the Hammam was adopted from the Roman and Byzantine baths and tailored to suit the hygiene practices and social needs of the Islamic culture. Moroccan Hammams flourished during the Almoravid and Almohad dynasties, and their importance persisted through the ages. These bathhouses were traditionally built near mosques to enable worshipers to perform their purification rituals before prayers. However, they also evolved into centers of social life, where people could come together, converse, and share news.
The Significance of Hammam Rituals in Moroccan Culture
Hammam rituals hold deep cultural significance in Moroccan society. They are seen as not only a method of cleansing the body but also the soul. The process of bathing in a Hammam is slow and elaborate, often taking a couple of hours, allowing people to detach from the hustle and bustle of daily life and enter a space of tranquility.
For many Moroccans, a visit to the Hammam is a weekly tradition, often a family affair where generations bond over shared rituals. Hammams also play an important role during life milestones, such as weddings and childbirth, symbolizing purification and renewal. Furthermore, the Hammam has a democratic aspect; it is a place where people from all walks of life gather and socialize, blurring societal hierarchies and promoting a sense of community [1].
Understanding the Hammam Space
As you step into a Moroccan Hammam, you are entering a space designed with the purpose of cleansing and rejuvenation. The architecture of the Hammam, while functional, often holds an aesthetic beauty that enhances the experience. It is vital to understand the layout and design of the Hammam to fully appreciate the rituals that take place within its walls.
Description of Traditional Hammam Architecture
The architecture of a traditional Moroccan Hammam has been influenced by various historical and cultural elements, especially the Roman baths. Each Hammam is typically divided into several rooms, each serving a specific purpose in the bathing ritual [2].
Changing Rooms
Upon entering the Hammam, the first area you encounter is the changing room. This room is usually adorned with benches and lockers or baskets where you can store your clothes and personal belongings. It is a space where visitors can undress and wrap themselves in a towel or a traditional Moroccan wrap called a "fouta" before proceeding to the bathing areas.
Warm Room
After the changing room, you move on to the warm room. This room serves as a transition space, allowing your body to adjust to the heat gradually. It is typically adorned with tiled floors and walls, and sometimes has a small fountain or basin with running water. Many use this room to apply black soap and let it soak into their skin, preparing it for exfoliation.
Hot Room
Next is the hot room, which is the heart of the Hammam experience. The room is filled with steam and has a much higher temperature than the warm room. This environment opens up the pores and facilitates deep cleansing. Here, visitors usually sit on the floor or on small stools, and buckets of water are used to rinse off soap and scrub the skin with an exfoliating glove.
Cold Plunge Pool
Some traditional Hammams have an additional room with a cold plunge pool. After the intense heat of the hot room, plunging into cold water is believed to improve circulation, tighten the skin, and invigorate the senses.
The Social Aspect of Hammams
While the Hammam serves a primary purpose of cleansing and rejuvenation, it is equally important as a social space in Moroccan culture.
Place for Socializing and Bonding
The Hammam is a place where friends, family, and even strangers come together. It's common for women to gather in Hammams to chat, share stories, and even sing. For many, it's a time to catch up with neighbors and friends, and for others, it's a place to find solitude and quiet.
Special Occasions and Celebrations
Hammams often play a significant role in special occasions. For instance, before a wedding, it is customary for the bride to visit the Hammam with her female family members and friends for a special bathing ceremony. This is not only for physical cleansing but is also symbolic of spiritual purification and preparation for her new life. Similarly, after childbirth, a woman may visit the Hammam as part of her recovery and rejuvenation.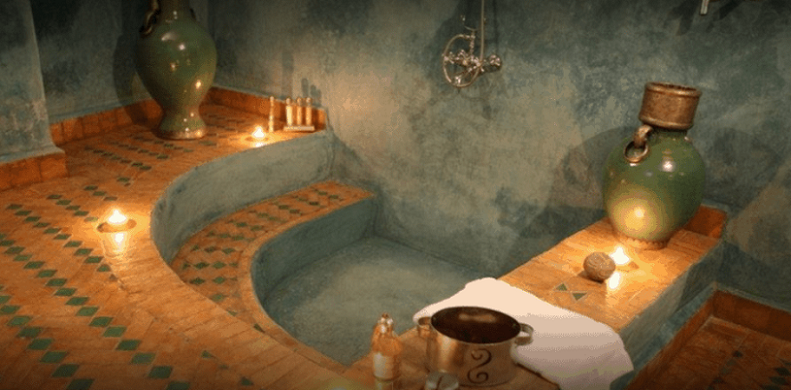 Preparing for the Hammam Experience
Now that we've journeyed through the history and architectural beauty of Moroccan Hammams, you might be intrigued to experience this ritual for yourself. Whether you're visiting Morocco or looking to engage in a Hammam experience at a spa closer to home, there are certain preparations and etiquette rules to be aware of. This will ensure not only that you have an authentic and enjoyable experience, but also that you respect the local customs and traditions [3].
What to Bring
As you get ready for your Hammam experience, it's essential to carry the right items with you. While some Hammams may provide basic supplies, bringing your own ensures that you're well-prepared and can immerse yourself in the tradition.
Towels
Bring two towels – one to wrap around yourself as you move through the different rooms and another to dry yourself off after you are done. Some people prefer to use a "fouta", a traditional lightweight cotton wrap, instead of a towel.
Traditional Moroccan Soap (Sabon Beldi)
This black soap made from olives and olive oil is an essential part of the Hammam ritual. It's used to cleanse and prepare the skin for exfoliation. While it's likely available for purchase at the Hammam, bringing your own ensures quality and authenticity.
Exfoliating Glove (Kessa)
A Kessa glove is crucial for the Hammam exfoliation process. It's a rough glove that helps to remove dead skin cells and leaves the skin feeling smooth and rejuvenated.
Plastic Stool or Mat
In the hot room, you'll want to sit or lay down. While some Hammams provide seating, bringing a small plastic stool or mat ensures that you have something to sit on.
Shampoo and Conditioner
If you plan on washing your hair during the Hammam experience, make sure to bring your shampoo and conditioner.
Comfortable Clothing for After
After the Hammam, you'll want to wear something comfortable and easy to slip on. Light and loose-fitting clothing is ideal.
Hammam Etiquette
Being respectful and aware of the local customs is crucial, especially if you're visiting a Hammam in Morocco. This is a traditional space, and observing proper etiquette ensures a harmonious experience for everyone involved.
Dress Code
While Hammams are spaces for bathing, modesty is still important. Typically, visitors wear underwear or a swimsuit. It's best to check beforehand what the local customs are regarding dress code.
Respecting Others' Privacy
Remember that for many locals, the Hammam is a regular part of their routine. Respect their privacy by keeping a polite distance and avoiding staring or taking photographs.
General Behavior
Keep your voice low, and avoid engaging in boisterous behavior. The Hammam is considered by many to be a place of relaxation and reflection.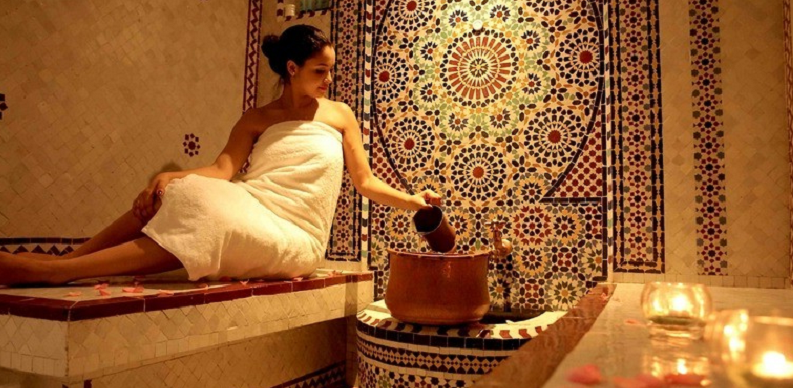 The Step-by-Step Hammam Ritual
Immersing yourself in the Hammam experience is akin to participating in a sacred and time-honored ritual. The process involves various steps, each designed to cleanse and rejuvenate the body while providing a sense of spiritual calm.
Arrival and Entering the Hammam
Your Hammam experience begins with your arrival at the bathhouse. Upon entering, you'll likely be greeted by the warmth and steam wafting through the air. At the reception, you might want to enquire if there are any particular traditions or rules to be observed. Once you are guided to the changing rooms, you can store your belongings, change into your bathing attire, and wrap yourself in a towel or fouta before proceeding to the bathing area.
Adjusting to the Heat
Before entering the hot steam room, it is crucial to acclimatize your body to the warmth. The first room you'll enter is the warm room. Take a seat, and allow your body to relax and your pores to slowly open. Spend about ten minutes here, applying water to your body to aid in this process.
Applying Sabon Beldi
Once you feel your body has adjusted to the heat, it's time to apply the traditional Moroccan black soap, Sabon Beldi. This soap is made from olive oil and has a butter-like consistency. Apply it generously all over your body and let it soak into your skin for about 5 to 10 minutes. The soap helps to soften the skin in preparation for exfoliation.
Steam and Relaxation
Next, move to the hot room where steam envelops the space. Take a seat, breathe deeply, and let the steam work its magic. The steam helps to further open the pores and prepares the skin for deep cleansing.
Exfoliation with Kessa Glove
After your skin is softened and your pores are open, it's time for exfoliation. Using the Kessa glove, start scrubbing your body in circular motions. Don't be surprised to see rolls of dead skin coming off; this is a sign that the exfoliation is working. Focus on all areas of your body, but be gentle on sensitive areas.
Rinsing and Cold Plunge
Once you've finished exfoliating, it's time to rinse off all the soap and dead skin. Use buckets or a shower to pour warm water over your body. If the Hammam has a cold plunge pool, this is the time to immerse yourself in it. The cold water helps to close the pores and invigorate the body.
Optional Hair and Face Treatments
After the cold plunge, some individuals opt to do additional treatments such as washing their hair, applying a hair mask, or putting a face mask on. This is not mandatory but is seen as a way to further pamper oneself.
Final Rinse and Drying Off
After all treatments are complete, give your body a final rinse with warm water to wash off any remaining products. Then, dry yourself off with a clean towel.
Upon completion of these steps, you can return to the changing room to dress in comfortable clothing. Many people feel a sense of lightness and rejuvenation after the Hammam experience. It's common to conclude the ritual with a refreshing drink such as mint tea, to slowly transition back into the daily routine.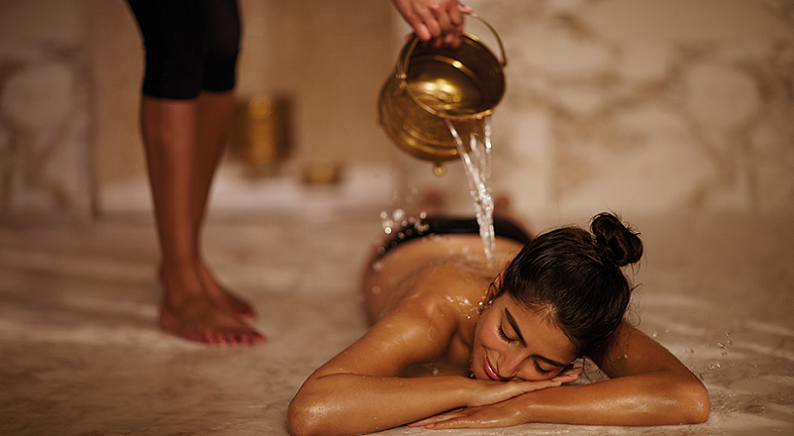 Traditional Ingredients and Products Used in Hammam
One of the aspects that makes the Moroccan Hammam experience truly unique and rejuvenating is the use of traditional ingredients and products. These products, often derived from natural sources, have been used for centuries for their skin-enhancing properties [4].
Sabon Beldi (Moroccan Black Soap)
Moroccan Black Soap, known as Sabon Beldi, is a staple in the Hammam ritual. Unlike the soap we are accustomed to, Sabon Beldi has a gel-like consistency and is dark in color due to its high content of black olives and olive oil. Rich in Vitamin E, this soap is used to soften the skin in preparation for exfoliation, and its natural ingredients help nourish and cleanse the skin without drying it out.
Kessa Glove
The Kessa glove is a traditional exfoliating glove with a rough texture, used in conjunction with Sabon Beldi to remove dead skin cells. Made from materials like rayon and goat hair, this glove is essential for achieving the deep exfoliation that Hammam rituals are known for.
Rhassoul Clay
Rhassoul clay, also known as Ghassoul clay, is a natural mineral clay extracted from the Atlas Mountains in Morocco. This clay is renowned for its purifying and absorbent properties. Often mixed with water or rosewater to form a paste, it's used as a mask for both face and body to draw out impurities and toxins from the skin, leaving it soft and refreshed.
Argan Oil
Argan oil is a precious and revered ingredient in Moroccan beauty rituals. Extracted from the kernels of the argan tree, this oil is rich in essential fatty acids and Vitamin E. Often applied after the Hammam ritual, argan oil is used to moisturize and nourish the skin. It can also be used on hair to impart shine and strength.
Rosewater
Rosewater is a fragrant liquid made from the petals of roses. It is known for its soothing and anti-inflammatory properties. Often used to mix with Rhassoul clay or as a final rinse, rosewater helps to soothe the skin and leaves a gentle fragrance.
Eucalyptus Oil
Eucalyptus oil is often added to Sabon Beldi or used in steam rooms for its aromatic and medicinal properties. The scent of eucalyptus is not only invigorating but also helps with clearing the respiratory system.
Mint Tea
While not applied to the skin, mint tea is an integral part of the Hammam experience. Often served after the ritual, this tea helps in cooling down the body and serves as a refreshing end to the Hammam journey.
Benefits of the Hammam Ritual
Having explored the intricate steps and traditional ingredients of the Moroccan Hammam ritual, it is essential to understand the myriad benefits this ancient practice offers. Beyond the apparent cleanliness, the Hammam experience promotes physical, mental, and spiritual well-being.
Physical Benefits
The Hammam ritual is designed not only to cleanse the skin but also to promote overall physical health. The combination of steam, heat, and natural ingredients work synergistically to provide a plethora of benefits [5].
Deep Cleansing and Exfoliation
The use of Sabon Beldi and the Kessa glove helps in deep cleansing and exfoliation, removing dead skin cells, and unclogging pores. This leaves the skin smoother and more radiant.
Improved Circulation
The alternation between hot steam and cold water helps to improve blood circulation. This can lead to better oxygen and nutrient delivery to the skin and other organs, promoting overall health.
Detoxification
The heat and steam cause the body to sweat, which aids in the removal of toxins and impurities. Combined with the cleansing properties of Rhassoul clay, this process helps detoxify the body.
Muscle Relaxation
The warmth of the Hammam soothes muscles and can relieve tension and stiffness. This makes it particularly beneficial for those with muscle aches or arthritis.
Enhanced Skin Health
The natural ingredients like argan oil and rosewater nourish and hydrate the skin, leaving it soft and revitalized.
Mental and Emotional Benefits
Beyond the physical, the Hammam experience has significant effects on mental and emotional well-being.
Stress Reduction
The serene and calming environment of the Hammam helps to reduce stress and anxiety. The gentle heat relaxes the body, which in turn can calm the mind.
Enhanced Mood
The act of self-care and the invigorating scents of eucalyptus and rosewater can uplift the spirits and improve mood.
Social Connection
As a social space, Hammams offer the opportunity for bonding and connecting with others. Social interaction is known to be beneficial for mental health and happiness.
Cultural and Spiritual Enrichment
Engaging in a Hammam ritual is also a cultural and spiritual experience.
Cultural Connection
Participating in Hammam rituals provides insight into Moroccan culture and traditions. It's a way to connect with the history and lifestyle of the Moroccan people.
Spiritual Purification
For many, the act of cleansing in the Hammam goes beyond the physical; it is also considered a form of spiritual purification, shedding not only dead skin but also negative energies.
References

[1] The Moroccan hammam, an ancient beauty ritual
[2] 7 Moroccan Beauty Secrets You Need to Know
[3] 6 Fascinating Beauty Secrets of Moroccan Women
[4] Six Natural Moroccan Beauty Secrets to Enhance Your Self-Care Rituals
[5] How To Get A Glowing Skin With Natural Moroccan Beauty Secrets