The Wonders of Gua Sha for Different Skin Types
Gua Sha, a traditional Chinese healing technique, has been gaining popularity for its astonishing benefits on the skin. But did you know that Gua Sha isn't just a one-size-fits-all remedy? It's essential to understand that our skin types vary and that Gua Sha can be tailored to suit each one beautifully. Whether you have normal, dry, oily, combination, or sensitive skin, this natural practice has something to offer.
Introduction to Gua Sha
In an age where skincare has transcended mere aesthetics to become a form of self-care and wellness, ancient practices are finding their way back into our modern routines. One such age-old technique that has taken the skincare world by storm is Gua Sha. This holistic practice, rooted in Traditional Chinese Medicine, has a treasure trove of benefits awaiting your discovery.
Definition of Gua Sha
Gua Sha, pronounced as 'gwah-shah,' is a natural therapy that involves gently scraping the skin with a flat, smooth-edged tool. The term 'Gua' means scraping or rubbing, while 'Sha' refers to the redness that appears on the skin as a result of the treatment. The technique is believed to stimulate blood circulation, promote lymphatic drainage, and release tension from the muscles, all of which are thought to enhance the health and appearance of the skin.
Brief History of Gua Sha in Traditional Chinese Medicine
Gua Sha has a rich history that dates back over thousands of years. As an integral part of Traditional Chinese Medicine (TCM), it was initially used to relieve pain and treat a variety of ailments ranging from fever to chronic coughs. The technique involved using items like coins or spoons to scrape the skin until redness occurred.
It was believed that this redness was a sign of the bad 'Chi' or energy being released. Today, while Gua Sha continues to be used for its therapeutic benefits, it has also found its niche in the realm of beauty and skincare, with more gentle techniques for facial rejuvenation and health.
The Science Behind Gua Sha
Gua Sha is not just a wellness fad; it is backed by scientific principles that contribute to its effectiveness.
Explanation of the Lymphatic System and Blood Circulation
Before we get into the direct benefits of Gua Sha, let's take a moment to understand the basics of the lymphatic system and blood circulation [1].
Lymphatic System
The lymphatic system is a network of tissues and organs that helps to rid the body of toxins and waste. It's essential for the immune system and helps in transporting lymph, a fluid containing infection-fighting white blood cells. A properly functioning lymphatic system is crucial for overall health, including the health of your skin.
Blood Circulation
Blood circulation is the continuous movement of blood through the heart and blood vessels, which supplies oxygen and nutrients to the body's cells. It is an essential component of the body's overall function and plays a significant role in the health of your skin, as it ensures the delivery of essential nutrients and the removal of waste products.
Role of Gua Sha in Stimulating Blood Flow and Reducing Inflammation
Now that we are familiar with the lymphatic system and blood circulation let's examine how Gua Sha interacts with them.
Gua Sha, through its scraping technique, causes a mild controlled trauma to the skin and underlying tissues. This action triggers the body's healing response, causing an increase in blood flow to the area. The enhanced circulation brings with it a host of benefits such as increased oxygen and nutrient supply.
Furthermore, Gua Sha is known to have an anti-inflammatory effect. The increased circulation helps in reducing inflammation by promoting the clearance of inflammatory chemicals from the tissues. This can be particularly beneficial for skin conditions that have an inflammatory component, such as acne or rosacea.
Collagen Production and Skin Elasticity
Collagen is a protein that is vital for the skin's structure, elasticity, and strength. As we age, collagen production naturally declines, leading to wrinkles and sagging skin.
Gua Sha, by stimulating the skin, can indirectly promote collagen production. The controlled trauma caused by the scraping action signals the body to produce more collagen in the affected area as part of the healing process. This can result in firmer and more elastic skin over time [2].
Also, Gua Sha's ability to improve blood circulation helps in the delivery of nutrients that are essential for collagen production. This ensures that the skin has the building blocks it needs to produce this vital protein.
Understanding Different Skin Types
Now that we have explored the science behind Gua Sha, it's essential to understand that our skin is as unique as our personalities. Different skin types have distinct characteristics and needs [3].
Introduction to the Fitzpatrick Scale
The Fitzpatrick Scale, developed in 1975 by Harvard Medical School dermatologist Thomas Fitzpatrick, is a widely used classification system for skin color. It ranges from Type I to Type VI and is based on the skin's response to sun exposure in terms of the degree of burning and tanning.
Though the Fitzpatrick Scale primarily focuses on skin color and its reaction to the sun, it's important to note that skin type goes beyond color. Skin type encompasses various factors such as oil production, sensitivity, and hydration levels, which we will discuss next.
Classification of Skin Types
Understanding your skin type is crucial to know how to care for it effectively. Let's delve into the five main skin types and their characteristics.
Normal Skin
Normal skin is often considered the most balanced type. It's not too oily, nor too dry. People with normal skin generally have:
Few imperfections
No severe sensitivities
Barely visible pores
A radiant complexion
Dry Skin
Dry skin can feel tight and rough and is often associated with:
Almost invisible pores
Dull, rough complexion
Red patches
More visible lines
A tendency towards flaking, cracking, or peeling
Dry skin can be caused by factors such as aging, hormonal changes, or environmental elements like wind and cold temperatures.
Oily Skin
Oily skin is characterized by the overproduction of sebum, an oily substance produced by the skin's sebaceous glands. People with oily skin often experience:
Enlarged pores
Dull or shiny, thick complexion
Blackheads, pimples, or other blemishes
This type can be influenced by factors like genetics, stress, or hormonal changes.
Combination Skin
Combination skin can have dry or normal areas along with oily parts, such as the T-zone (nose, forehead, and chin). This skin type usually exhibits:
Pores that look larger than normal
Blackheads
Shiny skin in the oily areas
Sensitive Skin
Sensitive skin often requires special attention as it can easily become inflamed or irritated. This skin type may exhibit:
Redness
Itching
Burning
Dryness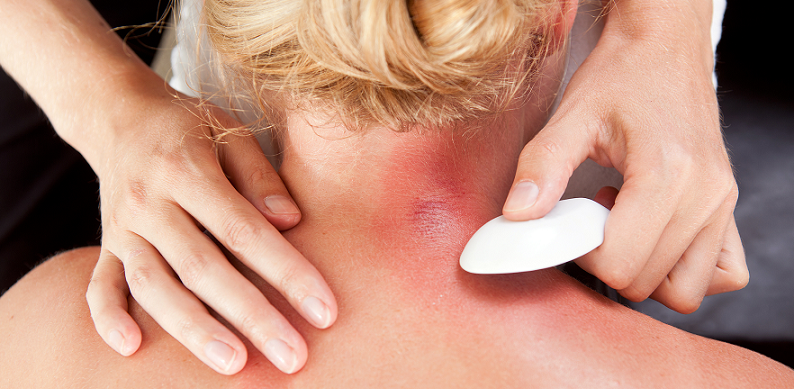 Benefits of Gua Sha for Each Skin Type
Equipped with the knowledge of different skin types, we can now delve into the heart of Gua Sha – its benefits. Gua Sha is versatile and adaptable, providing a plethora of benefits for all skin types [4].
Normal Skin
Even though normal skin is well-balanced, it still requires care to maintain its health and vibrancy. Gua Sha can be a valuable addition to the skincare routine of individuals with normal skin.
Maintenance of Skin Tone
Gua Sha helps in maintaining an even skin tone by improving blood circulation. This ensures that nutrients and oxygen are delivered effectively to the skin cells, maintaining the skin's natural glow.
Prevention of Aging Signs
Regular Gua Sha can help in keeping the skin firm and elastic by stimulating collagen production. This, in turn, helps in delaying the appearance of fine lines and wrinkles.
Enhancement of Natural Glow
The gentle scraping action of Gua Sha removes dead skin cells and encourages new cell turnover, which enhances the natural radiance of the skin.
Dry Skin
Dry skin can particularly benefit from the hydrating and circulation-boosting effects of Gua Sha.
Hydration Boost
Using Gua Sha with a moisturizing oil or serum helps the product penetrate deeper into the skin, thus providing a hydration boost.
Reduction of Flakiness
By promoting new cell growth and removing dead skin cells, Gua Sha helps to reduce the flakiness that often accompanies dry skin.
Improvement in Texture
Regular Gua Sha treatments can improve the texture of dry skin by increasing blood flow and promoting the natural production of skin oils.
Oily Skin
For oily skin, Gua Sha can help in balancing oil production and reducing acne.
Regulation of Sebum Production
Gua Sha can help in regulating sebum production, ensuring that the skin does not become excessively oily.
Reduction of Acne and Breakouts
By improving blood circulation and promoting detoxification through lymphatic drainage, Gua Sha can help in reducing acne and breakouts.
Minimization of Pores
Gua Sha helps in tightening the skin, which can lead to the minimization of enlarged pores that are common in oily skin.
Combination Skin
Combination skin can be challenging to care for due to its dual nature, but Gua Sha can offer a balanced approach.
Balancing Oil Production
Gua Sha can help in balancing oil production in different areas of the face, addressing both the dry and oily areas in combination skin.
Improving Complexion Uniformity
Through regular Gua Sha treatments, the skin can achieve a more uniform complexion by addressing the different needs of combination skin.
Customization of Gua Sha Techniques
For combination skin, Gua Sha techniques can be customized to address the specific needs of different areas of the face.
Sensitive Skin
Sensitive skin requires gentle care, and Gua Sha can be adapted to provide a soothing and beneficial experience.
Reduction of Redness and Irritation
Using Gua Sha with a light touch can help in reducing redness and irritation by promoting circulation and calming the skin.
Promotion of Calming Effects
Combining Gua Sha with calming oils or serums can have a synergistic effect, promoting the skin's natural healing processes.
Gentle Lymphatic Drainage
Gua Sha, when performed gently, can support lymphatic drainage, which is particularly beneficial for sensitive skin as it helps to remove toxins without causing irritation.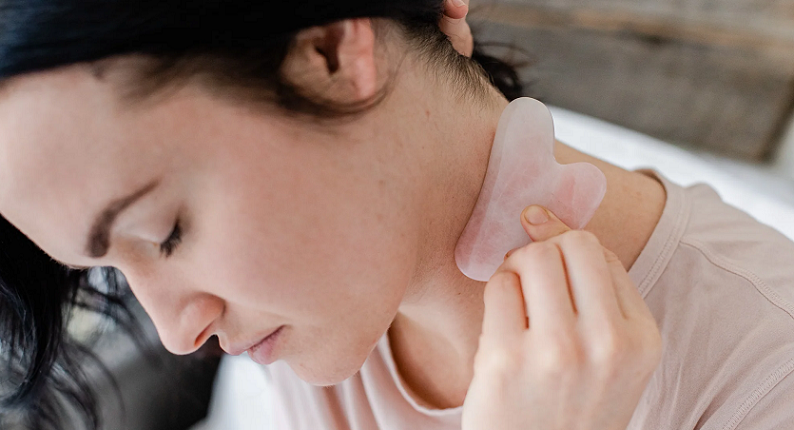 Tools and Techniques for Gua Sha
As you embark on your Gua Sha journey, knowing which tools to use and mastering the techniques are integral to reaping the benefits of this ancient practice.
Choosing the Right Gua Sha Tool
Selecting the appropriate Gua Sha tool is essential for a successful and beneficial Gua Sha session. There are various materials and shapes to choose from [5].
Materials
Jade: Jade is a popular choice for Gua Sha tools. It is believed to have calming properties and helps to balance the body's energies.
Rose Quartz: Known as a stone of love, rose quartz is often used for its soothing and calming properties. It is especially good for sensitive skin.
Bian Stone: Bian stone is considered to be therapeutically superior among the Gua Sha stones, due to its ability to produce ultrasound pulsations which are beneficial for the skin.
Stainless Steel: Stainless steel tools are durable and easy to clean, making them a practical choice.
Shapes
Gua Sha tools come in various shapes such as:
Basic flat shape with rounded edges
Heart shape
Comb shape
Choosing a shape that fits the contours of your face and feels comfortable in your hand is important.
Step-by-Step Gua Sha Techniques
Now that you've chosen your tool, let's learn how to use it. Here is a basic step-by-step guide to performing Gua Sha:
Cleanse the Skin: Start by cleansing your face thoroughly.
Apply Oil or Serum: Apply a facial oil or serum. This helps the Gua Sha tool glide smoothly over your skin.
Hold the Tool at a 45-Degree Angle: Hold your Gua Sha tool at a 45-degree angle to your skin.
Scrape Upwards and Outwards: Use gentle, upward strokes. Start from the neck and move to the jawline, then cheeks, under the eyes, and finish on the forehead.
Use Gentle Pressure: Be gentle, especially around sensitive areas like under the eyes.
Repeat Strokes: Go over each section of your face 3-5 times.
Clean the Tool: Clean your Gua Sha tool with soap and water or a disinfectant after each use.
Enhancing Gua Sha with Essential Oils
Incorporating essential oils into your Gua Sha routine can enhance the experience and offer additional benefits to the skin.
Lavender Oil: Known for its calming properties, lavender oil is excellent for sensitive skin and can help reduce redness.
Jojoba Oil: Jojoba oil is great for dry skin due to its moisturizing properties. It's also very similar to the skin's natural oils, making it suitable for all skin types.
Tea Tree Oil: For acne-prone or oily skin, a few drops of tea tree oil can help combat breakouts due to its antibacterial properties.
Ensure to mix essential oils with a carrier oil, as applying them directly to the skin can cause irritation.
References

[1] Why Gua Sha Might Be Good For You
[2] Is Gua Sha backed by Clinical trials?
[3] The effect of Gua Sha treatment on the microcirculation of surface tissue
[4] The Truth About Guasha's Effectiveness
[5] What Are the Benefits of Gua Sha and How Do You Do It? Dermatologists Explain