Brewing Beauty: How to Make Skincare Products with Tea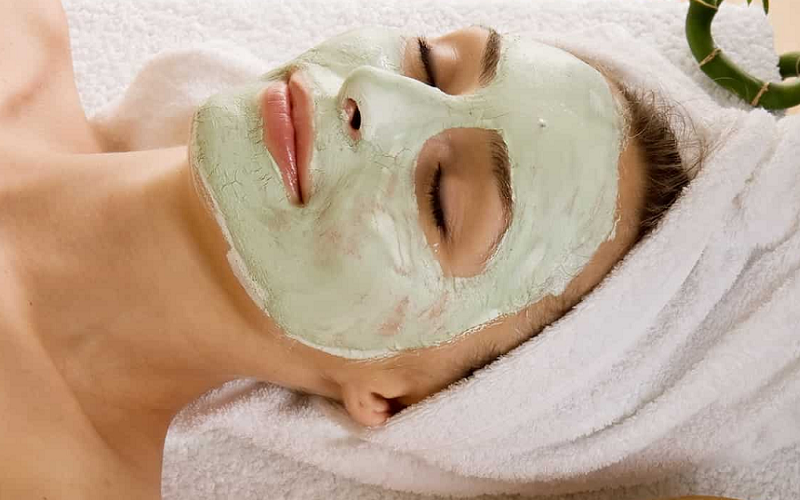 Imagine finding a treasure trove of beauty secrets tucked away in your kitchen cabinet! For centuries, tea has been cherished for its myriad health benefits. But did you know that it's also a goldmine for skincare? Brimming with antioxidants, anti-inflammatory properties, and skin-soothing agents, tea has much more to offer than just a comforting brew.
The History of Tea in Skincare
Tea and skincare have shared a deeply entwined history that dates back thousands of years. From the ancient Chinese empresses to the modern beauty enthusiasts, tea has been revered as a potent ingredient for maintaining youthful skin and combating various skin issues.
Ancient Civilizations and Their Use of Tea
The history of tea as a skincare ingredient can be traced back to ancient China, where it was first discovered as a medicinal herb around 2737 BC. Chinese empresses used tea leaves and tea-infused water for their beauty regimens, believing it to be an elixir that could refresh the skin and prolong youthfulness. Tea leaves were often combined with rice water, herbs, and other natural ingredients to create masks and lotions. It was considered a royal beauty secret and was highly cherished.
Similarly, in ancient Japan, tea was an integral part of Geishas' skincare routines. Green tea, particularly Matcha, was prized for its antioxidant properties. Geishas used it as a cleanser, toner, and to protect their skin from environmental stressors.
Tea was not only popular in East Asia; as trade routes expanded, it made its way to ancient Egypt and Rome, where it was utilized for its anti-inflammatory and healing properties.
Evolution of Tea-Based Skincare Products
As the centuries progressed, the benefits of tea for skincare began to gain more widespread recognition. During the Victorian era, European women started to embrace tea as a beauty ingredient. Tea-infused baths were common among the aristocracy, as it was believed that tea could improve the complexion and add a glow to the skin.
The 20th century witnessed a rise in scientific research on the properties of tea. Studies began to reveal the antioxidant, anti-aging, and anti-inflammatory benefits of tea polyphenols, particularly those found in green tea. This led to the incorporation of tea extracts into various commercial skincare products like creams, lotions, and serums.
Modern Day Revival and Growing Popularity
Fast forward to the 21st century, and tea-based skincare is experiencing a renaissance. With the global movement towards natural and organic skincare, consumers are seeking alternatives to synthetic ingredients, and tea has emerged as a popular choice.
Today, a plethora of skincare products tout tea as a key ingredient, from high-end brands to DIY recipes. Green tea, white tea, and herbal teas like chamomile and rooibos are especially popular for their diverse benefits, including fighting acne, reducing signs of aging, and soothing irritation.
Moreover, tea-infused skincare lines are becoming an essential part of beauty routines across the world, paying homage to ancient wisdom while incorporating modern scientific knowledge [1].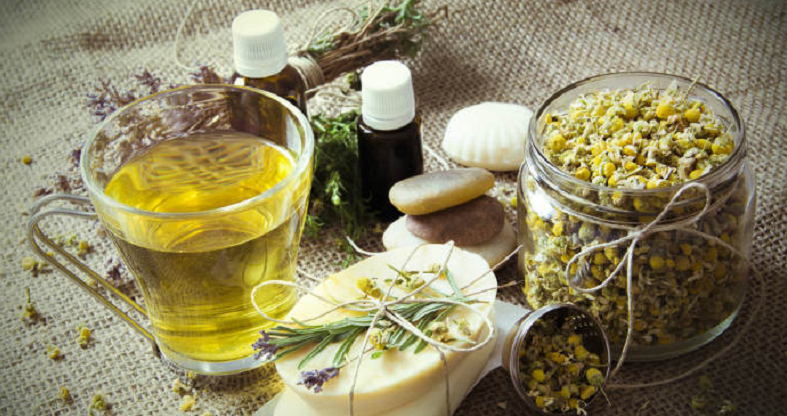 Understanding Different Types of Tea
As we traverse the enchanting world of tea-infused skincare, it is essential to recognize the diverse types of tea and the unique benefits each brings to the table. From the classic green tea to the luxurious white tea and soothing herbal concoctions, there is a tea for every skincare need.
Green Tea
Green tea, derived from the Camellia sinensis plant, is one of the most popular teas in skincare. It is less processed than black tea, which helps retain its green color and a higher content of antioxidants.
Benefits for Skin
Rich in catechins, green tea acts as a potent antioxidant, protecting the skin from environmental damage.
Its anti-inflammatory properties help in reducing redness and irritation.
Green tea can regulate sebum production, which is beneficial for acne-prone skin.
It is known to exhibit anti-aging effects by neutralizing free radicals and promoting skin elasticity.
Popular Green Tea Ingredients in Skincare
Green tea extract: A concentrated form, it's often found in serums and creams.
Green tea leaves: Used in DIY masks and scrubs.
Matcha powder: A potent variant of green tea, often used in masks.
Black Tea
Black tea, also from the Camellia sinensis plant, undergoes more oxidation than green tea. This gives it a darker color and a different set of antioxidants known as theaflavins and thearubigins [2].
Benefits for Skin
It helps in improving skin complexion and making it appear more radiant.
Black tea possesses anti-aging properties and can help in reducing wrinkles.
It has astringent properties, which can aid in tightening pores.
It can soothe sunburns and facilitate skin repair.
Popular Black Tea Ingredients in Skincare
Black tea extract: Often found in toners and eye creams.
Brewed black tea: Used in DIY toners or face mists.
White Tea
White tea is the least processed of all teas made from Camellia sinensis. It is harvested before the tea leaves fully open and are still covered by fine white hairs, hence the name.
Benefits for Skin
It is loaded with antioxidants, even more than green tea, and thus excellently combats skin aging.
White tea has anti-inflammatory properties that can help soothe and calm irritated skin.
It can also aid in skin rejuvenation by promoting the breakdown of old cells and the growth of new ones.
Popular White Tea Ingredients in Skincare
White tea extract: Common in serums, moisturizers, and face masks.
Brewed white tea: Can be used as a toner or mixed into DIY recipes.
Herbal Teas
Herbal teas are not derived from the Camellia sinensis plant but are rather infusions of herbs, flowers, or fruits. Some popular herbal teas for skincare include chamomile, rooibos, and peppermint.
Chamomile Tea
It's known for its soothing and anti-inflammatory properties, making it excellent for sensitive or irritated skin.
Rooibos Tea
Packed with antioxidants and alpha hydroxy acids, it helps in reducing wrinkles and improving the skin's texture.
Peppermint Tea
It can soothe skin irritations and has a cooling effect. Additionally, it has antiseptic properties which can help with acne.
Matcha
Though Matcha is a form of green tea, it deserves special mention due to its distinct processing and elevated potency.
Distinction from Green Tea
Matcha is made from tea leaves that are shade-grown, and it is available in powdered form. This results in a higher concentration of antioxidants and chlorophyll compared to regular green tea.
Benefits for Skin
Matcha shares many benefits with green tea but is more potent. It has an exceptional ability to fight free radicals, reduce inflammation, and rejuvenate skin cells.
Choosing the Right Tea for Your Skin Type
Selecting the right tea for your skincare routine depends on your skin type and concerns [3]:
For acne-prone or oily skin, green tea or peppermint tea may be beneficial.
If your skin is sensitive or irritated, consider chamomile or white tea.
To combat signs of aging, opt for white tea, green tea, or rooibos.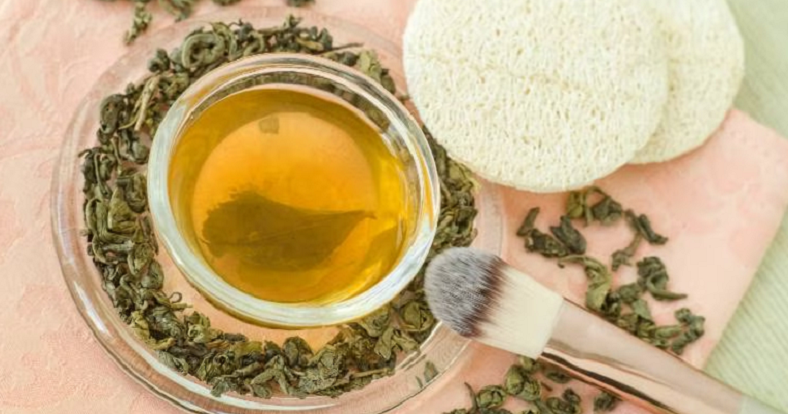 Tea-Based Skincare Essential Ingredients and Tools
Now that we've delved into the types of tea and their skin benefits, it's time to gather the essential ingredients and tools for making your tea-based skincare products. Whether you're planning to create a nourishing moisturizer or a refreshing toner, having the right ingredients and tools at hand is crucial for success.
Teas and Tea Extracts
The star of any tea-based skincare product is, of course, the tea itself. Depending on your skin type and desired benefits, you can use loose leaf tea, tea bags, or tea extracts.
Loose leaf tea or tea bags: Both are suitable for brewing tea to be used in masks, toners, or face mists. Loose leaf tea often retains more of its natural oils, which can be beneficial for the skin.
Tea extracts: These are concentrated forms of tea and can be mixed directly into creams, lotions, or serums for an added boost.
Natural Oils and Butters
To enrich your tea-based skincare products and provide additional nourishment to the skin, you might want to consider incorporating natural oils and butters [4].
Coconut oil: This is a great moisturizer and has antibacterial properties.
Jojoba oil: Closely resembling the skin's natural oils, it's excellent for balancing oil production.
Shea butter: Exceptionally nourishing and moisturizing, it's perfect for dry skin.
Essential Oils
Adding a few drops of essential oils to your tea-based skincare products can provide added benefits and a delightful fragrance.
Lavender essential oil: Known for its calming properties, it's good for sensitive skin.
Tea tree essential oil: A powerful antibacterial, it's great for acne-prone skin.
Rose essential oil: It can help improve complexion and has anti-aging properties.
Emulsifiers and Preservatives
If you're making creams or lotions, you'll need emulsifiers to combine water and oil-based ingredients smoothly. Moreover, natural preservatives are essential for extending the shelf life of your homemade products [5].
Beeswax: Acts as a natural emulsifier.
Vitamin E: Besides its skin benefits, it can also be used as a natural preservative.
Tools for Brewing and Mixing
Having the right tools ensures that you can accurately measure, mix, and store your creations.
Tea infuser or strainer: For steeping loose leaf tea.
Measuring spoons and cups: To ensure accuracy in your ingredient quantities.
Mixing bowls and utensils: For combining ingredients.
Containers and bottles: For storing your final products.
Labels: To keep track of what's in each container and the date it was made.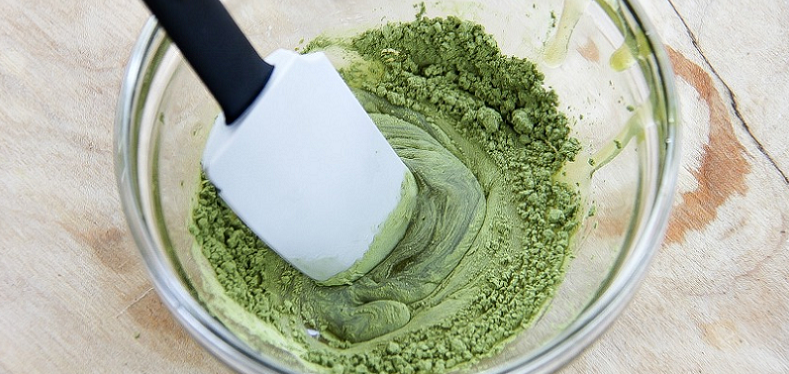 DIY Tea-Based Skincare Recipes
Having acquainted ourselves with the history, types of tea, and essential ingredients and tools, let's dive into the exciting world of DIY tea-based skincare recipes. Homemade skincare products have the advantage of being free from harsh chemicals and can be tailored to suit your specific skin needs.
Green Tea and Honey Face Mask
A classic combination, green tea, and honey face mask is perfect for those looking to rejuvenate their skin and combat acne.
Ingredients
1 green tea bag or 1 teaspoon of loose leaf green tea
2 tablespoons of raw honey
A splash of lemon juice (optional)
Instructions
Brew the green tea and allow it to cool.
Mix in the honey to form a paste. You can add a few drops of lemon juice if you wish.
Apply the paste to your face and let it sit for 10-15 minutes.
Rinse off with warm water and pat your face dry.
Chamomile and Lavender Soothing Toner
This toner is ideal for those with sensitive or irritated skin, and it will leave your skin feeling calm and refreshed.
Ingredients
1 chamomile tea bag or 1 teaspoon of loose leaf chamomile tea
1 cup of boiling water
5 drops of lavender essential oil
Instructions
Steep the chamomile tea in boiling water for about 5 minutes and let it cool.
Add the lavender essential oil to the brewed tea.
Pour the mixture into a clean bottle.
To use, simply apply to your face with a cotton pad after cleansing.
Black Tea Eye Cream
Black tea is known for its ability to reduce puffiness and dark circles under the eyes. This eye cream is simple to make and very effective.
Ingredients
2 black tea bags
1/4 cup of hot water
2 tablespoons of coconut oil
1 tablespoon of beeswax
Instructions
Steep the black tea bags in hot water for 5-10 minutes.
In a double boiler, melt the coconut oil and beeswax together.
Once melted, remove from heat and add the brewed black tea. Mix well.
Pour the mixture into a small jar and allow it to cool and solidify.
Apply a small amount under your eyes before bed.
Matcha and Jojoba Exfoliating Scrub
This exfoliating scrub combines the powerful antioxidants of matcha with the moisturizing properties of jojoba oil. It's great for all skin types.
Ingredients
1 tablespoon of Matcha green tea powder
3 tablespoons of sugar
2 tablespoons of jojoba oil
Instructions
In a small bowl, combine the matcha powder and sugar.
Add the jojoba oil and mix until you have a paste.
Apply to your face in gentle, circular motions for exfoliation.
Rinse with warm water and pat dry.
References

[1] 10 tea infused beauty products to try
[2] https://www.wikihow.com/Use-Green-Tea-on-Your-Face-to-Achieve-Prettier-Skin
[3] You Should Look for Green Tea In Your Skincare Products
[4] Green tea benefits for skin
[5] Why tea infused skincare is set to take over your routine