Seaweed in Skincare: How to Create DIY Marine Face Masks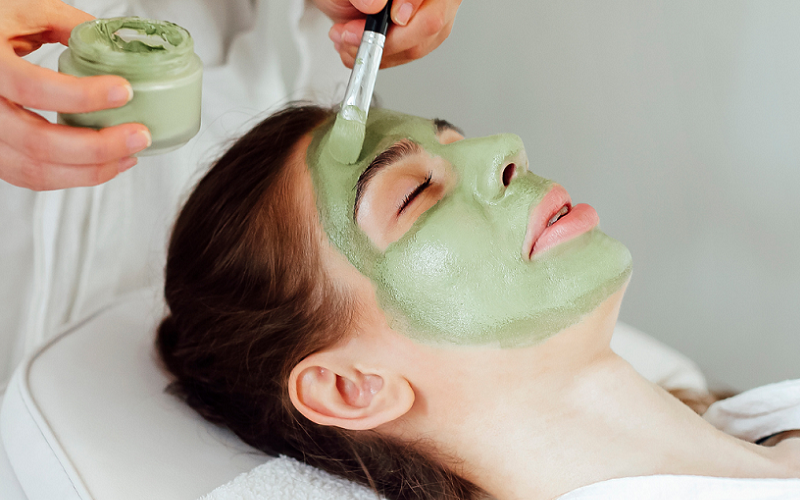 Seaweed, an unassuming marine algae, has been a secret ingredient in beauty regimens for centuries. From the ancient Greeks to the flawless-skinned geishas of Japan, these marine plants have made a splash across cultures and time. As our awareness grows for incorporating natural and sustainable ingredients into our skincare routines, seaweed emerges as a promising ally.
Introduction to Seaweed in Skincare
Seaweed's legacy in skincare can be traced back thousands of years. In ancient Greece, it was known as a treatment for various skin conditions. Fast forward a few centuries, and seaweed had become a beauty staple among the Japanese, notably the geishas, who revered it for its ability to maintain youthful, radiant skin. It is even said that Cleopatra used seaweed as part of her legendary beauty regimen. Seaweed's rich history as a skincare ingredient attests to its efficacy and timelessness.
In recent years, there has been a growing interest in using natural ingredients for skincare. This movement is not just a fad; it is based on the understanding that the skin, our body's largest organ, absorbs what we apply to it. Natural ingredients like seaweed are free of harmful chemicals and often have essential nutrients that are beneficial to the skin. Additionally, using natural ingredients is an environmentally conscious choice as they are biodegradable and their sourcing can be sustainable.
The Benefits of Seaweed in Skincare
As we venture further into the undersea world of seaweed skincare, it's essential to understand why this marine plant is making waves. With an abundance of vitamins, minerals, and antioxidants, seaweed is a treasure chest of nourishing properties.
Nutrient-Rich Composition
Seaweed, owing to its aquatic habitat, is rich in numerous nutrients absorbed from the sea. These nutrients work in synergy to provide a powerhouse of benefits for the skin [1].
Vitamins
Seaweed contains vitamins A, C, E, and K. Vitamin A helps in cell regeneration and fights against aging. Vitamin C, known for its antioxidant properties, assists in collagen production and fights free radicals, contributing to radiant skin. Vitamin E protects the skin from environmental damage, while Vitamin K can help in improving the appearance of scars and dark circles.
Minerals
Swimming in a cocktail of minerals such as iodine, calcium, magnesium, and potassium, seaweed helps to detoxify the skin and improve its elasticity. For instance, iodine can benefit the skin by helping to regulate its moisture levels.
Antioxidants
Seaweed is loaded with antioxidants, which are vital in protecting the skin from pollution, UV rays, and other external aggressors. These antioxidants help to reduce inflammation and slow down the signs of aging.
Hydrating Properties
Seaweed acts as a natural humectant, meaning it helps the skin retain moisture. This is particularly beneficial for those with dry or dehydrated skin. Through its moisturizing properties, seaweed helps in keeping the skin hydrated, plump, and smooth.
Anti-Aging Effects
The ocean's bounty is a natural source of anti-aging goodness. The collagen and elastin in the skin are protected and enhanced by the vitamins and minerals in seaweed, helping to maintain skin's elasticity and reducing the appearance of fine lines and wrinkles [2].
Treatment of Acne and Skin Irritations
Seaweed's anti-inflammatory properties make it an excellent option for treating acne and other skin irritations. The presence of omega-3 fatty acids helps to reduce redness and inflammation, while the natural minerals assist in healing the skin [3].
Environmental Benefits of Using Seaweed
In addition to the direct benefits to your skin, using seaweed-based products is an eco-friendly choice. Seaweed cultivation is sustainable and has a minimal environmental impact compared to land-based crop production. Moreover, as seaweed absorbs carbon dioxide from the atmosphere, its cultivation actively contributes to reducing the greenhouse effect.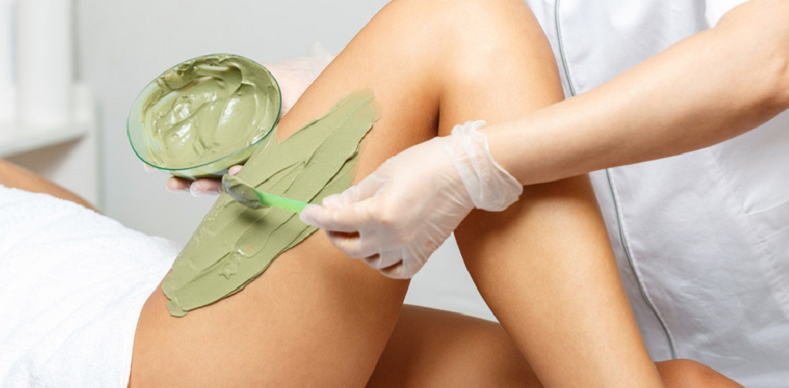 Different Types of Seaweed for Skincare
With over 10,000 species of seaweed gracing our oceans, it's a versatile and abundant resource. However, when it comes to skincare, not all seaweed is created equal. There are several types that are particularly rich in the qualities beneficial for skin health.
Brown Algae (e.g. Kelp, Bladderwrack)
Brown algae, one of the most common types of seaweed, is renowned for its potent skincare benefits.
Kelp
Kelp, a type of large brown seaweed, is particularly rich in antioxidants and minerals. It has exceptional hydrating properties, making it ideal for dry or dehydrated skin. Additionally, kelp can help to soothe skin irritations due to its anti-inflammatory attributes.
Bladderwrack
Another star player in the brown algae category is bladderwrack. This seaweed is rich in fucoidan, a complex carbohydrate known for its anti-aging and anti-inflammatory properties. Bladderwrack is also packed with minerals that help to nourish the skin, making it a popular ingredient in anti-aging skincare products.
Red Algae (e.g. Nori, Irish Moss)
Next, let's dive into the vibrant world of red algae. This type of seaweed is not only used in cuisine (think sushi) but also has remarkable properties that are beneficial for the skin.
Nori
Nori, widely known as the seaweed used to wrap sushi, is also a skincare gem. It's rich in vitamins A and C, which help to improve skin's texture and protect against environmental damage. Its amino acid content also helps to maintain skin's moisture and elasticity.
Irish Moss
Irish Moss, or Carrageenan, is a red algae famous for its soothing and hydrating properties. It forms a protective barrier on the skin, which helps to lock in moisture. Irish Moss is often used in moisturizers and masks for its ability to soften and hydrate the skin.
Green Algae (e.g. Sea Lettuce, Chlorella)
Lastly, we'll explore the green algae family. Although less common in skincare compared to brown and red algae, green algae are still packed with skincare benefits.
Sea Lettuce
Sea Lettuce, a delicate green algae, is rich in amino acids and antioxidants. It helps to purify and detoxify the skin while providing hydration. Sea Lettuce is an excellent ingredient for facial masks aimed at detoxifying and refreshing the skin.
Chlorella
Chlorella, a single-celled green algae, is known for its detoxifying properties. It helps to cleanse the skin and remove impurities, making it ideal for acne-prone or congested skin [4].
Comparing the Benefits and Uses of Each Type
In conclusion, each type of seaweed has its unique set of properties and benefits. Brown algae, like kelp and bladderwrack, are great for hydration and anti-aging. Red algae, including nori and Irish moss, are known for their soothing and protective properties. Green algae such as sea lettuce and chlorella are excellent for detoxification and purification.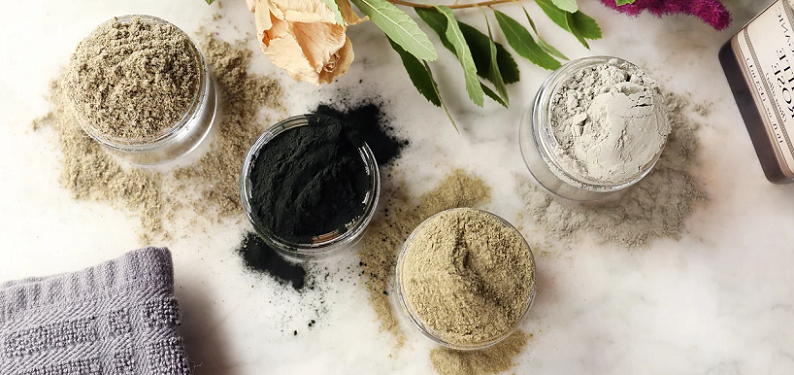 DIY Seaweed Face Mask Recipes
Now that we've navigated through the benefits and types of seaweed, it's time to embark on a creative voyage: crafting your DIY seaweed face masks! Making your own face masks is not only cost-effective but also allows you to tailor the ingredients to your skin's specific needs.
Necessary Tools and Ingredients
Before we begin, it's essential to gather all the tools and ingredients you'll need. Here is a general list:
A small mixing bowl
A whisk or spoon for mixing
Measuring spoons
A brush or your fingers for applying the mask
Seaweed powder or whole seaweed (e.g., kelp, bladderwrack, nori)
Additional ingredients for specific recipes (e.g., honey, green tea, avocado)
Basic Seaweed Face Mask
This simple face mask uses seaweed powder, which is made from dried seaweed and can be easily found online or at health stores.
Ingredients
1 tablespoon of seaweed powder
2 tablespoons of water
Steps
Mix the seaweed powder and water in a small bowl until you have a smooth paste.
If the paste is too thick, you can add more water to adjust the consistency.
Application
Apply the paste to your face using a brush or your fingers.
Leave the mask on for 10-15 minutes.
Rinse off with warm water and pat your face dry.
Benefits
This basic seaweed face mask is excellent for hydrating the skin and providing essential nutrients.
Seaweed and Honey Face Mask for Hydration
This recipe combines the hydrating properties of seaweed with the natural moisturizing effects of honey.
Ingredients
1 tablespoon of seaweed powder
1 tablespoon of honey
1 tablespoon of water
Steps
Mix the seaweed powder, honey, and water in a small bowl to form a smooth paste.
Application
Apply the paste to your face using a brush or your fingers.
Leave the mask on for 15-20 minutes.
Rinse off with warm water and pat your face dry.
Benefits
This mask is intensely hydrating and is great for soothing dry or irritated skin.
Seaweed, Green Tea, and Clay Mask for Oily Skin
This mask combines the detoxifying properties of seaweed and clay with the antioxidants of green tea, making it ideal for oily skin.
Ingredients
1 tablespoon of seaweed powder
1 tablespoon of clay (e.g., Bentonite or Kaolin clay)
2 tablespoons of brewed green tea (cooled)
Steps
Combine the seaweed powder, clay, and green tea in a small bowl.
Mix until you have a smooth paste.
Application
Apply the paste to your face with a brush or your fingers.
Leave the mask on for 10-15 minutes.
Rinse off with warm water and pat your face dry.
Benefits
This mask helps control oil production, detoxify the skin, and protect against environmental stressors.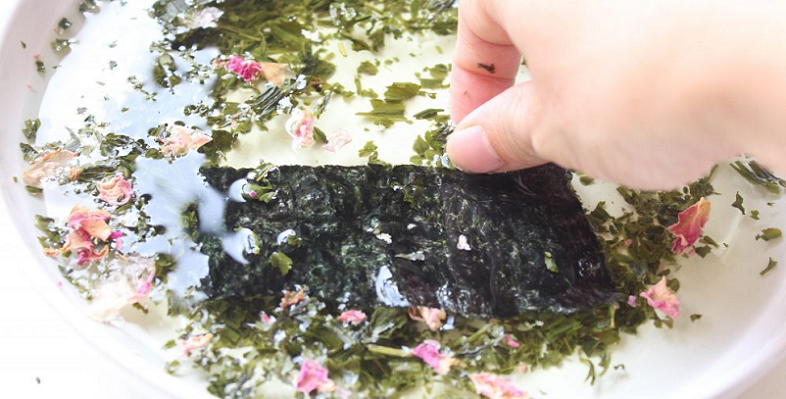 Seaweed and Avocado Mask for Aging Skin
This recipe is perfect for mature skin as it combines the anti-aging properties of seaweed with the nourishing benefits of avocado.
Ingredients
1 tablespoon of seaweed powder
½ ripe avocado
1 tablespoon of water
Steps
Mash the avocado in a small bowl.
Add the seaweed powder and water, and mix until smooth.
Application
Apply the paste to your face using a brush or your fingers.
Leave the mask on for 15-20 minutes.
Rinse off with warm water and pat your face dry.
Benefits
This mask is rich in antioxidants and fatty acids, making it excellent for nourishing the skin and fighting signs of aging.
How to Apply and Use Your DIY Marine Face Mask
Crafting your seaweed face mask is only half the adventure. Knowing how to apply and use it properly is key to reaping the full benefits of your DIY marine face mask.
Preparing Your Skin for the Face Mask
Before you apply your mask, it's crucial to ensure your skin is clean and ready to absorb the mask's nutrients [5].
Cleansing Your Face
Begin by washing your face with a gentle cleanser to remove dirt and impurities.
Rinse with lukewarm water and pat your face dry with a clean towel.
Exfoliating (Optional)
If desired, you can exfoliate your skin to remove dead skin cells.
Use a gentle exfoliator and massage it onto your skin in circular motions.
Rinse off with lukewarm water.
Opening Your Pores
To help your skin absorb the mask's nutrients, use steam to open your pores.
Drape a towel over your head and lean over a bowl of hot water for 5-10 minutes.
Applying the Face Mask
Now that your skin is prepped, let's move on to the application of the mask.
Application Technique
Use a clean brush or your fingers to apply the mask.
Apply evenly, ensuring that all areas of your face are covered, but avoid the eye area.
Quantity
Use enough mask to fully cover your face with a thick layer, but not so much that it's dripping.
Allowing the Mask to Work Its Magic
After applying, it's time to relax and let the mask do its work.
Waiting Time
Leave the mask on your face for the recommended time according to the recipe, usually between 10-20 minutes.
What to Do While Waiting
Use this time to relax. Maybe read a book, listen to music, or simply close your eyes and meditate.
Removing the Face Mask
Proper removal is just as important as application.
Rinsing Off
Use lukewarm water to gently rinse off the mask.
It's important to be gentle and not rub your skin harshly.
Drying
Pat your face dry with a clean towel. Don't rub, as this can irritate the skin.
Aftercare
After removing the mask, here are steps to seal in the benefits.
Toner
Apply a gentle toner to your face to close the pores.
Moisturizer
Follow up with your favorite moisturizer to lock in hydration.
Frequency of Use
Depending on your skin type and the ingredients of your mask, it's generally recommended to use a face mask 1-3 times a week.
References

[1] DIY Seaweed & Clay Face Mask
[2] How to Give Yourself a Cooling Seaweed Facial
[3] Anti-Photoaging and Potential Skin Health Benefits of Seaweeds
[4] Seaweed Has Some Serious Skin Benefits You Should Know About
[5] A tide of economic opportunity? Seaweed extract may hold potential for skin and healthy aging