Protect Your Locks: Lesser-Known Summer Haircare Tips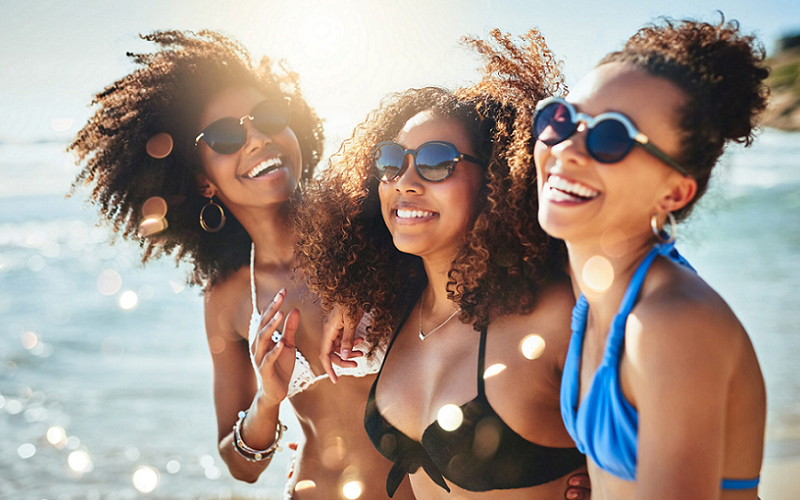 As the sun starts to beam down with all its might, there's no denying that summertime is in full swing. It's the season of beach trips, pool parties, and sunbathing. But wait, before you dive into all the fun, have you thought about the toll this season takes on your precious tresses? Most of us are acquainted with the importance of skincare during the hot months, but haircare often takes a back seat. Here we not only explore the effects of sun, chlorine, and salt water on your hair but also divulge some little-known secrets to nourishing and strengthening your locks from within.
Understanding Summer Hair Damage
Summer is undeniably the season for outdoor fun. However, before we get into the nitty-gritty of protecting your hair, it's vital to understand how the various elements of summer can affect your locks. The triumvirate of the sun, chlorine, and salt water, combined with humidity, can wreak havoc on your hair.
The Effects of Sun on Hair
We all know that sun exposure is essential for our daily dose of Vitamin D, but too much of it can have detrimental effects on our hair. Prolonged exposure to the sun's UVA and UVB rays can cause the hair's cuticle to break down, leading to dry, brittle, and discolored hair. The sun can also cause your hair color to fade, and if you have chemically treated hair, the damage can be even more pronounced.
Chlorine and Salt Water Damage
For many, a dip in the pool or the ocean is a quintessential summer activity. However, chlorine in pool water and salt in ocean water can both be very drying to the hair. Chlorine can strip the hair of its natural oils, leading to dryness, loss of shine, and sometimes a greenish tint to the hair (especially for blondes). On the other hand, salt water can draw moisture out of the hair, making it dehydrated and more prone to tangling and breaking [1].
Humidity and Frizz
Let's not forget about summer's partner in crime – humidity. The increased moisture in the air can cause your hair to become frizzy and unmanageable. This is particularly true for those with curly or wavy hair, as the hair shaft absorbs moisture from the air, causing the hair to swell and the cuticle to lift, leading to frizz.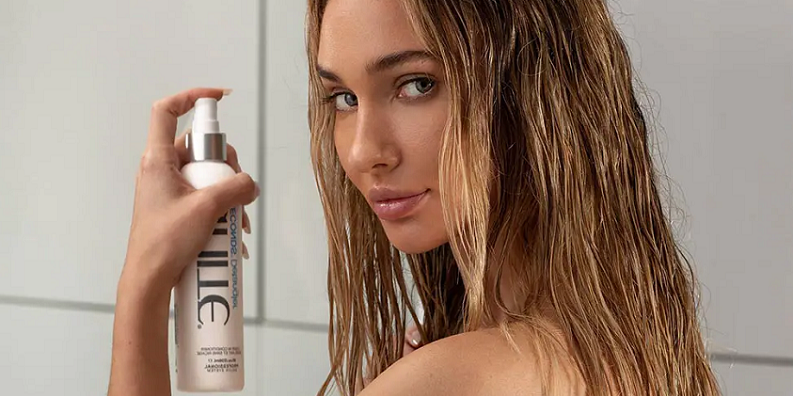 Nourish and Strengthen Hair From Within
Believe it or not, the health of your hair is not just about what you put on it; it's also about what you put in your body. Nourishing your hair from the inside out is key to maintaining strong, healthy locks, especially during the challenging summer months.
Eat a Balanced Diet
Healthy hair starts with a nutritious diet. Consuming the right nutrients can help your hair stay shiny, strong, and resistant to the summer's harsh elements.
Foods Rich in Omega-3 Fatty Acids
Omega-3 fatty acids, found in fish such as salmon and mackerel, as well as in nuts and seeds, are essential for hair health. They provide nourishment to the hair follicles, promoting growth and adding shine.
Importance of Vitamins A and C
Vitamin A is crucial for cell growth, including hair cells. Foods like sweet potatoes, carrots, and spinach are rich in vitamin A. Additionally, vitamin C is essential for the production of collagen, which strengthens the hair shaft. Citrus fruits, strawberries, and bell peppers are excellent sources of vitamin C.
Stay Hydrated
Often overlooked, hydration is essential for healthy hair. Water helps in flushing out toxins from the body and provides moisture to the hair from the inside. During summer, it's especially important to increase your water intake to compensate for the fluids lost through sweating [2].
Consider Supplements
While a balanced diet is key, sometimes you might need an extra boost. Consult your healthcare provider before adding any supplements to your regimen.
Biotin
Biotin is a popular supplement known for its benefits to hair health. It is a water-soluble B-vitamin that can help strengthen hair and nails.
Vitamin E
Vitamin E acts as an antioxidant and helps protect the hair from damage. It also boosts circulation in the scalp which can promote hair growth.
Choose the Right Summer Hair Products
The products you use can either make or break your hair, especially during the summer. The market is flooded with an array of hair products, and it can be quite overwhelming. However, knowing what to look for can make a significant difference in protecting your hair from summer's wrath.
Opt for Sulfate-Free Shampoos
Regular shampoos often contain sulfates, which, though effective at cleaning, can strip your hair of its natural oils. In summer, when your hair is already prone to drying out due to the sun and swimming, it's a good idea to switch to a sulfate-free shampoo. These shampoos are gentler and help retain the natural moisture in your hair, keeping it soft and manageable [3].
Use a Sun-Protective Hair Spray
You probably use sunscreen to protect your skin from the harmful UV rays of the sun, but have you considered doing the same for your hair? Sun-protective hair sprays are formulated to shield your hair from the damaging effects of UV rays. They create a protective barrier around the hair shaft, preventing the sun from breaking down the cuticle. Make it a habit to spritz some on your hair before heading out in the sun.
The Magic of Leave-In Conditioners
Leave-in conditioners are like a tall glass of water for your thirsty summer hair. They offer deeper conditioning than regular conditioners and remain in the hair throughout the day, continuously providing moisture and reducing frizz. Look for leave-in conditioners with ingredients like aloe vera or coconut oil, as these are particularly hydrating.
Hair Masks: A Summer Essential
Indulge your hair once a week with a deep-conditioning hair mask. Summer can be harsh, and a weekly pampering session can help in repairing and rejuvenating your locks. Opt for masks with natural moisturizing ingredients such as avocado, honey, or shea butter.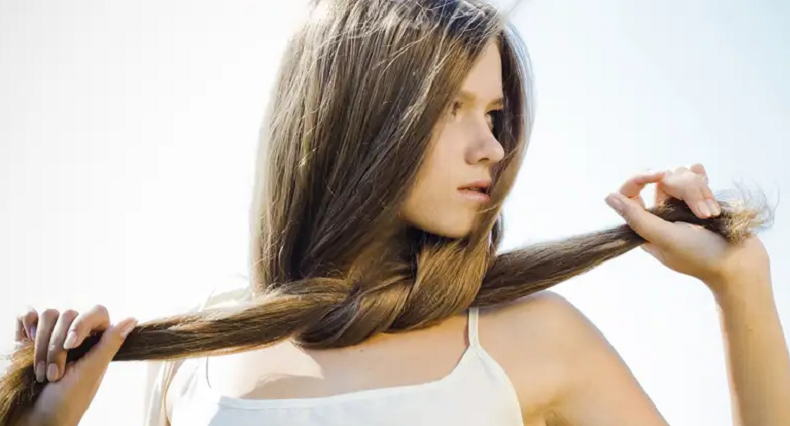 Practical Summer Haircare Techniques
In addition to nourishing from within and choosing the right products, there are practical haircare techniques that can make a world of difference in protecting your hair during summer. These simple yet effective habits can be incorporated into your daily routine to ensure that your hair stays healthy and vibrant throughout the season. Let's dive into these techniques.
Pre-Swim Protection
Taking a dip in the pool or ocean is incredibly refreshing, but as we discussed earlier, chlorine and salt water can be damaging to your hair [4]. Here are some tips to protect your hair before you take the plunge.
Wetting Hair Before Entering the Pool/Ocean
By wetting your hair with fresh water before entering the pool or ocean, you're limiting the amount of chlorine or salt water your hair can absorb. This is because your hair is like a sponge, and if it's already saturated with clean water, it won't be able to soak up as much of the damaging water.
Using Oil-Based Products for Extra Protection
Applying an oil-based product or leave-in conditioner to your hair before swimming can create an additional barrier that minimizes the absorption of harmful elements in the water. Coconut oil is a great natural option as it helps retain the hair's moisture.
Proper Hair Washing Technique
How you wash your hair is just as important as what you wash it with. During summer, it's best to wash your hair with lukewarm water as hot water can strip away essential oils. Additionally, focus on cleansing the scalp rather than the length of the hair and be gentle to avoid breakage.
The Cold Water Rinse
After shampooing and conditioning, giving your hair a final rinse with cold water can be very beneficial. This helps in sealing the hair's cuticle, making it smoother and adding shine. It also helps in reducing frizz which can be particularly problematic in humid conditions.
Avoid Overuse of Styling Tools
Summer already puts your hair through a lot, and the use of hot styling tools such as flat irons, curling wands, and blow dryers can exacerbate the damage. Whenever possible, embrace your hair's natural texture and let it air dry. If you must use styling tools, always use a heat protectant spray to minimize damage.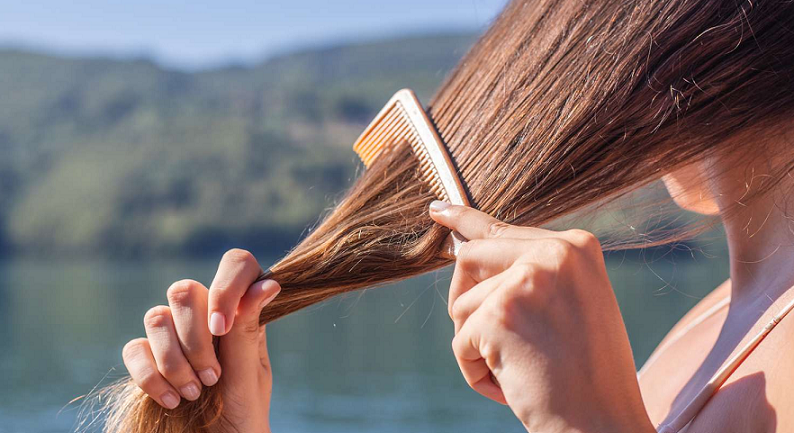 Styling Tips for Healthy Summer Hair
Summer is the perfect season to experiment with different hairstyles. However, the key is to find styles that don't just look great but also contribute to the health of your hair. With the summer heat and humidity at play, certain hairstyles and accessories can actually help in reducing the stress on your hair [5].
Opt for Loose Hairstyles
Tight hairstyles may be sleek, but they can cause stress and breakage to the hair, especially when it's already vulnerable from the summer elements. Instead, opt for loose hairstyles. Loose braids, for example, are not only chic but also prevent tangles and knots, especially when you're active. Other options include low ponytails or simply wearing your hair down in relaxed waves.
Use Hair Accessories Wisely
Accessories can add a touch of flair to your summer looks. However, it's important to choose them wisely to ensure they don't cause damage to your hair.
Non-Damaging Hair Ties
Traditional elastic bands can cause breakage. Opt for hair ties made of soft fabrics, or spiral hair ties, which are gentler on the hair and don't leave kinks.
Wide-Brimmed Hats
Wide-brimmed hats are not just a fashion statement; they're also excellent for protecting both your hair and skin from the sun. The brim shades your hair, and the material of the hat can also protect against the drying effects of the wind.
Embrace Your Hair's Natural Texture
Summer is the perfect time to embrace your natural hair texture. Whether you have waves, curls, or straight hair, working with your natural texture can reduce the need for heat styling and excessive product use. Use a bit of leave-in conditioner or a styling cream to enhance your natural curls or waves.
References

[1] 11 Essential Tips for Summer Hair Care
[2] How to Transition Your Haircare Routine From Spring to Summer
[3] 8 Summer Hair Care Tips Straight From the Experts
[4] Summer Hair Care: 11 Tips To Protect Your Hair From The Sun
[5] 5 Essential Summer Hair Care Routine, You Should Follow