Rejuvenate Your Skin with Traditional Ayurvedic Practices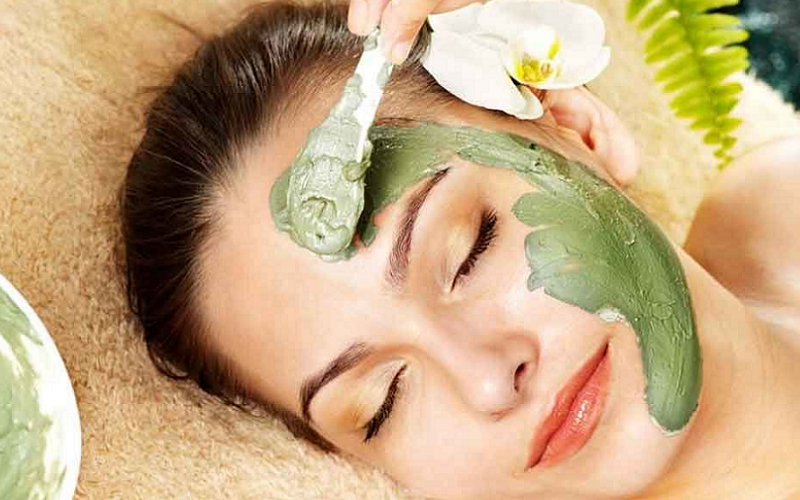 In an age where the beauty market is flooded with an array of products promising radiant skin, it's easy to overlook the ancient wisdom that has been nurturing holistic well-being for centuries. Ayurveda, a timeless science of life that hails from India, is rich in traditions that can significantly rejuvenate your skin and restore its natural glow. By integrating mind, body, and spirit, Ayurveda addresses the root causes of skin issues, rather than merely tackling the symptoms.
Introduction to Ayurveda and Skin Health
Ayurveda, which translates to "science of life" in Sanskrit, is an ancient system of medicine that originated in India more than 5,000 years ago. The roots of Ayurveda can be traced back to the Vedic period, which is considered one of the most significant periods in Indian history.
During this time, great sages and scholars composed the Vedas, which are the oldest scriptures of Hinduism. Among these, the Atharvaveda contains the earliest references to Ayurveda and its medical knowledge. Ayurveda later evolved into a comprehensive healthcare system, with two main texts, the Charaka Samhita and the Sushruta Samhita, which encompass various aspects of medicine, including the significance of maintaining skin health.
At the core of Ayurveda lies the belief that everything in the universe is interconnected and that health is achieved through a balance between the mind, body, and spirit. Ayurveda categorizes individuals into different constitutions or doshas, based on the combination of five basic elements — earth, water, fire, air, and ether. The three primary doshas are Vata (air and ether), Pitta (fire and water), and Kapha (earth and water). Achieving a balance among these doshas is fundamental to maintaining health and well-being, including the health of your skin [1].
The Importance of Skin Health
Your skin is not just the outer covering of your body; it is the largest organ and serves several vital functions. It protects your body against environmental toxins, helps regulate temperature, and allows you to sense the world around you. Moreover, the condition of your skin often reflects your overall health and well-being. A radiant, smooth skin is indicative of internal balance, while issues such as dryness, acne, or wrinkles might suggest an internal imbalance. In Ayurveda, skin health is seen as a reflection of one's inner health and life energy, or prana.
Connecting Ayurveda to Skin Rejuvenation
Ayurveda offers an array of natural remedies and practices for skin rejuvenation. These practices not only focus on treating skin problems but also aim at maintaining the health and vitality of the skin. By understanding your dosha and its characteristics, you can personalize Ayurvedic practices to suit your unique skin type. Whether through diet, herbal remedies, or external therapies, Ayurveda holds secrets that have stood the test of time.
Understanding Your Skin Type According to Ayurveda
In Ayurveda, it is believed that understanding oneself is the key to finding the right balance and health. Before diving into various Ayurvedic practices for skin rejuvenation, it is vital to understand your skin type as per Ayurveda. This knowledge will enable you to choose the right treatments and practices that harmonize with your natural constitution.
The Three Doshas: Vata, Pitta, and Kapha
Doshas are the energies found in every individual and are composed of the five basic elements – earth, water, fire, air, and ether. The three primary doshas are Vata, Pitta, and Kapha. Each dosha has specific qualities and governs various physiological and psychological functions in the body [2].
Characteristics of Each Dosha
Vata (Air and Ether): Vata skin is generally dry, thin, and more prone to wrinkles. When imbalanced, it may become excessively dry, rough, or flaky. Vata skin benefits from nourishing and moisturizing treatments.
Pitta (Fire and Water): Pitta skin is sensitive, fair, and prone to redness, acne, or inflammation. It requires cooling and soothing treatments to counterbalance the fiery nature of Pitta.
Kapha (Earth and Water): Kapha skin tends to be oily, thick, and more tolerant of the sun. However, it's also prone to clogged pores and excess oil. Kapha skin benefits from detoxifying and exfoliating treatments.
Identifying Your Predominant Dosha
To identify your predominant dosha, you can observe the characteristics of your skin and body, or seek the help of an Ayurvedic practitioner. There are also numerous online quizzes and resources that can help you determine your dosha. Remember that most people have a combination of doshas, with one usually being more dominant.
Tailoring Ayurvedic Practices to Your Skin Type
Once you've identified your dosha, you can start tailoring Ayurvedic practices to suit your skin type. It's important to note that Ayurveda emphasizes not only the use of topical treatments but also internal wellness for holistic skin health. For instance, Vata skin types should focus on hydrating and nourishing practices, Pitta types should seek to cool and soothe the skin, and Kapha types can benefit from practices that help in detoxification and reduction of oiliness.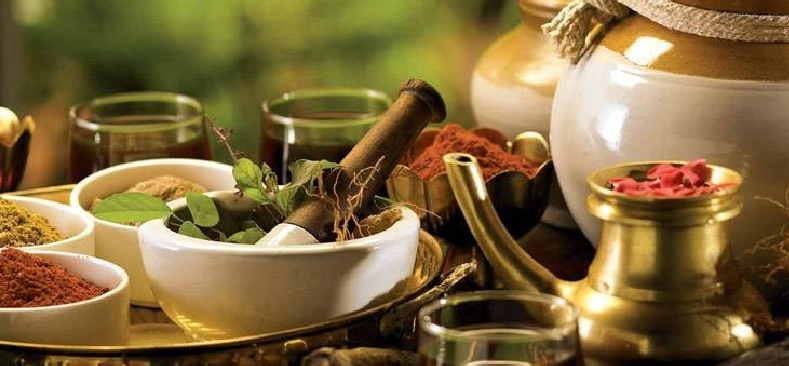 Ayurvedic Practices for Nourishing Your Skin from the Inside
In Ayurveda, it is believed that the state of your skin is a reflection of your internal health. A holistic approach to skin care should not only focus on topical applications but also on nourishing the body from the inside.
The Concept of Agni and Digestion
In Ayurveda, the digestive fire, known as 'Agni,' is a central concept. Agni is responsible for the digestion and assimilation of food and nutrients. A balanced Agni is considered vital for overall health, including skin health. When Agni is weak, it can lead to the accumulation of toxins, known as Ama, which can manifest as skin issues like acne, dullness, or eczema [3].
To keep Agni strong, Ayurveda recommends eating a balanced diet, avoiding overeating, and consuming meals at regular intervals. Spices like ginger, cumin, and fennel are also known to kindle the digestive fire.
A Balanced Ayurvedic Diet for Skin Health
Eating the right foods is key to nourishing your skin from the inside. In Ayurveda, it's important to choose foods that balance your dominant dosha.
Foods to Include
Vata: Include foods that are warm, moist, and nourishing such as avocados, nuts, seeds, and cooked grains.
Pitta: Opt for cooling and hydrating foods like cucumbers, melons, coconut water, and leafy greens.
Kapha: Focus on light, warm, and spicy foods like legumes, leafy greens, and spices such as turmeric and pepper.
Foods to Avoid
Vata: Avoid cold, dry, and raw foods.
Pitta: Stay away from spicy, acidic, and oily foods.
Kapha: Limit intake of heavy, oily, and sweet foods.
Hydration and Its Role in Skin Rejuvenation
Hydration plays a crucial role in keeping the skin radiant and healthy. Drinking sufficient water helps in flushing out toxins and maintaining the skin's elasticity. Ayurveda recommends drinking warm water throughout the day for optimum benefits. Additionally, herbal teas, such as tulsi or ginger tea, can be beneficial [4].
Ayurvedic Herbs and Supplements for Skin
Ayurveda offers a variety of herbs known for their skin benefits. These herbs can be incorporated into your diet as supplements or used as ingredients in skincare products.
Neem
Neem is revered in Ayurveda for its antibacterial and anti-inflammatory properties. It's particularly beneficial for acne-prone or oily skin.
Turmeric
Turmeric is known for its anti-inflammatory and antioxidant properties. It helps in purifying the blood and giving a natural glow to the skin.
Amla
Amla, or Indian gooseberry, is rich in vitamin C and antioxidants. It's known to enhance skin radiance and slow down the aging process.
Triphala
Triphala, a combination of three fruits – Amalaki, Bibhitaki, and Haritaki, is often used for detoxification and rejuvenation. It's known to improve digestion and purify the blood, contributing to healthier skin.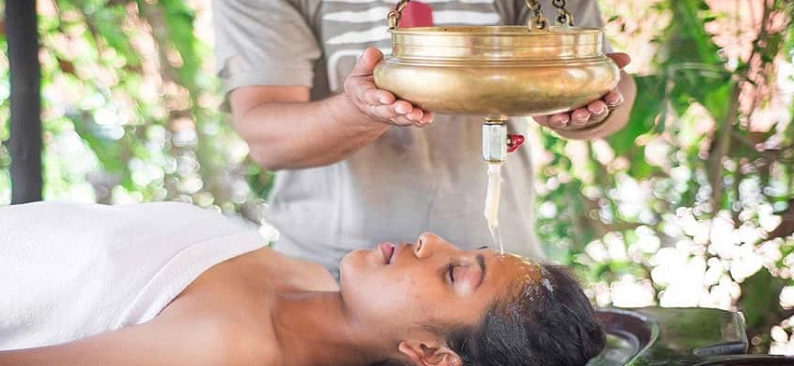 External Ayurvedic Practices for Skin Rejuvenation
While nourishing your skin from the inside is essential, Ayurveda also provides a plethora of external practices that can work wonders in rejuvenating your skin. From oil massages to herbal face masks, these traditional practices focus on using natural ingredients to achieve radiant and healthy skin.
Oil Massages and Their Benefits
One of the most revered Ayurvedic practices for skin health is Abhyanga, or oil massage. Regularly massaging your skin with oil not only moisturizes it but also helps in detoxification, improving circulation, and relieving stress, which can often be a cause for various skin issues [5].
Choosing the Right Oil for Your Skin Type
Selecting an oil that is compatible with your dosha is important. Here are recommendations based on skin types:
Vata: Sesame oil is ideal as it is warm and nourishing, helping to counteract the dryness associated with Vata.
Pitta: Coconut or sunflower oil is recommended for Pitta skin types because of their cooling properties.
Kapha: Mustard or safflower oil can be beneficial for Kapha skin as they are light and help in reducing excess oiliness.
Techniques of Abhyanga Massage
For the Abhyanga massage, gently warm the oil and start by applying it to the extremities, moving towards the heart. Use long strokes on the limbs and circular motions on the joints. Allow the oil to penetrate into the skin for about 15-20 minutes before taking a warm shower.
Ayurvedic Facial Treatments
Ayurvedic facial treatments use natural ingredients to cleanse, tone, and nourish the skin. These treatments are gentle and free from harsh chemicals, making them suitable for all skin types.
Ayurvedic Face Masks
Creating Ayurvedic face masks with ingredients like turmeric, sandalwood, honey, and rose water can be highly beneficial. For example, a mask with chickpea flour, turmeric, and yogurt is great for acne-prone skin. Mix the ingredients into a paste and apply it to the face. Leave it on for 10-15 minutes before rinsing with warm water.
Herbal Steam Facials
Steaming your face with herbs can help to open up the pores and release impurities. Boil water with herbs like chamomile, rose petals, or mint, and then lean over the pot with a towel over your head to trap the steam. Do this for 5-10 minutes.
Using Essential Oils for Skin Radiance
Essential oils are potent and can be added to carrier oils or face packs. Lavender oil is calming and can be good for sensitive skin, while tea tree oil is known for its antibacterial properties, making it great for acne-prone skin. Always do a patch test before applying essential oils to the face.
Daily Skincare Routine Based on Ayurveda
Establishing a daily routine is essential. Start by cleansing your face with a gentle cleanser. Follow this with a toner, preferably something natural like rose water. Apply oil or a moisturizer, and once a week, indulge in a face mask or herbal steam.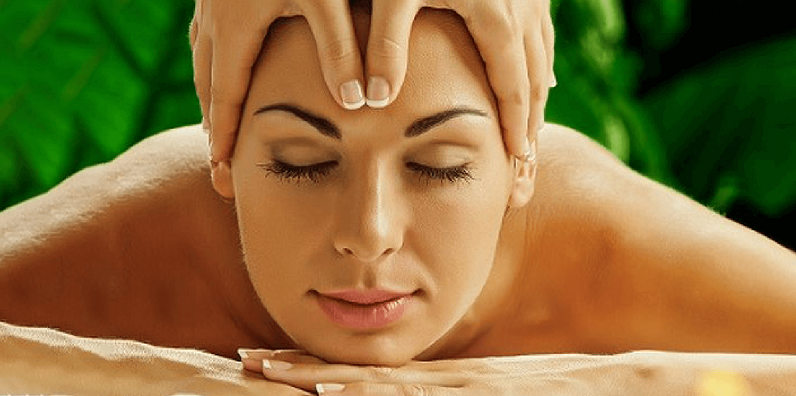 Ayurvedic Detoxification and Stress-Reduction Techniques
To truly rejuvenate your skin, it's important to address the underlying factors that often contribute to skin problems. Ayurveda acknowledges that the accumulation of toxins and stress can have a detrimental effect on skin health.
Panchakarma: The Ayurvedic Detox
Panchakarma is a set of five therapies designed to cleanse the body of toxins. It is often used to reset the balance of the doshas and to promote healing and rejuvenation.
Understanding the Importance of Detoxification
Detoxification in Ayurveda is not just about cleansing the body, but also about resetting the digestive fire, strengthening the immune system, and restoring balance and well-being. This, in turn, has a positive effect on skin health, leading to a clearer complexion and more radiant skin.
The Five Therapies of Panchakarma
Vamana (Therapeutic Emesis): This therapy is used to eliminate excess Kapha and is beneficial for conditions like acne or oily skin.
Virechana (Purgation): This therapy eliminates excess Pitta and is used for skin conditions like inflammation or rashes.
Basti (Enema Therapy): This treatment is used to balance Vata and is beneficial for dry or aging skin.
Nasya (Nasal Administration): Involves administering medicated oil through the nose to cleanse the sinuses and head.
Raktamokshana (Bloodletting): This therapy involves the detoxification of the blood and is used for skin conditions related to impure blood.
Seeking Professional Guidance
It is essential to consult an Ayurvedic practitioner if you are considering undergoing Panchakarma, as these therapies need to be tailored to individual needs and should be conducted under professional supervision.
Reducing Stress Through Ayurvedic Techniques
Stress can take a toll on skin health, contributing to issues like acne, wrinkles, and dull skin. Ayurveda offers various techniques to manage stress and promote mental well-being.
Meditation and Pranayama
Regular practice of meditation and pranayama (breathing exercises) can significantly reduce stress. Take out 10-15 minutes each day to practice mindfulness or deep breathing. This can help in calming the mind and bringing a sense of balance, which reflects on your skin.
Yoga for Skin Health
Yoga, when practiced regularly, can be extremely beneficial in reducing stress and improving circulation, which is essential for skin health. Poses like the Cobra Pose, Child's Pose, and Triangle Pose are especially beneficial for skin rejuvenation.
Herbal Adaptogens
Herbal adaptogens like Ashwagandha and Holy Basil (Tulsi) can be included in your routine to combat stress. These herbs are known to improve the body's ability to adapt to stress and balance hormones.
Aromatherapy
Using aromatic oils like lavender, rose, or chamomile in a diffuser or adding a few drops to your bath water can help in creating a calming environment and reduce stress levels.
References

[1] Trends in aging and skin care: Ayurvedic concepts
[2] 8 Ayurvedic foods and herbs to detox your skin for summer
[3] Skin From an Ayurvedic Perspective
[4] Is Ayurveda the next big thing in skin care?
[5] Ayurvedic Regimes for Skin Care – A Conceptual Study