The Lesser-Known Benefits of Ice Rolling in Your Skincare Routine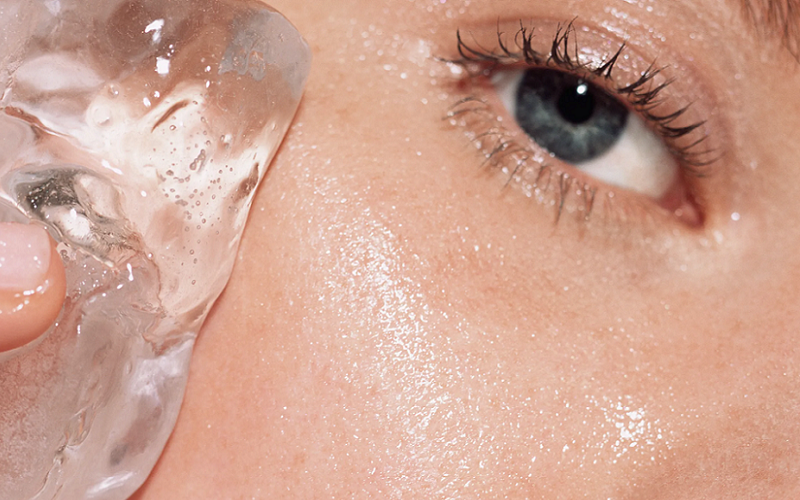 Ice rolling is a practice that has garnered quite a fanfare in recent times. As the adage goes, 'Beauty is skin deep,' and many swear by ice rolling as an essential step to ensure the skin's wellness. Commonly celebrated for its ability to combat puffiness and redness, ice rolling is often touted as the go-to quick fix for a more invigorated complexion. But what if we told you that ice rolling is not just a one-trick pony? Yes, this seemingly simple skincare practice holds a treasure trove of lesser-known benefits that go beyond mere aesthetics.
The Science of Ice Rolling
Before we get into the plethora of lesser-known benefits of ice rolling, it is essential to understand the science behind this technique. By knowing how ice rolling works on a physiological level, you can better appreciate its impact on your skin and overall well-being.
Explanation of the Physiology Behind Skin Cooling
Ice rolling involves the application of a cold surface, often a metal or stone roller that's been chilled, across the skin. This practice capitalizes on the principles of cryotherapy, which is the use of cold temperatures for therapeutic purposes. When cold is applied to the skin, it causes blood vessels to constrict, a process known as vasoconstriction. This reduces blood flow to the area, which can help decrease inflammation and swelling [1].
Additionally, once the cold stimulus is removed, the blood vessels dilate, increasing blood flow to the area. This process, known as vasodilation, helps to flush out toxins and bring in nutrients and oxygen, which can be beneficial for skin health.
Furthermore, the cold sensation sends signals to the brain, which can have various effects on the body's natural processes. For instance, it can influence the production of hormones, such as endorphins, and even alter pain perception.
Research Findings on the Benefits of Cold Therapy
Scientific research lends credibility to the therapeutic use of cold. A study published in the Journal of Cosmetic Dermatology in 2013 found that using cold temperatures could help improve the skin's appearance and texture by affecting the underlying muscles and blood vessels. This is in part due to the increased oxygen and nutrient supply resulting from the vasoconstriction and vasodilation process mentioned earlier.
Another study, published in the Journal of Clinical, Cosmetic and Investigational Dermatology in 2015, found that cryotherapy could help reduce the signs of aging. The research indicated that the cold temperatures might increase collagen production in the skin, making it appear firmer and younger [2].
In the realm of sports medicine, cold therapy has long been used to reduce inflammation and speed up recovery from injuries. This is a testament to its effectiveness in manipulating blood flow and aiding in tissue repair and regeneration.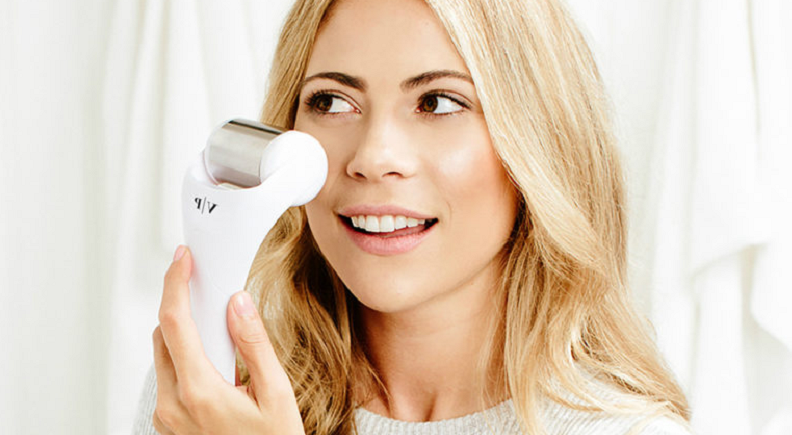 The Lesser-Known Benefits of Ice Rolling
Now that we have a scientific backdrop to the effects of ice rolling, it's time to uncover some of its hidden gems. While the technique is mainly associated with reducing puffiness and calming the skin, there are several other benefits that often go unnoticed. From enhancing the absorption of skincare products to providing sinus relief, ice rolling is a versatile addition to your routine.
Enhancing Product Absorption
How Ice Rolling Can Boost Skincare Efficacy
One of the intriguing benefits of ice rolling is its ability to enhance the absorption of skincare products. When you use an ice roller after applying serums, moisturizers, or other products, the cold helps to tighten the pores and smooth the skin. This tightening effect not only refines the appearance of pores but also creates a more receptive surface for skincare products to penetrate more effectively.
Research Supporting Enhanced Product Absorption
Though direct research on ice rolling and product absorption is limited, the principle of using cold to enhance skin permeability is well-documented. A study published in the International Journal of Pharmaceutics in 2008 indicated that the application of cold can increase skin permeability, making it easier for substances to penetrate the skin. This suggests that ice rolling could potentially enhance the efficacy of your skincare products by boosting their absorption [3].
Reducing Migraine Symptoms
Explanation of the Link Between Cold Therapy and Migraines
Another surprising benefit of ice rolling is its potential to alleviate migraine symptoms. Cold therapy has long been used as a natural remedy for headaches and migraines. By using an ice roller on your temples, neck, and forehead, you can help to numb the nerves and reduce the pain signals being sent to the brain.
Personal Anecdotes and Case Studies
Many individuals who suffer from migraines have reported relief after using ice rollers. Although scientific studies specifically linking ice rolling to migraine relief are scarce, the anecdotal evidence and the established efficacy of cold therapy in pain reduction suggest a potential role for ice rolling in managing migraine symptoms.
Improving Sleep Quality
The Connection Between Skin Cooling and Sleep
Believe it or not, ice rolling might even help you sleep better. Research has shown that cooler body temperatures are conducive to falling asleep. When you use an ice roller on your face and neck before bed, you might help lower your core body temperature, signaling to your brain that it's time to wind down.
Research Highlighting Improvement in Sleep Quality
A study published in the Journal of Physiological Anthropology in 2012 found that mild skin cooling can improve sleep quality. Though the study did not specifically look at ice rolling, it supports the theory that cooling the skin can have a positive impact on sleep.
Promoting Sinus Relief
How Ice Rolling Can Relieve Sinus Pressure
If you suffer from sinus congestion or allergies, ice rolling might be an unexpected ally. The cold from the ice roller can help to reduce inflammation in the sinus passages, relieving pressure and congestion [4].
Evidence of Sinus Relief Benefits
There is a significant amount of anecdotal evidence supporting the use of cold therapy for sinus relief. Additionally, the American Academy of Otolaryngology-Head and Neck Surgery recommends cold compresses as a way to relieve sinus pressure and pain.
Enhancing Mood
Cold Therapy and Mood Improvement
Ice rolling can also have a positive effect on your mood. The cold can stimulate the production of endorphins, the body's natural mood lifters. Additionally, the act of rolling can be very soothing and meditative, which may also contribute to mood enhancement.
Studies Supporting Mood Enhancement Benefits
A study published in the Medical Hypotheses journal in 2008 suggested that cold exposure could be an effective treatment for depression due to its ability to increase endorphin levels and boost mood.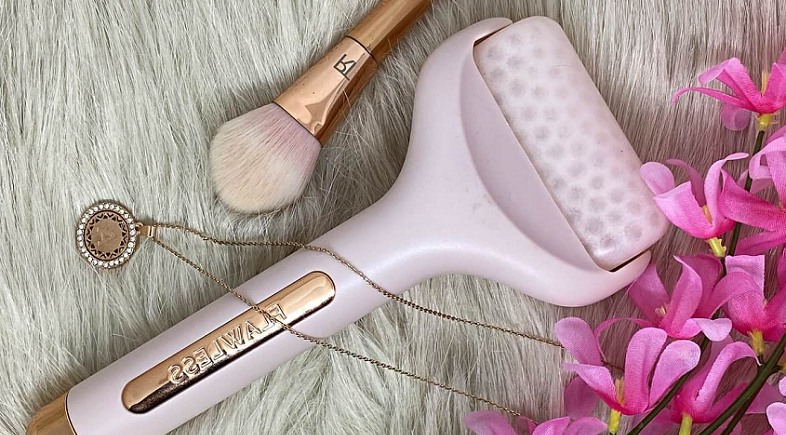 How to Incorporate Ice Rolling into Your Skincare Routine
Equipped with the knowledge of the science and lesser-known benefits of ice rolling, you might be eager to incorporate this technique into your skincare routine. The beauty of ice rolling is that it's simple, quick, and can easily complement your existing regimen.
When to Ice Roll in Your Routine
Determining the right time to incorporate ice rolling in your skincare routine is key to maximizing its benefits. Here's a general guideline to follow:
Start by Cleansing: Always start with a clean face. Make sure you've cleansed your skin to remove any dirt or makeup.
After Applying Serum or Moisturizer: Once your skin is clean, apply your usual serums or moisturizers. Follow this up with ice rolling to enhance product absorption as previously discussed.
Before Bedtime for Sleep Improvement: If you're looking to improve sleep quality, consider ice rolling before bedtime to help cool your skin and signal your body that it's time to wind down.
Choosing the Right Ice Roller
There are various types of ice rollers available in the market, made from different materials such as stainless steel, jade, or quartz [5]. Here's what to consider when choosing one:
Material: Stainless steel rollers tend to stay cold for longer, while jade and quartz rollers are believed by some to have additional skin-soothing properties.
Ergonomics and Size: Choose an ice roller with a comfortable handle. Additionally, consider the size – larger rollers can cover more area quickly, while smaller ones can be more precise.
Quality: Opt for a well-made product that won't leak or break easily. Check for reviews and recommendations.
Techniques for Effective Ice Rolling
To make the most out of ice rolling, it's important to use the right technique:
Chill the Roller: Before using, make sure your roller is cold. Most rollers should be stored in the freezer.
Use Gentle Pressure: Roll gently on the skin – there's no need to press hard.
Roll Upwards and Outwards: Roll in an upward and outward direction to help with lymphatic drainage and lifting effect.
Don't Overdo It: Roll each area for a minute or two – spending too much time on one area can cause irritation.
How Often to Ice Roll for Optimum Results
The frequency of ice rolling depends on your skin type and concerns:
For General Skincare: Using an ice roller every other day or a few times a week is generally sufficient for skincare purposes.
For Migraine or Sinus Relief: You can use it as needed when experiencing symptoms.
For Sleep Improvement: Consider incorporating it into your nightly routine.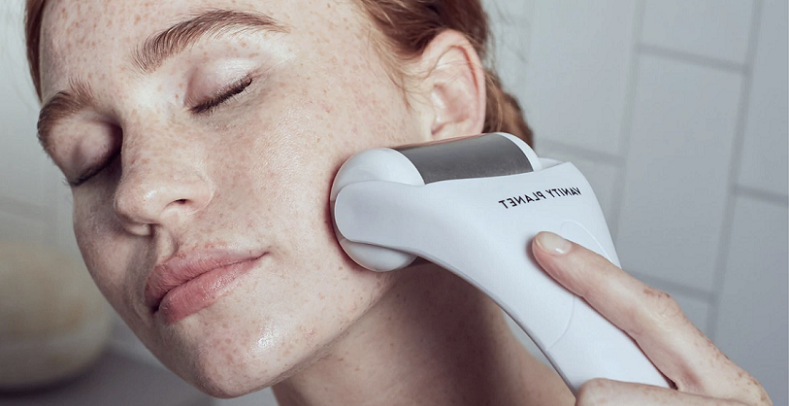 Ice Rolling Precautions and Potential Downsides
While ice rolling is generally considered safe and beneficial for most people, it's essential to be aware of the precautions and potential downsides. As with any skincare practice, individual responses can vary, and what works for one person may not be suitable for another.
Skin Conditions that May Not Benefit from Ice Rolling
Certain skin conditions may not react well to ice rolling, or it may not be the most effective method of treatment.
Rosacea: People with rosacea should be cautious as the cold can sometimes cause a flare-up in symptoms.
Extreme Sensitivity: If your skin is extremely sensitive, ice rolling might cause irritation. It's important to start slowly and see how your skin reacts.
Open Wounds or Broken Skin: Avoid using an ice roller on broken skin or open wounds as it can exacerbate the issue and may cause discomfort.
Risks and Warnings
Being mindful of potential risks and warnings is key to safely incorporating ice rolling into your routine.
Avoid Too Much Cold: While the cooling effect is beneficial, excessive cold can cause frostbite. Never apply the ice roller if it's too cold or has been in the freezer for an extended period without checking the temperature first.
Don't Overuse: Using the ice roller for an extended period on the same area can cause skin irritation. It's best to use it for a few minutes at a time.
Keep It Clean: Always make sure your ice roller is clean before use to avoid transferring bacteria to your skin, which can cause breakouts or infections.
When to Consult with a Dermatologist
Consulting a dermatologist is a prudent step in certain scenarios:
New to Ice Rolling: If you're new to ice rolling and have a skin condition or are unsure how your skin will react, it's wise to consult a dermatologist before starting.
Experiencing Adverse Reactions: If you experience any adverse reactions like prolonged redness, increased pain, or worsening of skin conditions, it's essential to consult a dermatologist for guidance.
References

[1] Why You Should Be Using an Ice Roller On Your Face
[2] The Skin-Care Benefits of Ice-Rolling, Explained
[3] Does Ice-rolling Offer Skin Benefits?
[4] The Skin-Care Benefits of Ice-Rolling, Explained
[5] A Complete Guide to Skin Icing: Is It Good for Your Face?