Menopause and Beauty: Tailoring Your Routine for Hormonal Changes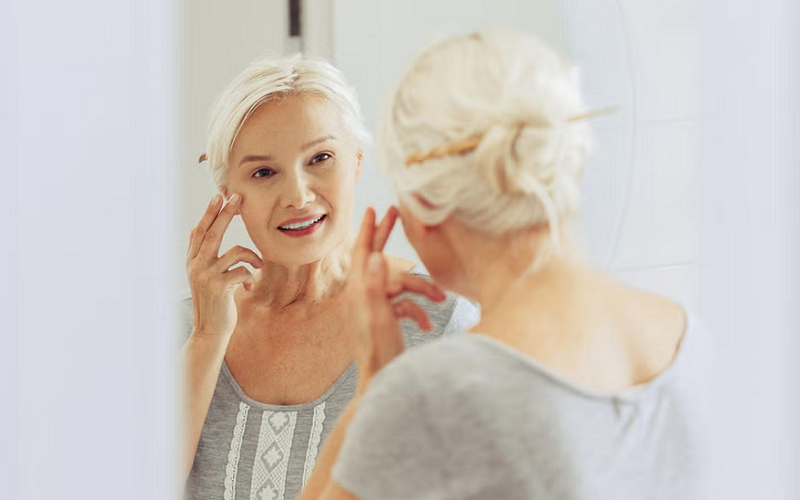 Although it's a natural part of life's cycle, menopause can feel like navigating through uncharted waters, especially when it comes to your beauty routine. As hormone levels fluctuate and estrogen takes a nosedive, it's not uncommon to see changes in your skin, hair, and overall appearance. Understanding these changes can empower you to adapt and evolve your routine, giving your body the extra care it needs during this phase of life.
Introduction to Menopause and Beauty
Menopause is a time of transformation, not just hormonally, but in every aspect of life. And though it may bring its share of challenges, it's also an opportunity to celebrate your body's resilience and beauty in its new form.
Definition of Menopause
Before we delve into the nitty-gritty, let's start by understanding what menopause actually is. Menopause is a natural biological process that marks the end of a woman's menstrual cycles. It's diagnosed after you've gone 12 months without a menstrual period, typically occurring in the late 40s or early 50s. This period signifies the end of a woman's fertility and the transition into a new phase of life.
Significance of Addressing Beauty Concerns During Menopause
Menopause is more than just the end of fertility; it can also bring significant changes to your skin and hair. As hormonal levels change, so does your body's ability to produce collagen, retain moisture, and maintain elasticity in the skin. These changes can affect your appearance and, for some, your confidence. Taking steps to address these beauty concerns is not just about looking good; it's also about feeling good and embracing your evolving self with love and care [1].
Overview of Hormonal Changes
During menopause, levels of hormones such as estrogen and progesterone fluctuate and eventually decline. This doesn't just impact fertility, but also has wide-ranging effects on the skin, hair, bones, and even mood. For example, lower estrogen levels can lead to dry and thinning skin, while fluctuations in hormones might cause mood swings or hot flashes. Understanding these hormonal changes is key to tailoring your beauty routine and lifestyle to support your body through this transition.
Understanding the Hormonal Changes During Menopause
As we journey through the phase of menopause, it's essential to grasp the underlying hormonal changes that are taking place. These hormonal shifts are the primary drivers behind the transformations in your skin and hair. Having a clear understanding of what's happening inside your body will enable you to make mindful choices when it comes to tailoring your beauty routine.
The Role of Estrogen and Progesterone
Estrogen and progesterone are the two key hormones that undergo significant changes during menopause [2].
Estrogen
Estrogen plays a vital role in maintaining the youthful appearance and elasticity of the skin. It helps in the production of collagen, which is essential for skin firmness. It also increases the skin's ability to retain water, contributing to a well-hydrated and plump appearance.
Progesterone
Progesterone, on the other hand, is mainly known for its role in the menstrual cycle and pregnancy. However, it also has effects on the skin. It acts as an antagonist to estrogen, and when the levels of progesterone drop during menopause, you may notice that the skin becomes thinner and more sensitive.
As the levels of these hormones decline, the skin loses some of its natural abilities to stay firm and hydrated, which leads to various changes and symptoms.
Common Symptoms and Their Impact on the Skin
Now that we understand the role of estrogen and progesterone let's look at some common symptoms of menopause and how these hormonal changes impact the skin [3].
Dryness
One of the most noticeable changes is an increase in skin dryness. As estrogen levels drop, so does the production of natural oils and collagen. This results in the skin becoming more dehydrated, which can lead to itching, flaking, and an increased appearance of wrinkles.
Loss of Elasticity
With lower collagen production due to declining estrogen levels, the skin begins to lose its elasticity. This means that it becomes less firm and plump, leading to sagging skin and the formation of lines and wrinkles.
Acne and Breakouts
Although often associated with adolescence, acne and breakouts can also be a symptom of menopause. This is due to the relative increase in androgen levels compared to estrogen, leading to an increase in sebum production which can clog pores.
Changes in Hair Texture and Volume
The hormonal changes during menopause don't just affect the skin; they can also have a significant impact on the hair. The decrease in estrogen can cause the hair to become thinner and less voluminous. Some women also experience changes in texture, with hair becoming more dry and brittle.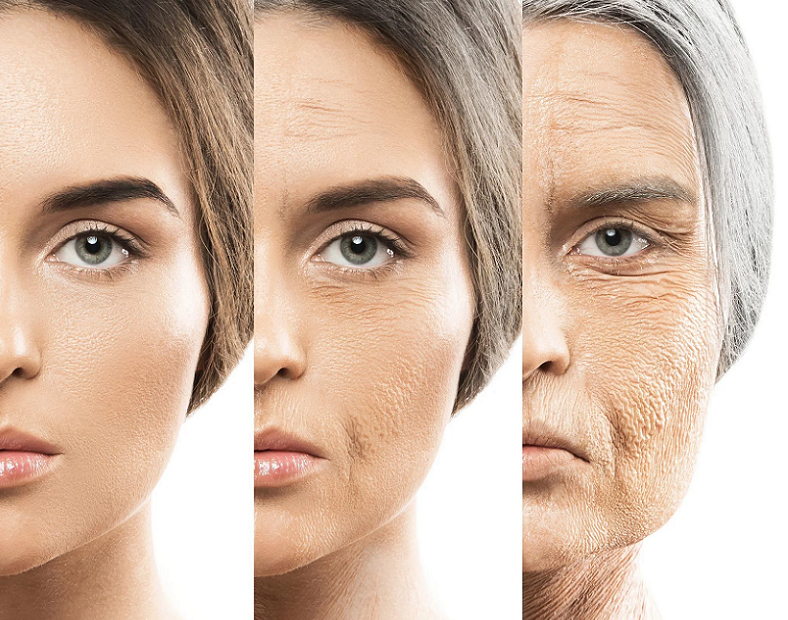 Menopause Skincare Routine Adaptations
Having delved into the hormonal changes that occur during menopause and their impact on the skin, it's time to focus on adapting your skincare routine to tackle these changes head-on. Since your skin's needs evolve during this period, it's essential to reassess and modify your regimen accordingly.
Cleansing
Cleansing is the foundation of any skincare routine. During menopause, with the skin becoming drier and more sensitive, it's imperative to choose cleansers that are gentle and nourishing.
Gentle Cleansers
Switch to a mild, sulfate-free cleanser that effectively removes impurities without stripping your skin of its natural oils. Cleansers with a creamy or milky texture are often more hydrating and are less likely to cause irritation or dryness.
Hydrating Ingredients
Look for cleansers that contain hydrating ingredients such as glycerin, hyaluronic acid, or ceramides. These ingredients help retain moisture in the skin and can prevent the tight, dry feeling often associated with cleansing.
Exfoliation
Exfoliation is an important step in renewing and revitalizing the skin, especially when it's losing its natural ability to shed dead skin cells.
Understanding the Importance
As menopause progresses, the skin's natural exfoliation process slows down. This can lead to a buildup of dead skin cells, which can make the skin look dull and contribute to dryness. Regular exfoliation helps remove this buildup, promoting smoother and more radiant skin.
Opting for Chemical Over Physical Exfoliants
Chemical exfoliants, such as alpha hydroxy acids (AHAs) or beta hydroxy acids (BHAs), are generally gentler and more effective than physical exfoliants. Opt for a mild chemical exfoliant to use once or twice a week, but make sure to follow the product's instructions to avoid over-exfoliation, which can cause irritation [4].
Moisturizing
As dryness is one of the main concerns during menopause, moisturizing becomes even more crucial.
Richer Formulas
Switch to a richer moisturizer that helps to lock in moisture and combat dryness. Look for products that contain ingredients like hyaluronic acid, ceramides, or shea butter, which can provide deep hydration and strengthen the skin's barrier.
Night-Time Care
Night-time is when your skin repairs itself. Opt for a nourishing night cream with ingredients like retinol or peptides that can boost collagen production and improve the skin's elasticity and firmness.
Sun Protection
Protection from the sun is important at any age, but even more so during menopause.
Increased Necessity for Sunscreen
As the skin thins and becomes more sensitive during menopause, it's also more vulnerable to damage from the sun's UV rays. Make sure to apply a broad-spectrum sunscreen with at least SPF 30 every day, even if it's cloudy outside.
Reapplication Strategies
Reapply sunscreen every two hours, especially if you're spending time outdoors. Consider using a mineral powder sunscreen for easy reapplication over makeup.
Targeted Treatments
Finally, using targeted treatments can address specific concerns such as wrinkles, loss of firmness, or pigmentation.
Anti-Aging Ingredients
Incorporate products with anti-aging ingredients such as retinoids, peptides, or antioxidants. These can stimulate collagen production, fight free radicals, and help reduce the appearance of wrinkles and fine lines.
Products for Increased Sensitivity
If your skin becomes more sensitive during menopause, consider incorporating products that are designed for sensitive skin. These often contain soothing ingredients like chamomile, aloe vera, or niacinamide.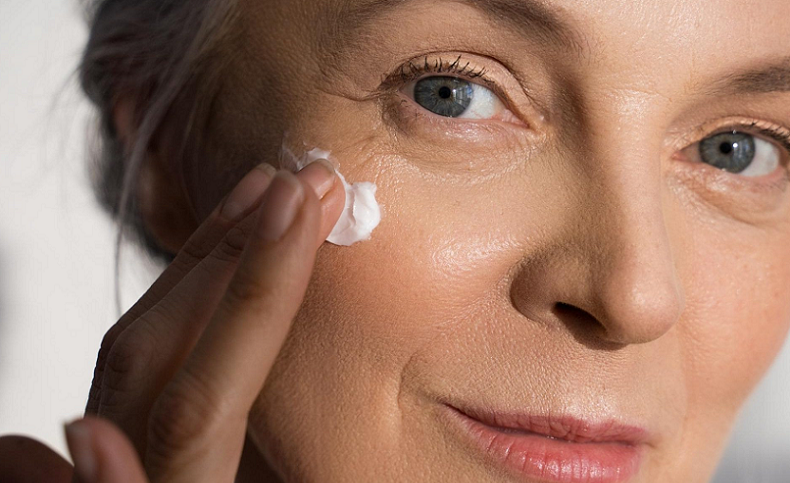 Makeup for Mature Skin
As your skin undergoes changes during menopause, your makeup routine may need some revamping as well. It's a perfect time to embrace new techniques and products that compliment the beauty of mature skin.
Foundation Selection
Choosing the right foundation is crucial for achieving a natural and radiant look on mature skin.
Opting for Hydration
As skin tends to be drier during menopause, opt for a hydrating foundation. Look for products that contain ingredients like hyaluronic acid or glycerin which can keep your skin moisturized [5].
Light to Medium Coverage
Heavy, full-coverage foundations can settle into fine lines and wrinkles, making them more prominent. Instead, choose a light to medium coverage foundation that evens out your complexion without looking cakey.
Concealer Techniques
A good concealer can be a lifesaver, especially when dealing with age spots, under-eye circles, or redness.
Moisturizing and Light Formulas
Select a concealer that has a moisturizing formula. Just like with foundation, it's best to avoid anything too heavy. A lightweight, hydrating concealer will blend more seamlessly into your skin.
Proper Application
Apply concealer sparingly and build up if needed. Use a brush or your finger to gently blend it into your skin, paying extra attention to the under-eye area and any spots that need coverage.
Eye Makeup Adaptations
Your eyes are the windows to your soul, and adapting your eye makeup can really enhance their beauty.
Eyeshadow Shades
Opt for neutral or warm-toned eyeshadows, as these shades tend to be more flattering on mature skin. Matte and satin finishes are generally more favorable compared to glittery or shimmery ones, which can emphasize fine lines.
Eyeliner and Mascara
Use a soft pencil or gel eyeliner for a more subtle and blended look. For mascara, choose a lengthening formula instead of a volumizing one, as it tends to look more natural and less clumpy on thinner lashes.
Blush and Contour
Blush and contour can bring life and dimension to your face.
Cream Products
Cream blushes and contours blend effortlessly into the skin and give a more natural, dewy finish. Apply them to the apples of your cheeks and the hollows of your cheekbones, respectively, and blend well.
Shade Selection
Opt for blush shades that mimic a natural flush, such as soft pinks, peaches, or corals. For contour, choose a shade that's not too dark or harsh; something just a few shades deeper than your skin tone will work best.
Lip Care and Color Choices
Lips can become thinner and drier during menopause, so giving them some attention is key.
Lip Care
Start by moisturizing your lips with a hydrating lip balm. This will help keep them smooth and prevent lipstick from settling into any lines.
Lip Color Selection
Choose lip colors that complement your skin tone. Nudes, pinks, and berry shades are often flattering. Avoid very dark or matte lipsticks as they can make lips appear thinner.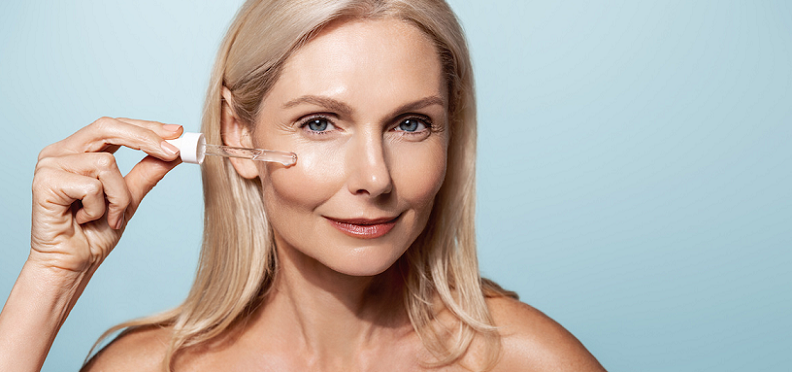 Lifestyle Adaptations to Support Beauty During Menopause
While skincare and makeup routines are important, it's also essential to consider the lifestyle changes that can support your beauty goals during menopause. The way you live your day-to-day life has a significant impact on how you look and feel.
Nutrition and Hydration
What you put into your body plays a vital role in how your skin looks and feels, especially during menopause when hormonal changes can affect your skin's natural balance.
Nutrient-Rich Foods
Consume a balanced diet that includes a variety of nutrient-rich foods. Include plenty of fruits, vegetables, whole grains, and lean proteins. Foods high in antioxidants, like berries and leafy greens, can also be beneficial.
Hydration
Stay hydrated by drinking enough water throughout the day. This helps in maintaining skin elasticity and combating dryness. Including foods with high water content, such as cucumbers and watermelon, can also contribute to hydration.
Exercise and Physical Activity
Regular physical activity is not just good for your body; it's also beneficial for your skin.
Improved Circulation
Engaging in regular exercise improves blood circulation, which is essential for delivering nutrients to the skin. This can contribute to a more radiant complexion.
Stress Reduction
Exercise is known for its ability to reduce stress, which is important since stress can exacerbate skin issues. Engage in activities that you enjoy, whether it be walking, swimming, yoga, or dancing.
Sleep and Relaxation
Quality sleep is paramount for overall health and well-being, and it has a direct impact on your skin.
Sleep Routine
Aim for 7-9 hours of sleep per night. Establish a regular sleep schedule and create a relaxing bedtime routine to improve the quality of your sleep.
The Role of Relaxation
Incorporate relaxation techniques such as meditation or deep breathing exercises into your daily routine. This can help to reduce stress levels, which in turn can have a positive effect on your skin.
Skincare from the Inside
Sometimes, supplements and certain adjustments to your diet can enhance your skincare routine.
Consider Supplements
Talk to your healthcare provider about supplements that might benefit your skin. Some people find that taking supplements like omega-3 fatty acids, vitamin E, or collagen can improve the appearance of their skin.
Limiting Inflammatory Foods
Cut back on foods that can cause inflammation, such as sugary drinks, processed foods, and excessive caffeine. Opt for anti-inflammatory foods like nuts, fatty fish, and green leafy vegetables.
Positive Mindset and Social Connections
Your mental and emotional well-being is intrinsically linked to your outer appearance.
Cultivate Positivity
Cultivate a positive mindset by practicing gratitude, engaging in activities that make you happy, and surrounding yourself with positive influences.
Maintain Social Connections
Stay socially connected with friends and family. Social engagement is known to have a positive impact on mental health and, by extension, your physical appearance.
References

[1] Caring for your skin in menopause
[2] What is menopausal skin care? Experts explain the benefits and share the 17 best products
[3] Everything You Need To Know About Menopause Skincare
[4] Menopause Skincare: Follow These 5 Steps to Enhance Your Complexion
[5] 11 Secrets to Looking Great After Menopause