The Transition: Adapting Your Skincare Routine in Your 40s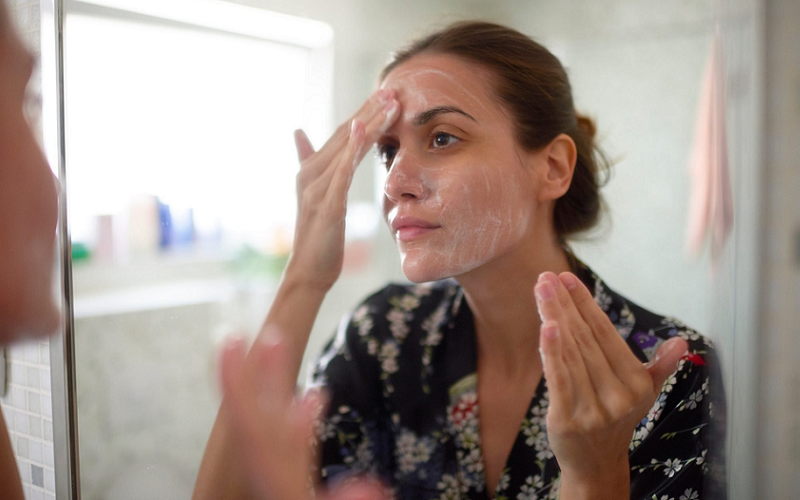 As the wise saying goes, age is just a number, but when it comes to our skin, that number can bring along some changes. Your skin, the body's largest organ, undergoes significant transformation as you step into your fabulous 40s. Perhaps you've started to notice fine lines becoming more pronounced, or maybe your skin doesn't have the same plumpness and radiance it used to. Don't worry — this is a natural part of the aging process, and with a little adjustment in your skincare regimen, you can continue to look and feel amazing.
Understanding the Skin's Changes in the 40s
As we age, our skin undergoes various changes. It's a natural and inevitable part of life. The skin becomes thinner, loses fat, and no longer looks as plump and smooth as it once did. This happens due to the decline in collagen production, which is responsible for the skin's elasticity, and changes in the elastin fibers that provide the strength to the skin. Moreover, hormonal changes, especially in women, play a significant role in the aging of the skin.
Importance of Adapting Skincare Routines as We Age
Having an effective skincare routine is not just for your younger years; it is equally, if not more, essential as you age. As your skin changes, so should your skincare routine. In your 40s, the skincare routine that worked in your 20s or 30s might not be as effective. Therefore, it's important to assess your skin's needs and make necessary adjustments to your skincare products and routine. Adapting your skincare routine in your 40s can help in tackling specific issues like dryness, wrinkles, and age spots, and contribute towards maintaining a healthy and youthful skin [1].
The Role of Collagen and Elastin in Aging
As you enter your 40s, you may notice that your skin is not as firm and plump as it used to be. This is largely due to the changes in collagen and elastin, two proteins that are crucial for maintaining the skin's structure.
Collagen
Collagen is the most abundant protein in the skin, making up about 80% of its structure. It provides the skin with its strength and firmness. However, as we age, the production of collagen decreases, leading to the appearance of wrinkles and sagging skin.
Elastin
Elastin is another vital protein, and as the name suggests, it gives the skin its elasticity. This allows the skin to return to its original shape after being stretched or contracted. Like collagen, elastin production also decreases with age. The loss of elastin can cause the skin to become less resilient and more prone to sagging and wrinkles.
Common Skin Issues Faced in the 40s
As the production of collagen and elastin slows down, various skin issues become more apparent. Here are some common concerns that you might face in your 40s:
Wrinkles and Fine Lines
The decreased collagen and elastin levels cause the skin to lose its firmness, leading to the development of wrinkles and fine lines, especially around the eyes, mouth, and forehead.
Age Spots and Hyperpigmentation
Hyperpigmentation, including age spots or liver spots, becomes more common. These are dark spots on the skin that occur due to an excess production of melanin and are often a result of sun exposure over the years [2].
Dryness and Loss of Volume
The skin's ability to retain moisture diminishes, causing it to become drier. Additionally, the loss of underlying fat contributes to a lack of volume, making the face appear more hollow and sunken.
Reduced Skin Elasticity
As mentioned earlier, reduced elastin levels make the skin less elastic. This means it doesn't bounce back as easily as it did in your younger years, contributing to sagging.
Sensitivity and Redness
The skin becomes thinner and more delicate, making it more susceptible to redness, irritation, and sensitivity. This can be exacerbated by using skincare products that are too harsh for aging skin.
Hormonal Changes Impacting Skin
In your 40s, particularly for women, hormonal changes are a significant factor in how your skin ages. The levels of estrogen start to decline as women approach menopause. Estrogen is linked to collagen production, so when levels drop, this can accelerate the signs of aging.
The Importance of Sun Protection and Addressing Past Sun Damage
Sun exposure is one of the leading causes of premature aging. It's crucial to realize the importance of sun protection, even in your 40s, to prevent further damage. Additionally, it's a good time to start addressing any past sun damage through various treatments and skincare products that target pigmentation and improve skin texture.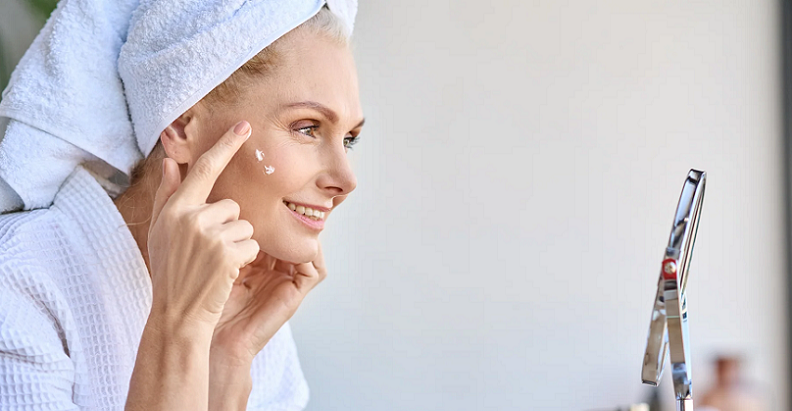 Evaluating Your Current Skincare Routine
Your skin's needs have evolved, and it's essential to ensure that your regimen reflects these changes.
Assessing Your Skin Type
Before making any changes to your skincare routine, it's essential to reassess your skin type. You may have known your skin type in your 20s or 30s, but keep in mind that it can change over time, especially with the hormonal shifts and decrease in collagen and elastin in your 40s [3].
Normal Skin: Not too dry or oily; generally well-balanced.
Dry Skin: Can feel tight and is often flaky or rough.
Oily Skin: Has excess sebum production, leading to a shiny appearance and can be prone to acne.
Combination Skin: Characterized by having some areas that are dry and others that are oily.
Sensitive Skin: Reacts easily to products or external factors, often with redness, itching, or irritation.
Understanding your current skin type is crucial because it dictates the kinds of products that will be most beneficial for you.
Identifying Current Products and Their Effectiveness
Next, take a look at the skincare products you are currently using. Make a list and evaluate each product based on the following criteria:
Purpose: Understand what each product is meant to do. Is it addressing any of your current skin concerns?
Ingredients: Are the ingredients in the products suitable for your skin type and concerns? For example, if you have dry skin, products with hyaluronic acid might be beneficial.
Results: Have you noticed any positive changes in your skin because of the product? Conversely, have you experienced any adverse reactions?
By examining each product, you can determine which ones are still serving you well and which ones might need to be replaced.
Determining Necessary Adjustments to Address New Skin Concerns
Once you've assessed your skin type and the products you're currently using, it's time to think about adjustments that need to be made to address your skin's new needs in your 40s. Here are some common adjustments:
Introducing Anti-Aging Ingredients: If you haven't already, now is a good time to introduce products with ingredients known for their anti-aging properties like retinoids, peptides, and antioxidants.
Increasing Moisturization: As the skin tends to become drier, incorporating richer moisturizers or oils can be beneficial.
Gentle Exfoliation: The skin becomes more delicate, so if you're using exfoliating products, ensure they are gentle enough not to cause irritation.
Targeted Treatments: You might want to add treatments targeting specific issues like hyperpigmentation or loss of elasticity.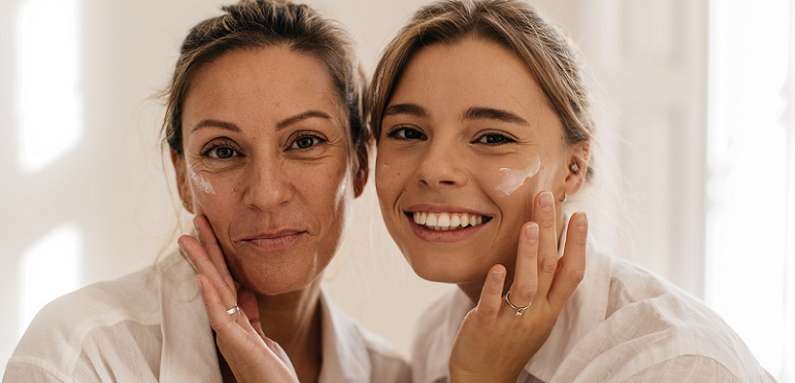 Essential Skincare Products and Ingredients for Your 40s
As you venture through your 40s, it's time to embrace skincare products and ingredients that cater to the evolving needs of your skin.
Cleansers
A good cleanser is the foundation of any skincare routine. In your 40s, it is wise to opt for cleansers that are gentle and hydrating.
Cream-Based Cleansers
For dry or sensitive skin, cream-based cleansers can be particularly beneficial as they cleanse without stripping the skin of its natural oils.
Gentle Foaming Cleansers
If you have oily or combination skin, a gentle foaming cleanser can help to remove excess oil without over-drying the skin.
Moisturizers
Moisturizers become even more critical as the skin loses its natural ability to retain moisture.
Hyaluronic Acid
Incorporate moisturizers containing hyaluronic acid, which can hold 1000 times its weight in water, helping to keep your skin plump and hydrated [4].
Ceramides
Moisturizers with ceramides can also be beneficial as they help to reinforce the skin's barrier and lock in moisture.
Anti-Aging Ingredients
Retinoids
Retinoids are a form of Vitamin A and are known for their ability to accelerate cell turnover and boost collagen production. This can help to reduce the appearance of fine lines and wrinkles.
Peptides
Peptides are short chains of amino acids that can help to signal the skin to produce more collagen. Look for products with peptides to help maintain skin firmness.
Antioxidants
Antioxidants such as Vitamin C and E are essential for protecting the skin against environmental stressors such as pollution and UV rays, which can accelerate aging.
Sunscreen
Sun protection is a non-negotiable aspect of skincare at any age, and in your 40s it's vital to protect your skin from further damage.
Broad-Spectrum Sunscreen
Opt for a broad-spectrum sunscreen that protects against both UVA and UVB rays. Look for an SPF of at least 30.
Reapplication
Remember that sunscreen needs to be reapplied every two hours when outdoors.
Targeted Treatments
Serums
Serums are highly concentrated products that can target specific skin concerns. Look for serums with ingredients such as niacinamide for evening skin tone, or hyaluronic acid for hydration.
Eye Cream
The skin around the eyes is delicate and often shows signs of aging first. Invest in a good eye cream that targets issues like puffiness, dark circles, and crow's feet.
Exfoliants
Incorporate gentle exfoliants like alpha hydroxy acids (AHAs) or beta hydroxy acids (BHAs) into your routine to remove dead skin cells and promote skin renewal. However, be careful not to over-exfoliate as the skin becomes more delicate with age.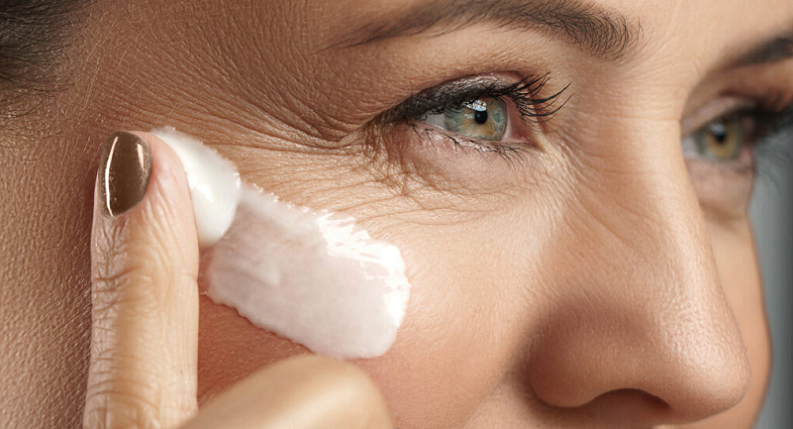 Building a Skincare Routine in Your 40s
It's important to remember that consistency is key, and incorporating these steps into your daily regimen will maximize the benefits for your skin.
Morning Skincare Routine
Starting your day with the right skincare routine can help protect your skin from the environmental stressors it faces throughout the day [5]. Here's a step-by-step guide for your morning routine:
Cleansing
Start by cleansing your face with a gentle, hydrating cleanser. This helps to remove any oils or impurities that have accumulated overnight.
Toning
Apply a toner with hydrating ingredients. This step helps to balance the skin's pH levels and prep the skin for the products that follow.
Applying Serum
Use a serum that addresses your specific concerns. For morning use, antioxidant-rich serums like Vitamin C are great for protecting the skin from environmental damage.
Eye Cream
Gently apply an eye cream to address concerns such as puffiness, dark circles, or crow's feet.
Moisturizing
Apply a moisturizer that suits your skin type. Look for products containing hyaluronic acid or ceramides to keep your skin hydrated throughout the day.
Sunscreen
Finish off with a broad-spectrum sunscreen with at least SPF 30. This is an essential step to protect your skin from harmful UV rays and prevent premature aging.
Evening Skincare Routine
Your evening skincare routine should focus on repairing and nourishing your skin as it rejuvenates overnight. Here's how you can build your evening regimen:
Cleansing
Begin with a gentle cleanser to remove makeup, dirt, and impurities that have accumulated throughout the day.
Toning
Apply a hydrating toner to balance the skin.
Applying Treatments or Retinoids
In the evening, use serums or treatments containing retinoids, which are effective in combating signs of aging. However, as retinoids can make your skin sensitive to the sun, they are best used at night.
Eye Cream
Apply an eye cream to nourish the delicate skin around your eyes.
Moisturizing
Use a slightly richer moisturizer in the evening to deeply hydrate your skin as you sleep.
Oils (Optional)
If your skin is very dry, consider adding a facial oil after your moisturizer to lock in hydration.
Weekly Care
Exfoliation
Once or twice a week, incorporate a gentle exfoliant into your routine to help shed dead skin cells and promote skin renewal.
Masks
Use a face mask weekly that addresses your specific concerns, such as hydrating masks for dry skin or clarifying masks for oily skin.
References

[1] Six Ways to Adapt Your Skincare Routine in Your 40s
[2] Skin Care In Your 40s and 50s
[3] Skincare in Your 40s: This is the routine you need to follow
[4] The Best Skin-Care Routine for Your 40s
[5] Skincare in your 40s: The best products, regimen and advice