The Art of Bathing: Turning a Simple Bath into a Wellness Ritual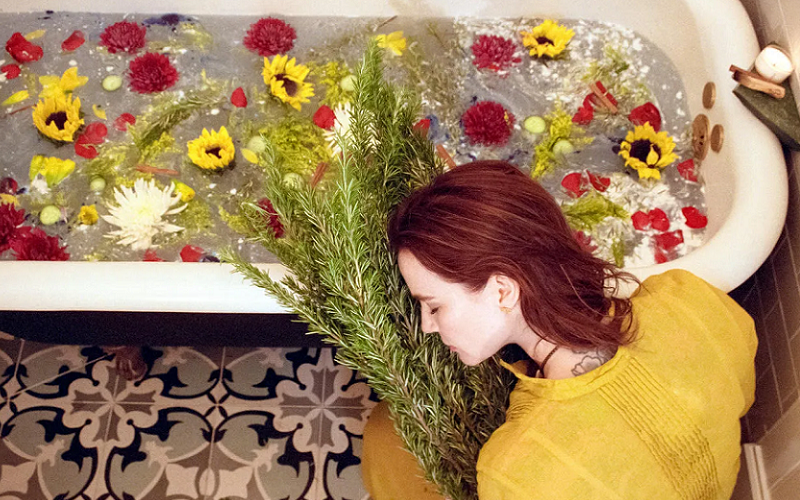 In an age where stress and busyness often take precedence, it is imperative to rediscover the ancient art of bathing – not merely as a hygiene routine but as a sacred wellness ritual. From the elaborate bathhouses of ancient Rome to the spiritual significance of cleansing in various cultures, bathing has long been considered a form of healing and rejuvenation. Today, we have the opportunity to transform this mundane task into a nourishing act of self-care.
Introduction to Bathing and Wellness
There's always been more to bathing than simply getting clean. Bathing has long been about the creation of a tranquil atmosphere, perfecting the art of preparing your bath, incorporating mindfulness, and customizing this luxurious experience to suit your needs.
The Historical Significance of Bathing
Bathing is not a new concept; it has roots that extend far back into antiquity. Throughout history, various civilizations have embraced bathing, each with its unique customs and significance.
Ancient Cultures and Bathing Practices
In Ancient Rome, bathhouses were not just a place for cleanliness but also a hub for social interaction, exercise, and even philosophical debates. With their hot and cold pools, steam rooms, and lounges, Roman bathhouses were early precursors to modern-day spas.
The Greeks believed in the therapeutic powers of water, and Hippocrates, the "father of medicine," even coined the term hydrotherapy to describe the use of water for healing purposes. On the other side of the world, the Japanese tradition of "Onsen" involved bathing in natural hot springs believed to have medicinal properties due to their mineral content. In India, the act of bathing in the holy river Ganges is not just about physical cleanliness but spiritual purification.
The Evolution of Bathing Throughout History
As civilizations evolved, so did the practices and perceptions surrounding bathing. During the Middle Ages, public bathhouses in Europe fell out of favor due to concerns over hygiene. It wasn't until the 18th and 19th centuries that bathing regained its popularity in the Western world as an essential component of personal hygiene. The advent of modern plumbing and the rise of the wellness movement in the late 20th and early 21st centuries have once again put bathing in the spotlight as both a means of cleanliness and a form of relaxation and self-care [1].
The Modern-Day Bath as a Wellness Ritual
With the passage of time, the art of bathing has evolved to become an essential wellness practice for many in today's stress-driven society. The bath is no longer just a place to wash away dirt, but a sanctuary to unwind, reflect, and nourish the mind and body.
Relevance in a Stress-Driven Society
In an increasingly busy and interconnected world, finding time for oneself is paramount. The bath presents a rare opportunity to detach from the constant barrage of information and demands, and to create a moment of peace and reflection. As mental health and well-being have taken center stage, bathing as a wellness ritual offers a holistic approach to self-care.
Incorporating Mindfulness and Self-Care
Mindfulness, the practice of being present and engaged in the moment, is a perfect complement to the art of bathing. By focusing on the sensations of the warm water, the aroma of bath salts, and the tranquility of your environment, you can turn a simple bath into a meditative experience. This state of mindfulness, coupled with the intentional use of nourishing products and creating a serene environment, can turn the act of bathing into a comprehensive self-care ritual.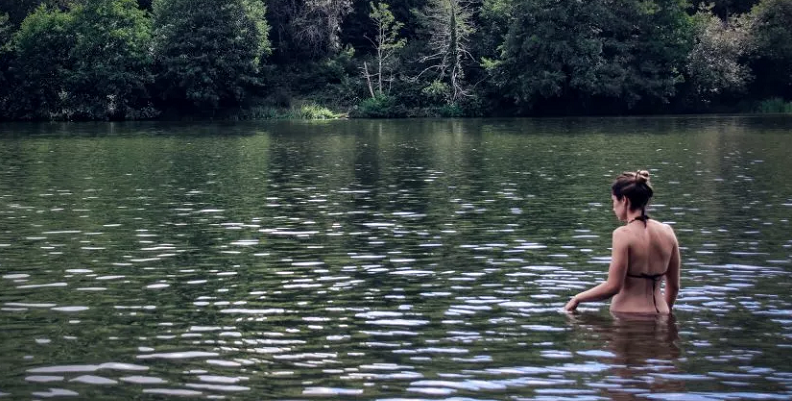 The Health Benefits of Bathing
While indulging in a relaxing bath can be an enjoyable experience, there's more to it than just leisure. Bathing, when done right, can be extremely beneficial for both your physical and mental health. From easing muscle pain to reducing stress, the health benefits of taking a bath extend beyond merely keeping clean.
Physical Advantages
As you step into a warm bath, your body begins to experience immediate physical benefits. From your muscles to your heart, various components of your physical health can be positively impacted by this simple wellness ritual [2].
Muscle Relaxation
Warm water helps to relieve tension in the muscles. As the heat penetrates into the muscle fibers, it can alleviate soreness and stiffness. This is particularly beneficial for those who engage in physical activities or experience muscle pain due to strain or conditions such as arthritis.
Improved Circulation
The warmth of the bathwater causes the blood vessels to expand, which in turn enhances blood circulation throughout the body. Improved circulation can promote better oxygen and nutrient supply to the cells, aiding in overall body function and healing.
Detoxification
As you bathe in warm water, your body's temperature rises, and you begin to sweat. This natural process helps to flush toxins out of the body. In addition, using bath salts can further facilitate the detoxification process due to their mineral content.
Mental and Emotional Perks
Bathing doesn't just have physical benefits; it also has the power to positively affect your mental and emotional state. In an age where mental well-being is as important as physical health, the psychological benefits of a bath cannot be underestimated [3].
Stress Reduction
The calming effect of warm water combined with a tranquil environment can greatly reduce stress levels. As your muscles relax, so does your mind. Adding essential oils like lavender or chamomile to your bath can further enhance this stress-reducing effect through aromatherapy.
Improved Sleep
Taking a bath before bedtime can improve the quality of your sleep. The rise and subsequent fall in body temperature induced by a warm bath help to regulate the sleep cycle and can make it easier to fall asleep.
Boosting Mood
Bathing can also have a positive effect on your mood. The combination of warmth, relaxation, and solitude can create a sense of comfort and contentment. Furthermore, taking this time for yourself can boost self-esteem and contribute to a more positive outlook on life.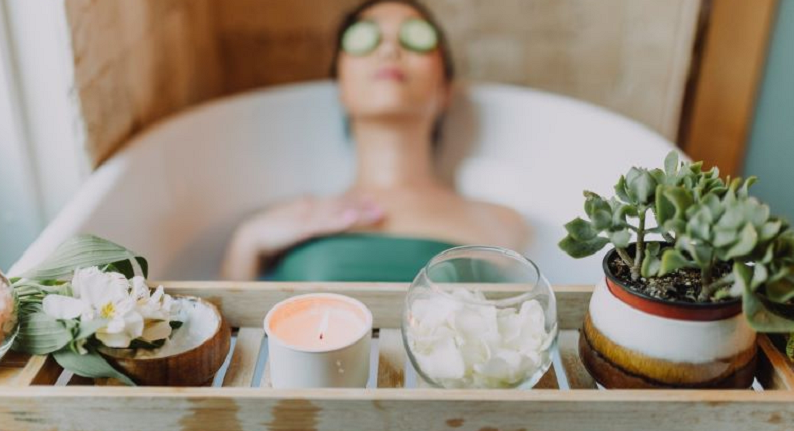 Setting the Bathing Scene: Creating a Calm Atmosphere
Creating the perfect bathing experience goes beyond just filling the tub with warm water. The environment in which you bathe is equally important. A serene atmosphere can significantly enhance the benefits of your bath and turn it into a truly rejuvenating ritual. From the cleanliness of your bathroom to the lighting and scents, every detail contributes to creating a calming oasis.
The Right Environment
First and foremost, the environment in which you take your bath should be conducive to relaxation. This involves having a clean space, free of clutter, and ensuring that you have the right bathing accessories on hand.
Clean and Organized Space
Before you even begin to fill your bathtub, take some time to tidy up your bathroom. A clean and clutter-free environment will immediately put your mind at ease. Ensure that everything you need for your bath is within reach and that the area is free of distractions.
Bathing Accessories
Having the right bathing accessories can greatly enhance your experience. A soft bath towel, a comfortable bath pillow, and a tub caddy for your book or drink can turn your bath into a luxury spa experience. Consider investing in quality accessories that will add to your comfort and relaxation.
Engaging the Senses
A truly immersive bathing experience engages all your senses. From the scents of essential oils to the gentle flicker of candlelight and the sound of calming music, create an atmosphere that speaks to your senses [4].
Aromatherapy
Adding essential oils or bath salts with natural fragrances to your bathwater can create a wonderfully aromatic experience. Scents like lavender, eucalyptus, or jasmine can transport you to another world and have therapeutic properties that can calm the mind and invigorate the body.
Music and Sounds
The sound is a powerful tool for relaxation. Create a playlist of calming music, nature sounds, or even your favorite audiobook to listen to while you bathe. The gentle sounds will provide a soothing backdrop to your bathing ritual.
Lighting
Lighting sets the mood for your bathing experience. Harsh, bright lights can be jarring, whereas the soft flicker of candles or dimmed lights can create a calming ambiance. Consider using candles or a dimmer switch to adjust the lighting to a level that is comforting and conducive to relaxation.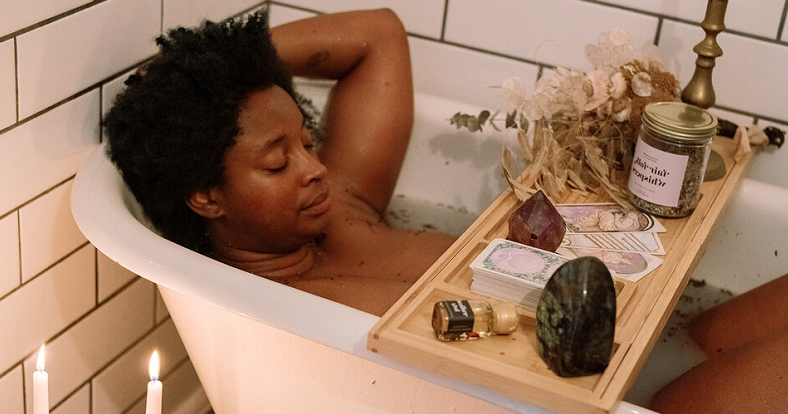 Preparing the Perfect Bath
Having set the ideal environment, it's time to focus on preparing the bath itself. The water temperature, the additives you choose, and the tools you use can make a significant difference in your bathing experience.
Water Temperature and Length
The temperature of the water is a crucial element in the bathing experience. Too hot, and it may be uncomfortable or even harmful; too cold, and it loses its relaxing qualities. Similarly, the length of the bath is important to consider for maximizing benefits without overdoing it [5].
Finding the Right Temperature
As a general rule, aim for a water temperature that is slightly warmer than your body temperature, usually between 100 to 104 degrees Fahrenheit (37 to 40 degrees Celsius). This range tends to be comfortable for most people and is warm enough to allow the muscles to relax without causing overheating. However, personal preferences vary, so it's important to find a temperature that feels best for you.
How Long Should You Soak?
While it's tempting to spend a long time in the bath, especially if you are enjoying it, it's wise to limit your soak to a reasonable length. Generally, 15-30 minutes is sufficient. Staying in the bath for too long can lead to overheating and may also dry out your skin.
Bath Additives
Enhance your bath by adding ingredients that not only smell wonderful but also provide health benefits. From salts to essential oils and bath bombs, there's a wide range of options available.
Epsom Salts
Epsom salts are renowned for their ability to relieve muscle soreness and reduce inflammation. They are also believed to help with detoxification. Simply add a cup or two to your bath and allow them to dissolve.
Essential Oils
A few drops of essential oil can transform your bath into an aromatherapy session. Lavender is known for its calming properties, while eucalyptus can be invigorating and help clear the sinuses. Mix the oils with a carrier oil or bath salts before adding them to the water to help them disperse evenly.
Bath Bombs and Bubbles
For a touch of fun and luxury, consider adding a bath bomb or some bubble bath to the water. Choose products with natural ingredients and fragrances to avoid skin irritation.
Tools for Exfoliation and Massage
Enhance your bathing experience further by using tools that help exfoliate your skin or give you a gentle massage.
Loofahs and Brushes
Use a loofah or a soft brush to gently exfoliate your skin during your bath. This helps remove dead skin cells, leaving your skin feeling soft and refreshed.
Bath Pillows
A bath pillow can provide support for your neck and head, making your bath more comfortable. Some bath pillows also offer massage features for an extra touch of relaxation.
References

[1] Relaxing Bath Rituals Have Been Quietly Healing For Centuries
[2] Physical and Mental Effects of Bathing
[3] The Ancient and Healing Ritual of Baths
[4] A Comparative Essay On Bathing Rituals Around the World
[5] How to self-soothe through ritual bathing